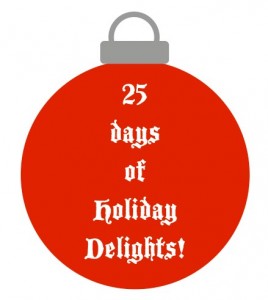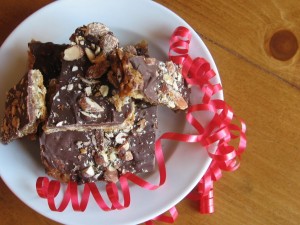 If you like toffee but have a fear of scorched candy, this recipe is a tasty alternative to the traditional stove-top version. The ingredients for the toffee layer are mixed together and spread over graham crackers, then baked in the oven until bubbly and brown, so you don't have to worry about candy thermometers or temperatures or any of that hard ball-soft crack-candy-makin' nonsense. The results are a delicious cookie-cracker-candy composite that look and taste like toffee with a twist.
Oat-n-Toffee Grahams
from Better Homes and Gardens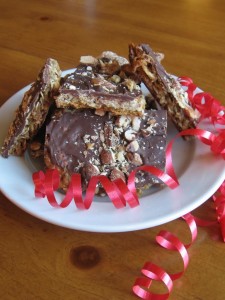 14 whole graham crackers
1 1/2 cups rolled oats
3/4 cup granulated sugar
3/4 cup packed brown sugar
3 Tablespoons flour
2/3 cup butter, melted
1 egg
1 teaspoon vanilla
12 oz chocolate chips
1/2 cup smokehouse almonds, coarsely chopped
Preheat oven to 350 degrees. Line a cookie sheet with foil so that the foil goes beyond the edges of the cookie sheet. If you have one of those odd-ball cookie sheets that isn't quite as big as the others, that's the best one to use for this. Arrange graham crackers in a single layer on the sheet. Combine oats, sugars, flour, butter, egg, and vanilla until well combined. Spoon over graham crackers and spread evenly. If you have to use your hands, go ahead! Bake for about 20 minutes until bubbly. Sprinkle chocolate chips on top and return to oven for 1 minute. Spread melted chocolate over the top and immediately sprinkle with almonds. Allow to cool completely. I put mine in the fridge to set it up. Cut or break into bars.