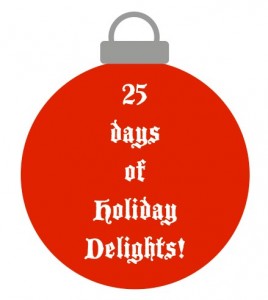 I love everything about Christmas. I love the decorations, the lights, the shopping, the music, the togetherness, and of course, the food! Every day between now and Christmas, I'm going to share one of my favorite holiday recipes with you!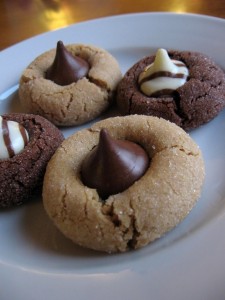 First up, we have Peanut Blossoms, with their delightful combination of chocolate and peanut butter. These are one of my family's favorite cookies. They have made an appearance during every holiday season I can remember. When I was little, we each got to pick a cookie to make on Christmas Eve, and these were always the first cookie chosen. Now that I'm grown up and my siblings and I are scattered across the west coast, we're not always together on Christmas. But I guarantee Peanut Blossoms are being made in at least one of our households. They are a favorite to share with neighbors and friends, and we usually make lots of extras so we can eat a few ourselves!
To kick off my 25 Days of Holiday Delights, I wanted to share a brand new recipe that I've never posted before. Alas, we are stranded at my parents house for at least one extra day (a fun place to be stranded, of course) due to some fog and a canceled flight. So yes, I've posted this recipe before. If you'd like the recipe for the chocolate version pictured below, just click here.
Peanut Blossoms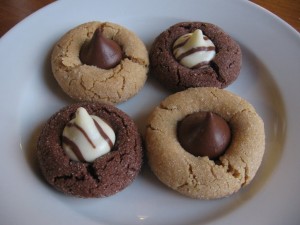 1/2 cup shortening
3/4 cup creamy peanut butter
1/3 cup packed brown sugar
1/3 cup granulated sugar
1 egg
2 Tablespoons milk
1 teaspoon vanilla
1 1/2 cups flour
1 teaspoon baking soda
1/2 teaspoon salt
granulated sugar
Hershey's Kisses, unwrapped
Preheat oven to 375 degrees. Cream shortening and peanut butter until smooth. Add sugars and beat until fluffy. Add egg, milk, and vanilla; beat well. Combine dry ingredients in a small bowl; add to wet ingredients and mix until smooth. Shape dough into 1-inch balls. Roll in granulated sugar, place on ungreased cookie sheet, and bake 8-1o minutes. Immediately after removing cookies from the oven, press a Hershey's Kiss firmly down in the center of each cookie. Allow to cool completely.