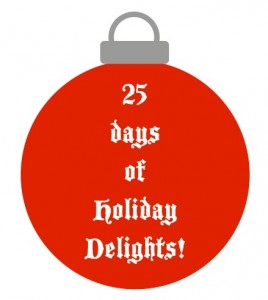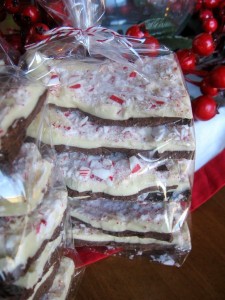 Peppermint bark is one of those holiday treats that you can get from practically any store during December. But it is so easy to make that buying it seems like a crime! This recipe comes from my sister. She suggested I make it for a party I attended last week because she always gets so many compliments when she makes it for people. This is how our conversation went:
"Hey, you should make peppermint bark for your party. It is so easy and people always tell me how delicious it is when I make it."
"OK. I've got a pen. What's the recipe?"
"Melt some chocolate chips and pour them in a pan."
"What kind of chocolate chips? Dark? Semi-sweet? What size pan? Do I need to line it with something or spray it with PAM first?"
"Um…whatever you want. Put it in the freezer until it hardens. Then melt some white chocolate chips and pour them on top."
"How many bags?"
"However many you want. Then add some peppermint extract and red food coloring."
"Peppermint extract or mint extract? And how much?"
"Whichever and I'm not sure. Then crush some candy canes and sprinkle those on top. They'll love it!"
Whew! So it turned out great (love you Em) except for one thing. My white chocolate chips were pretty yellow–as some brands are wont to be–so the red food coloring just made the white chocolate layer orange instead of peppermint pink. So only add the food coloring if your white chocolate chips are actually white! Best of luck!
Peppermint Bark
adapted 😉 from my sister Emily
You can also double the recipe and make it on a rimmed cookie sheet.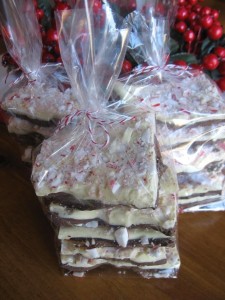 1 12-oz package good quality semi-sweet chocolate chips
1 12-oz package good quality white chocolate chipes
1/2 teaspoon peppermint extract
3-4 drops red food coloring (optional)
6 regular-sized peppermint candy canes, coarsely crushed
Line the bottom and sides of a 9 x 13″ baking dish with aluminum foil and spray lightly with PAM. In a microwave safe bowl, heat the semi-sweet chocolate chips for 1-2 minutes, stirring every 30 seconds until completely melted. Pour into the prepared pan, spread evenly, and chill until firm. Heat the white chocolate chips using the same method. Add the peppermint extract and food coloring and stir until thoroughly combined. Spread the white chocolate mixture over the chilled semi-sweet layer. Work quickly and be careful; the white chocolate will start to melt the semi-sweet layer and you don't want brown streaks in your top layer. Sprinkle the crushed candy canes evenly over the surface of the white chocolate and press down gently to make sure they are embedded in the chocolate. Chill until firm. Using the foil lining, remove the bark from the pan and cut or break into pieces.