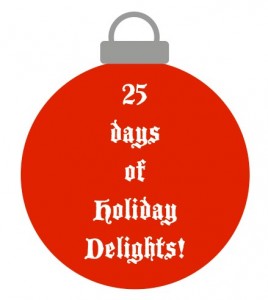 Here's what I was busy doing all day yesterday: making tiny jars of triple berry syrup and bags of pancake mix to give to our friends and neighbors for Christmas! I decided on this Christmas present a long time ago, so my husband dutifully picked me gallons and gallons of blackberries this summer, and I froze most of the raspberries our bushes gave us. We also picked quite a few blueberries at a local u-pick farm and paid next to nothing for them.
Click HERE for the recipe for Triple Berry Syrup. The recipe given uses just blueberries, but I used equal parts blueberries, blackberries, and raspberries.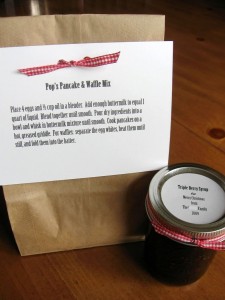 I have never been a huge pancake fan. I know that is practically sacrileges to say, but they just aren't my favorite griddled breakfast bread to eat covered in syrup. I prefer french toast and waffles. But my husband's family makes delicious buttermilk pancakes, so I've become a bit of a convert (don't worry French Toast, I still love you best!). Below is the complete recipe for Pop's Pancakes.
Pop's Pancakes (or Waffles)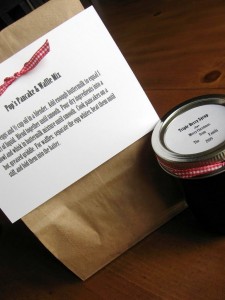 2 cups flour
1 teaspoon baking soda
1 Tablespoon sugar
1 heaping Tablespoon baking powder
4 eggs
1/2 cup oil
1 quart buttermilk
Combine dry ingredients in a large bowl. Place 4 eggs and 1/2 cup oil in a blender, and add enough buttermilk to equal 1 quart of liquid. Blend until smooth. Whisk buttermilk mixture into dry ingredients until smooth. To make waffle batter, just separate the egg whites, beat them until stiff, and fold them into the finished batter. For both pancakes and waffles, cook as you usually do.