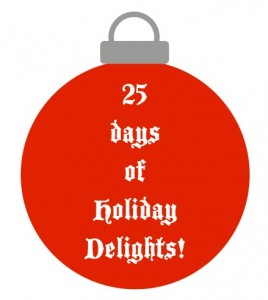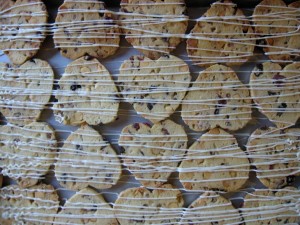 One of the hazards of being part of a couple that loves to cook is the incredible number of cookbooks we have in our home. Our vast cookbook collection used to take up about 1/4 of the bookshelf space in our computer room. So we bought a tall, skinny bookshelf, stuck it in the corner of the kitchen, and filled it with cookbooks. It is already overflowing, but we love having the cookbooks handy and out of the way. Except for when the children play with them. For whatever reason, our kids don't seem to be able to leave the cookbooks alone. They are already little foodies in the making. My baking of these cookies today stems from our baby's love of the cookbook shelf. She loves to pull cookbooks off, look at them, and leave them scattered about the kitchen. The cookbook this recipe came from, Desserts for Chocolate Lovers by Baker's, was lying face down on the floor this morning when I was cleaning up. When I picked it up, I noticed that lots of pages were dog-eared. I hadn't looked at this cookbook in so long that I didn't remember what recipes were in it, let alone which ones I had been interested in, so I flipped through. And I saw these and knew I had to make them today. And they were delicious. So thank you little one for taking the cookbook off the shelf and inspiring me to bake!
White Chocolate Cherry Biscotti
from Desserts for Chocolate Lovers by Baker's
Although they're called biscotti, they taste like a cross between crisp sugar cookies and shortbread.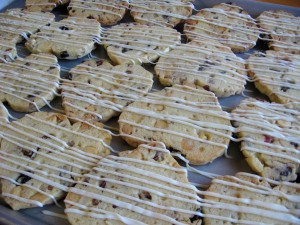 2 cups flour
1 1/2 teaspoons baking powder
1/2 cup salted butter
1/2 cup sugar
2 eggs
1 teaspoon vanilla
12 oz white chocolate chips or chopped white chocolate
1/2 cup sweetened dried cherries
1/2 cup chopped pecans
Preheat oven to 325 degrees. Lightly grease and flour 2 baking sheets. Mix flour and baking powder; set aside. Beat butter and sugar in a large bowl until light and fluffy. Add eggs and vanilla; mix well. Gradually add the flour mixture, scraping the sides and beating well. Stir in 1 1/2 cups white chocolate, cherries, and pecans. I had to use a wooden spoon for this part. On a well-floured surface, roll the dough to 1/4 inch. Cut with 3-inch cookie cutter (I used hearts, as suggested by the cookbook), rerolling scraps as needed. Place cookies 2 inches apart on prepared baking sheets, and bake 10 to 12 minutes until lightly browned. Turn cookies over and bake another 10 to 12 minutes, until dry and slightly golden. Let cool completely on wire racks. Melt remaining white chocolate in a microwave-safe bowl, stirring every 30 seconds until smooth. Spoon the melted white chocolate into a small ziplock bag. Cut one of the bottom corners off the bag and drizzle white chocolate over cooled cookies. Refrigerate until chocolate is firm.