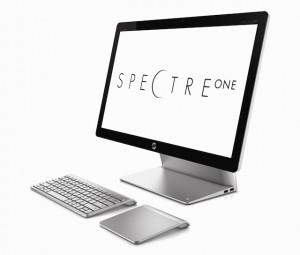 I was honored recently to have been invited by HP to participate in a brand ambassador program with a few other bloggers. HP sent me their gorgeous new HP SpectreONE AiO to test-drive, and the whole family has been having a blast with it ever since! Here are some of the things we love about this beautiful machine:
#1: It's an all-in-one (with wireless accessories!)
Do you remember your college computer? I remember mine. That thing was a big, old elephant of a computer. It had an enormous, fat monitor, a big, clunky tower, and lots of accessories–and everything had to connect to everything else with cords. If you ever dared to peak behind the desk, you'd see a hideously tangled jumble of dusty cables and computer cords. Thanks to the
SpectreONE's
all-in-one set-up, that pesky tower that we used to have to shove under the desk is completely gone! And the mouse and keyboard are wireless. There is literally only 1 cable on the whole computer, and it's the power cord.
#2: It's so easy to set up!
This one goes hand-in-hand with reason #1. I think it only took us a minute or two to set the entire computer up, and that includes cutting the tape on the packing box! You lift the computer out of the box, set it on the desk, plug it in, and turn it on. That's it!! Setting up our new
SpectreONE
took less time than walking out to get the mail!
At our house, desktop real estate is in high demand, so we absolutely adore how sleek the
SpectreONE
is. It is literally only 7 inches deep! And since the keyboard and mouse are wireless, they can be picked up and moved when we need to clear off a little extra elbow room.
#4: It's fast. Like, really fast!
I really don't know anything about computers. Whenever I run into a computer problem, I call my brother the rocket scientist (literally, a rocket scientist) in a panic and beg for help. So I can't tell you anything fancy about processors or giga-whatevers. What I do know is that the
SpectreONE
loads my programs and web pages really quickly, more quickly than any other computer I've worked on. I don't have to wait and watch the little beach ball spin for an hour. I click on a link, and BOOM! there's my program.
#5: It comes with really great software!
More on this in my next HP post! If you're just dying to know before then, you can check out all of the
SpectreONE's
fantastic features, including the software it comes with, by clicking
HERE
.
As a brand ambassador for HP, I also got to use the
SpectreONE
to design an Experience Board that HP will be displaying at Alt Summit in Salt Lake City next week! I'm over the moon with excitement, and can't wait to see my little creation in real life, and really big! I'll get to share my Experience Board with you in the next few weeks!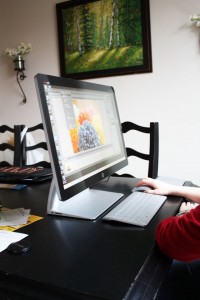 – – – – –
I wrote this review as part of a brand ambassador program with HP. I received the
HP SpectreONE AiO
as compensation for my participation in the program. All opinions are my own.