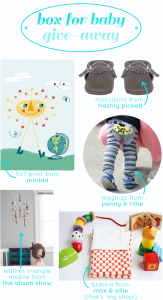 June is a big, exciting month for Lulu the Baker:  it was 5 years ago this month that I started this blog and wrote my first post! It's been an amazing 5 years. I've learned so much and met so many talented and generous people. I really do love this crazy blogging community.
To mark my 5-year milestone, we're spending the entire month of June celebrating! We started off last week with fun projects, recipes, and printables for a Star Gazing Party, and this week we've had a recipe for a show-stopping Chocolate Cake with Oreo Buttercream, and cute yarn-wrapped flower pots that would make perfect party favors or sensational centerpieces! And we still have two weeks of June left to party it up!
We're ending every week in June with a fabulous give-away! This week, I've rounded up some of my favorite baby items for our Box for Baby Give-Away. One lucky Lulu the Baker winner will receive a package worth nearly $200 filled with
     –one of my favorite 5×7″ prints from Minted
     –a pair of size 4 moccasins in Smoke from Freshly Picked (These babies are super hot!)
     –a pair of "I Like Milk" leggings, size 12-18 months, from Penny & Tillie
     –a leather triangle mobile from The Alison Show (We have one in our nursery and love it!)
     –a red and cream polka dot blankie from my shop, max & ellie
To enter to win, simply leave a comment on this post! Please leave an email address in your comment if one isn't provided in your profile. It's the only way I can get in touch with you if you win. I don't do anything else with the email addresses, promise. This contest is open to US residents only (sorry!). One entry per person. The give-away will run until Tuesday, June 18th at midnight, and the winner will be chosen randomly. I'll contact the winner by email, and they'll have 48 hours to respond, after which time I'll choose a new winner. Good Luck!