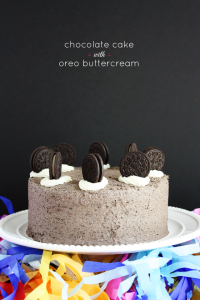 This is man-catchin' cake. Heck, this is anybody-catchin' cake. I had a party to go to a few months ago and was asked to bring a cake, and I had this great idea to frost my favorite chocolate cake with a batch of Oreo Buttercream. And guess what? That turned out to be one of the best ideas I've had in a very, very long time. It was a big party, and there were a lot of cakes, and every last crumb of this one was gobbled up before the end of the night. No one can resist a fudgey chocolate cake covered in rich, Oreo-stuffed frosting. No one.
Chocolate Cake with Oreo Buttercream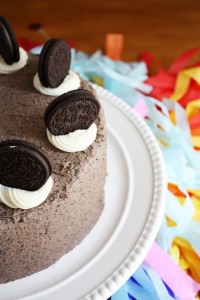 for the cake:
1 chocolate cake with 2 8″-round layers (My favorite recipe is
HERE
.)
for the frosting:
2 sticks butter, at room temperature
2 teaspoons vanilla
a pinch of salt
2 lbs powdered sugar
1/2 cup milk
1 14.3-oz package Oreos (36 Oreo cookies)
Set aside 8 Oreos for decoration. Combine butter, vanilla, and salt with a mixer. Add powdered sugar and milk and beat until light and fluffy. Set aside 1 cup for decorating. Add crushed Oreos to remaining frosting and beat. Add more milk a Tablespoon at a time until spreadable. Frost cake immediately.
To decorate the cake, begin my placing one cake layer flat-side-down on a cake plate. Spread enough frosting on the top to cover it. Place the other cake layer on top of the first, flat-side-up. Use remaining Oreo buttercream to frost top and sides of the cake. Put the reserved white buttercream in a pastry bag fitted with a star tip. Pipe 8 large white rosettes on top of the cake, equally spaced around the outside edge. Put an Oreo on each rosette. I placed my Oreos standing up and twisted slightly, as you can see in the picture below. Serves 12-16.