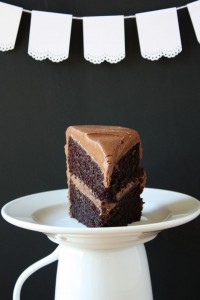 I should have known that Ina Garten had the best chocolate cake recipe all along; she is, after all, a goddess. There have been a few times in the past when I thought I had found The Perfect chocolate cake recipe, but every time I thought I had found my go-to, I started to get consistently bad results. Weird textures and sunken tops and what-not. I was a little skeptical when I read all of the glowing reviews surrounding this cake; everyone, and I mean everyone, said it was The Best Chocolate Cake Ever. And that it was easy to boot! Can one recipe really deliver all that? It turns out that the answer is a resounding Yes! Ina really does have the best chocolate cake recipe: it is a snap to make (no whipping, no careful folding, no fancy ingredients, just mix-mix-pour) and it produces a cake that is moist and rich and perfectly springy. My dad gave it perhaps the best compliment a cake can receive when, with eyes as wide as saucers, he stared at me quite dumb-founded and said, "What?! You made this from scratch?!" High praise indeed.
The Best Chocolate Cake Ever
(aka Beatty's Chocolate Cake, aka Ina Garten's Chocolate Cake)I have a favorite chocolate frosting recipe that I use for everything, and it worked beautifully with this cake. I highly recommend it! I chose not to make the chocolate buttercream included in the recipe from The Barefoot Contessa because it contains a raw egg and that grossed me out!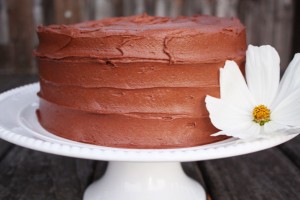 1 3/4 cups flour, plus more for dusting cake pans
2 cups sugar
3/4 cups cocoa powder
2 teaspoons baking soda
1 teaspoon baking powder
1 teaspoon kosher salt
1 cup buttermilk
1/2 cup oil
2 large eggs
1 teaspoon vanilla extract
1 cup hot, strong coffee*
Preheat oven to 350°F. Butter two 8″ cake pans and dust with flour. If you wish (but I didn't and it turned out just fine), you can butter each pan, line it with a circle of parchment paper, and then butter and flour the pans. Combine all dry ingredients in the bowl of a stand mixer and mix until combined. In a small bowl, combine buttermilk, oil, eggs, and vanilla. Pour buttermilk mixture into dry ingredients and beat just until smooth. Add coffee and mix just until incorporated. Divide batter, which will be incredibly runny, evenly between the two pans. Bake for 35 to 40 minutes until a toothpick stuck in the center of each cake comes out clean. Remove from oven and allow to cool in the pans for 10-15 minutes before turning out onto a wire rack to cool completely. Frost cakes as desired (click
HERE
for my favorite recipe for chocolate frosting).
*I almost forgot my asterisk! We don't drink coffee, but adding coffee to chocolate cake deepens the chocolate flavor and really makes it sing, so I don't like skipping that or adding water instead (blah!). So I use Pero, which is just an instant beverage powder that is made from malted barley and chicory and smells vaguely coffee-esque. It can be found near the teas, coffees, and hot cocoas at the grocery store.