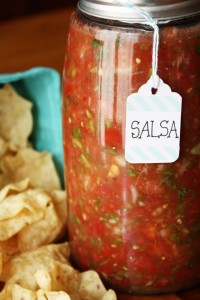 I really love mexican food. If you don't believe me, take this as evidence: 4 out of 7 nights this week have south-of-the-border fare on the menu. We've already had mexican take-out and homemade chimichangas, and enchiladas with homemade sauce and tacos are coming up. And don't get me started on salsa! In my book, good salsa might tie with ranch as the perfect condiment. I love to pour it on tacos, to wrap it inside burritos, and to dip taquitos in it. I love it at breakfast, lunch, and dinner, and I could eat chips and salsa all day long. This recipe for fresh salsa is one of my favorites. It has strong, fresh flavors and perfect seasoning. It's the reason I plant a vegetable garden!
adapted from the recipe used by the BYU Creamery (via my sister Emily)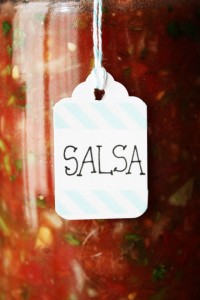 4 lbs tomatoes
1 large yellow onion, peeled
1 green bell pepper
up to 3 small jalapeno peppers
1 anaheim pepper
1 clove garlic
1/3 bunch cilantro
1 Tablespoon + 1 scant teaspoon salt
1 Tablespoon + 1 scant teaspoon season salt
1 Tablespoon + 1 scant teaspoon lemon juice (either fresh or bottled)
freshly ground black pepper
Core and roughly chop all produce. Remove seeds from peppers as desired. For milder salsa, remove all pepper seeds; for spicier salsa, leave some or all seeds in. Working in batches, use a food processor to chop tomatoes, onion, all peppers, garlic, and cilantro to desired size. I pulse mine until it's just a little chunky. Pour salsa into a large bowl and add all seasoning and lemon juice. Refrigerate until needed. Makes 4-5 pints.