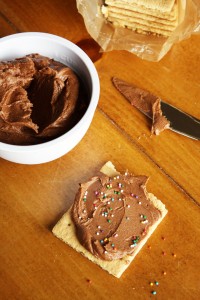 Chocolate frosting can be a tricky thing (or rather, used to be). Up until very recently, I thought there were two versions, both flawed. Version #1: chocolate frosting made with cocoa powder and softened butter. This makes a light, fluffy frosting that tastes like cocoa powder. My brain wants to put eating cocoa powder in the same category as eating sawdust and instant coffee granules (i.e., not good). Version #2: chocolate frosting made with cocoa powder and melted butter. This makes a really delicious, fudgey chocolate frosting, but as the melted butter cools and starts to re-solidify, the frosting hardens and turns into fudge. It tastes great, but you have to be lightening quick to use it before it hardens. Not very forgiving stuff!
A few weeks ago, when I was making my 4 year-old's birthday cake, I wanted a chocolate frosting that combined the fluffiness of frosting made with softened butter and the rich chocolate taste of one made with melted butter. The answer is melted chocolate! Somehow, the melted chocolate and softened butter combine to make a chocolate frosting that is both rich and fudgey AND light and fluffy. We've made this frosting twice in the past 3 weeks, and I tell you it has changed lives! That's what we're all about here on Lulu the Baker: changing lives, one chocolate frosting recipe at a time.

You have to make this in a food processor. You just have to!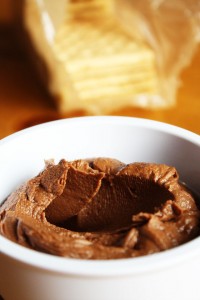 3 oz unsweetened chocolate, melted (yes, that box of Baker's Unsweetened Chocolate)
3 cups powdered sugar
12 Tablespoons unsalted butter (1 1/2 sticks), softened
3 Tablespoons half-and-half
1 1/2 teaspoons vanilla extract
a pinch of salt
Combine all ingredients in the bowl of a food processor. Pulse until well-combined. If you don't like the consistency (but you will!), you can add more powdered sugar or half-and-half and continue to pulse until the frosting is just the way you like it.