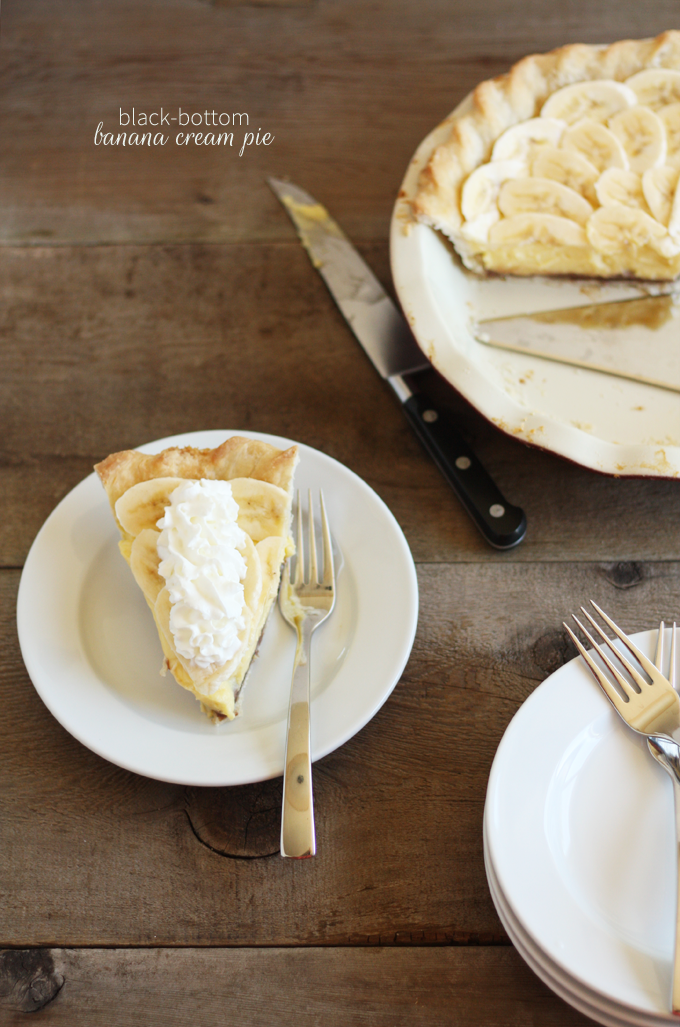 After taking a month off, my friend Melanie and I are back with another fun Melanie Makes/Lulu Bakes collaboration! Every month, Melanie and I team up to make a different dish with the same three ingredients. This month, our three ingredients were bananas, flour, and eggs, and I went the homemade banana cream pie route! From-scratch pie crust, creamy homemade vanilla custard, a layer of fresh bananas, and clouds of whipped cream. And this banana cream pie has a hidden hot fudge layer at the bottom that takes it from ordinary to extraordinary! Make it today, and be sure to visit Melanie's blog to see what delicious recipe she came up with featuring our three ingredients.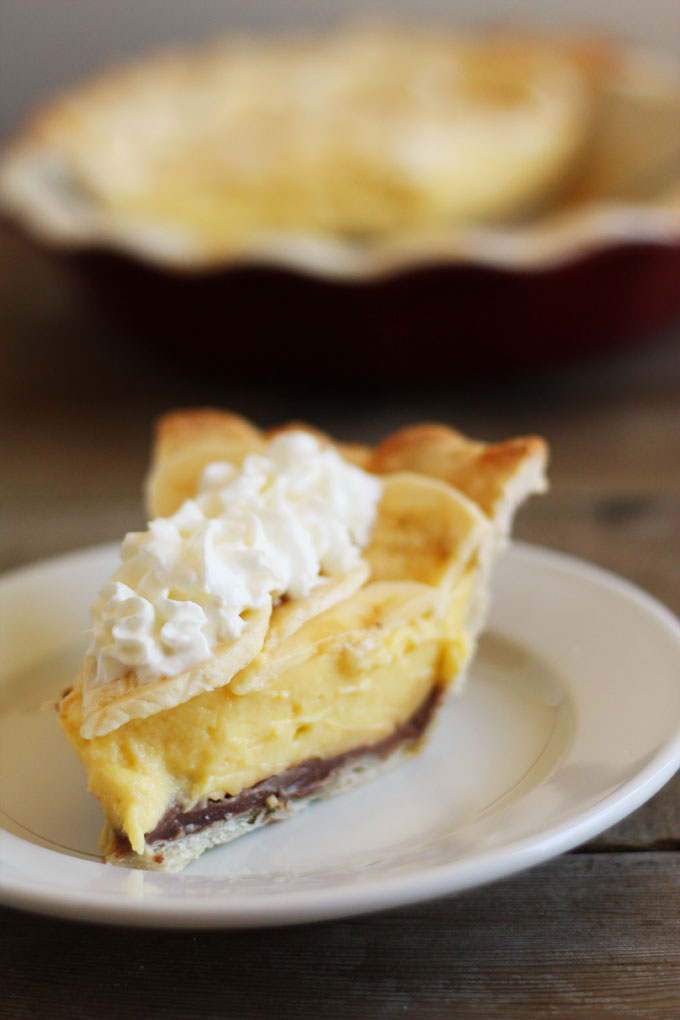 for the crust:
1 1/4 cups flour
1 Tablespoon sugar
1/2 teaspoon salt
4 Tablespoons shortening, chilled and cut into cubes
6 Tablespoons butter, frozen and cut into cubes
3-4 Tablespoons ice water
for the filling:
1/2 cup + 2 Tablespoons sugar
1/4 cup cornstarch
1/8 teaspoon salt
5 egg yolks
2 cups whole milk
1/2 cup evaporated milk (NOT sweetened condensed milk)
1 teaspoon vanilla extract
2 Tablespoons butter
1/3 cup hot fudge sauce at room temperature
2 bananas
sweetened whipped cream
To make the crust, begin my combining the flour, sugar, and salt in the bowl of a food processor. Add shortening and pulse until combined. Add butter and pulse until the mixture is clumpy and still has chunks of butter visible. Pour the mixture into a medium bowl, add 5 Tablespoons ice water, and fold with a spatula until dough forms. If you need to, add the remaining Tablespoon of ice water. Turn the dough out onto a sheet of plastic wrap. Use your hands to shape it into a ball, then flatten it into a disk about 1″ thick. Wrap in plastic wrap and refrigerate about 1 hour. Roll out the dough on a well-floured work surface until it is about 14 inches around and about 1/8″ thick. Carefully lift the dough and place it in a deep pie plate. The way I transfer my dough (and it's always successful) is to sprinkle it lightly with flour, fold it in half, and then in half again. Place the wedge of dough so that the point is in the center of the pie plate, and gently unfold it. Press the dough firmly into the bottom and up the sides of the pie plate. Fold any extra dough under the edges and use a fork to crimp the edges or use your thumb and fingers to pinch a design. Poke the dough lightly all over the bottom and sides with a fork, then refrigerate it for 30 minutes. Preheat the oven to 375°F. Line the chilled dough with foil, fill the foil with pie weights (or dry rice or dry beans), and bake for 25 minutes. Remove the foil and pie weights and continue baking for 15 more minutes, until the crust is golden. Remove from the oven and allow to cool completely.
To make the filling, combine the sugar, cornstarch, and salt in a medium saucepan. Whisk in the egg yolks, then whisk in the whole milk and evaporated milk. Bring the mixture to a simmer over medium heat, whisking frequently. Allow the mixture to simmer for 1 minute, then remove from heat and immediately strain through a fine mesh sieve into an 8″ baking dish or shallow pan. Add vanilla and butter, and whisk until smooth. Place a piece of plastic wrap on the surface of the filling and allow it to cool to room temperature.
To assemble the pie, spread the hot fudge sauce evenly over the bottom of the cooled crust. Spoon the vanilla filling over the hot fudge sauce, again cover with plastic wrap, and chill at least 3 hours. Just before serving, cut the bananas in half and then slice vertically into 1/8″ slices. Lay banana slices over top of pie filling and top with whipped cream. Cut and serve immediately!