This is a sponsored post written by me on behalf of Draper Valley Farms for IZEA Worldwide. All opinions are 100% mine.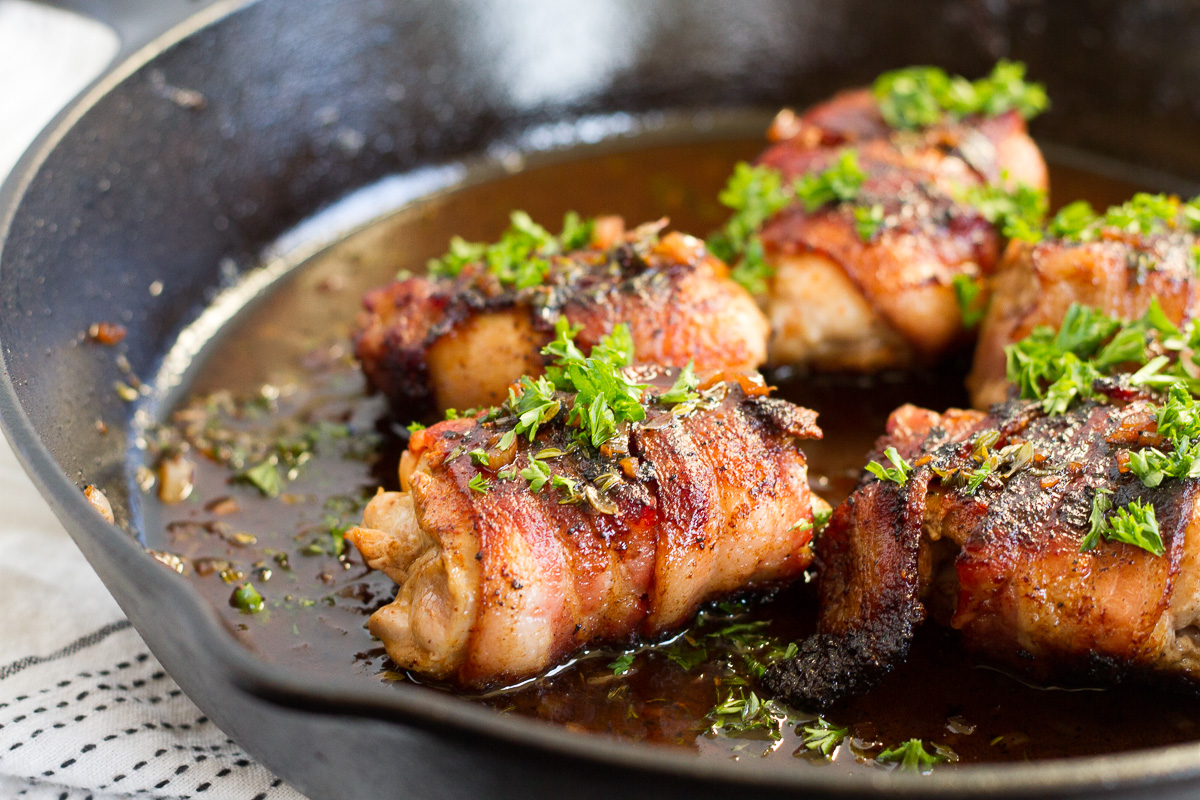 I'm really excited to share this new recipe with you guys. These bacon-wrapped chicken thighs are really easy to make, so they're great for weeknights. They also look fancy enough for weekend meals or special occasions. Regardless of when you decide to make them, they are tender, delicious, and flavorful, so you'll be winning at the dinner game.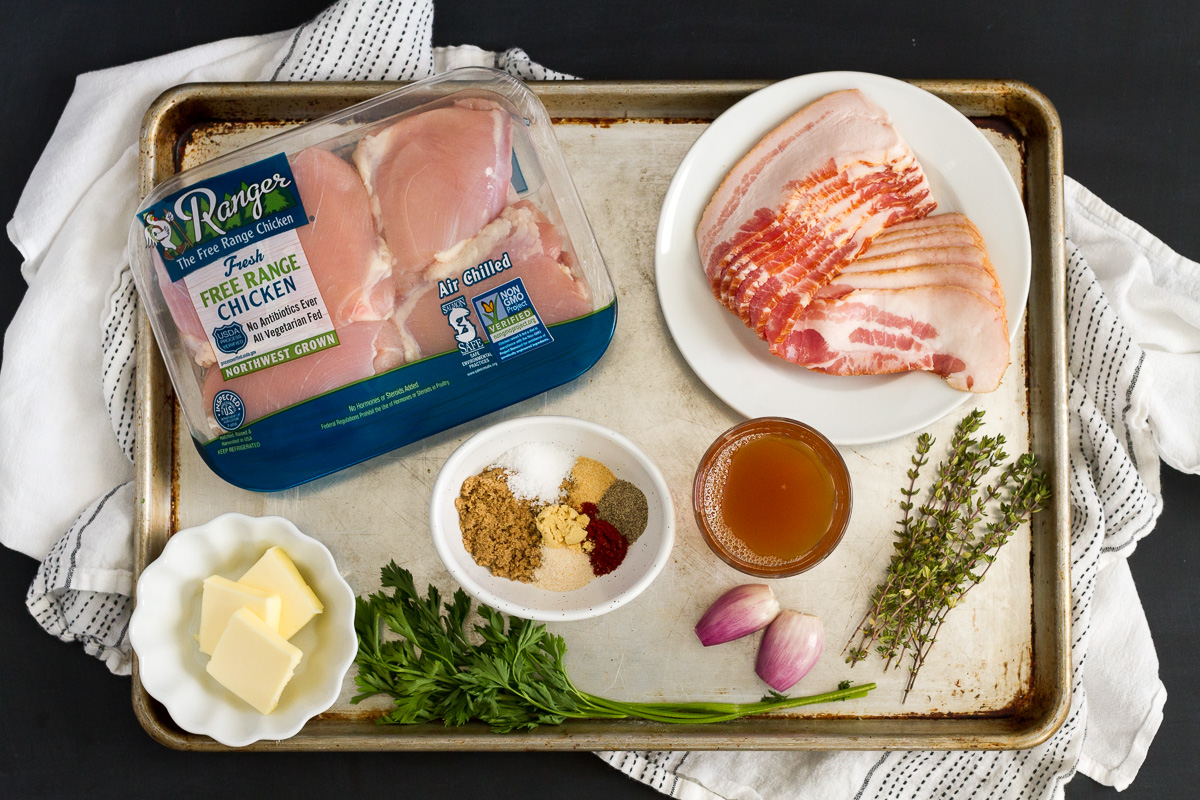 I love using RANGER® and ROXY™ products from Draper Valley Farms. They come from free-range chickens raised locally in the Pacific Northwest in Washington and Oregon. They're fed a non-GMO, 100% vegetarian diet, and they have no antibiotics ever. For this recipe, I used RANGER® Free Range Boneless Skinless Chicken Thighs. I love chicken thighs because they turn out flavorful and juicy when you cook them.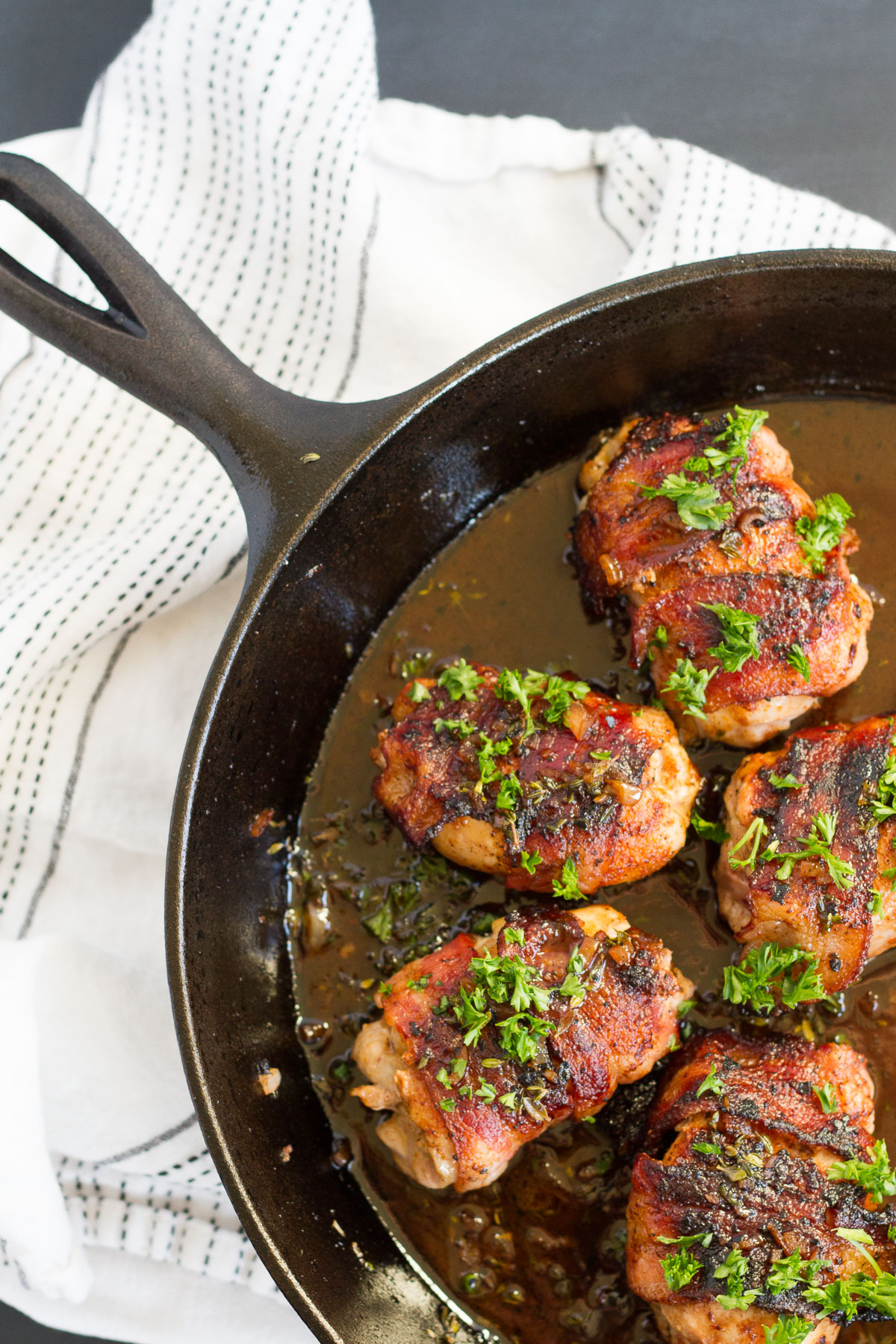 I wanted to give these chicken thighs a sweet, smoky flavor perfect for chilly Fall evenings. I started by rubbing the thighs with a blend of brown sugar and spices like garlic and smoky sweet paprika. Then I wrapped the chicken thighs with applewood smoked bacon and cooked them to a deep golden brown in a cast-iron skillet. After cooking the chicken, I made a savory-sweet pan sauce with shallots, thyme, and apple cider. The finished dish is so flavorful and delicious, with the perfect balance of savory, sweet, and smoky. I know you're going to love it!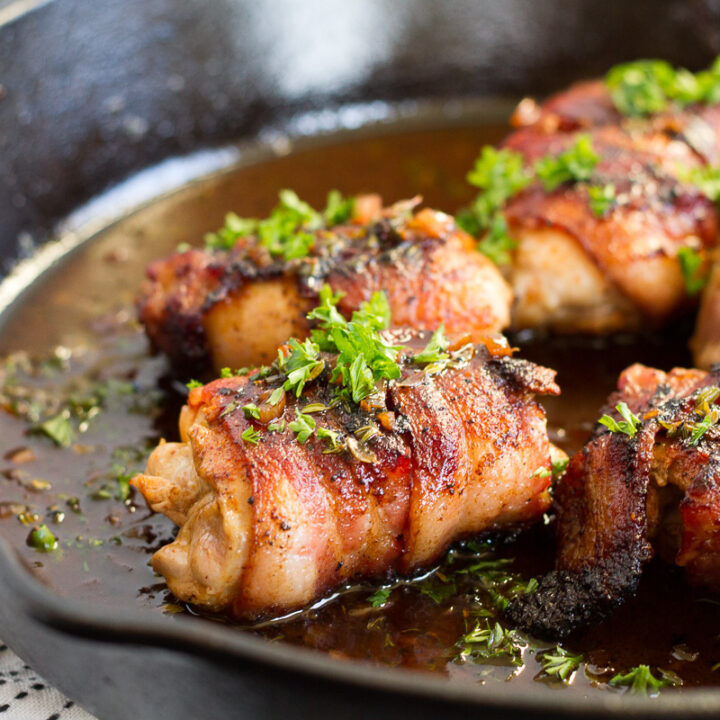 Bacon-Wrapped Chicken Thighs with Apple Cider Pan Sauce
Yield: 3-4 servings

Prep Time: 10 minutes

Cook Time: 30 minutes

Total Time: 40 minutes

The tangy pan sauce puts this weeknight chicken dinner over the top!
Ingredients
1 package RANGER® Free Range Boneless Skinless Chicken Thighs (about 1 1/2 pounds)
1 Tablespoons brown sugar
3/4 teaspoon kosher salt
1/2 teaspoon freshly ground black pepper
1/2 teaspoon smoked paprika
1/2 teaspoon garlic powder
1/2 teaspoon onion powder
1/4 teaspoon ground mustard
5-6 slices applewood smoked bacon (1 slice per chicken thigh)
2 Tablespoons butter, divided
4 teaspoons minced shallots
1 1/2 teaspoons minced fresh thyme
1/2 cup apple cider
1 Tablespoon apple cider vinegar
minced fresh parsley for garnish
Instructions
Preheat a cast-iron skillet over medium-low heat.
In a small bowl, combine brown sugar, salt, pepper, paprika, garlic powder, onion powder, and mustard. Pat the chicken thighs dry with paper towels, then generously season both sides of each chicken thigh with the spice mixture. Use up all of the spice mixture.
Wrap each seasoned chicken thigh with a slice of bacon, then place the chicken into the hot skillet. Cook on one side for 8-10 minutes until golden brown, then flip and continue cooking until the chicken is cooked through, about 13-14 more minutes. If you have a meat thermometer, the temperature of the chicken should be 170°F when it is fully cooked.
Remove the chicken from the skillet, place it on a plate, and set it aside while you make the pan sauce. Drain all of the bacon fat from the skillet. Add half of the butter to the skillet. Add the shallots and thyme, and sauté for 2-3 minutes until tender and fragrant. Add the apple cider and simmer until the liquid has reduced slightly, 1-2 minutes. Add the remaining butter and the apple cider vinegar, and cook until the butter is melted. Remove from heat.
Add the chicken back to the pan, spoon a little sauce over each chicken thigh, top with minced fresh parsley, and serve.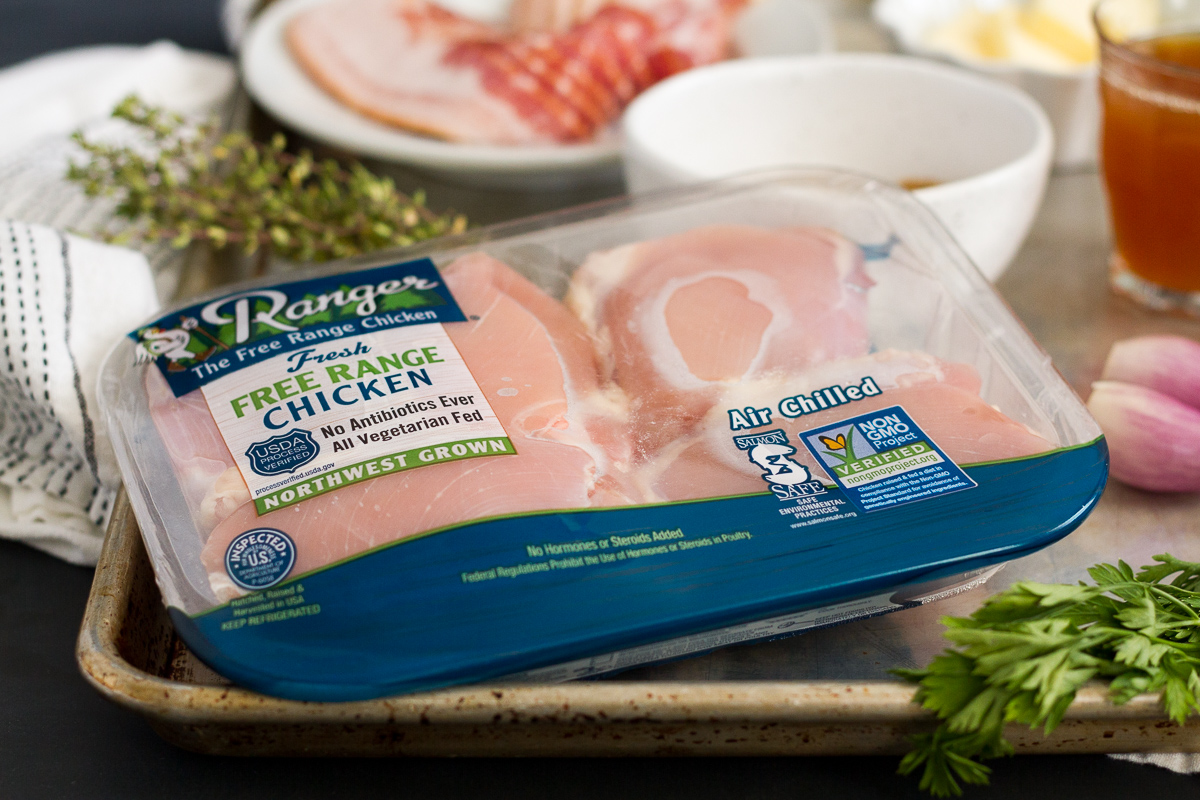 Be sure to follow Draper Valley Farms on Facebook, Twitter, Instagram, and Pinterest for more great recipes for RANGER® and ROXY™ products, plus coupons and promotions. You can find out where to buy RANGER® and ROXY™ products on the Draper Valley Farms website.