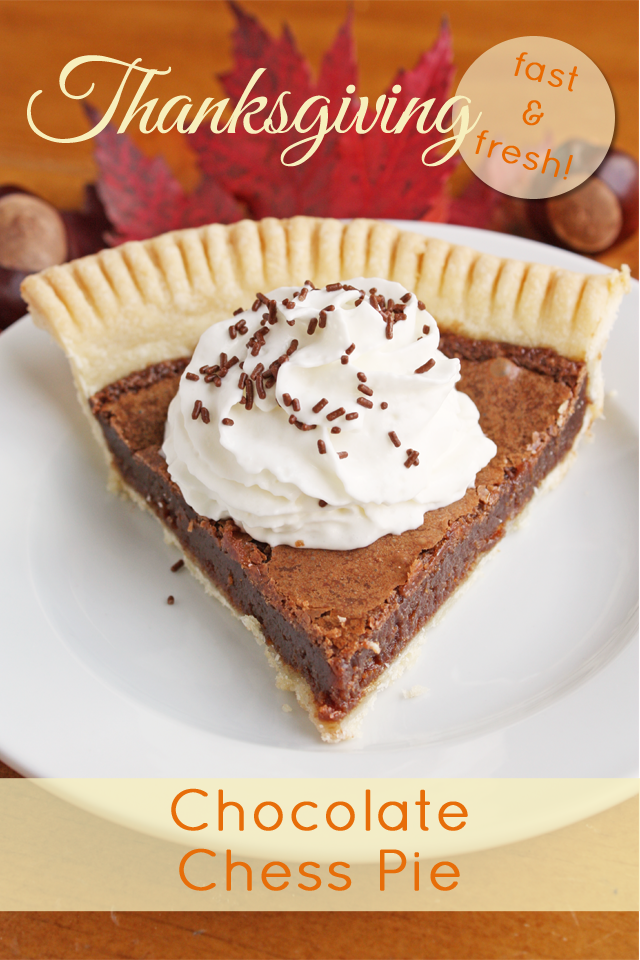 Most of my family lives on the west coast, but my little sister and her family are in North Carolina for a few years while her husband gets his PhD. Her adventures on the east coast have introduced our whole family to lots of fun things, the best of which is Chocolate Chess Pie from a very famous Raleigh eatery, Angus Barn. This pie is life-changing, folks. It is so easy to make–the filling requires only 6 ingredients!–and takes literally minutes to to put together. Seriously, only about 3 minutes! It has a thick, fudgy consistency and rich chocolate flavor. It kind of tastes like hot fudge sauce pie, or not-quite-baked brownie batter pie! It is a new family favorite for us, and I guarantee that if you make it this Thanksgiving, it'll be an instant classic in your family too!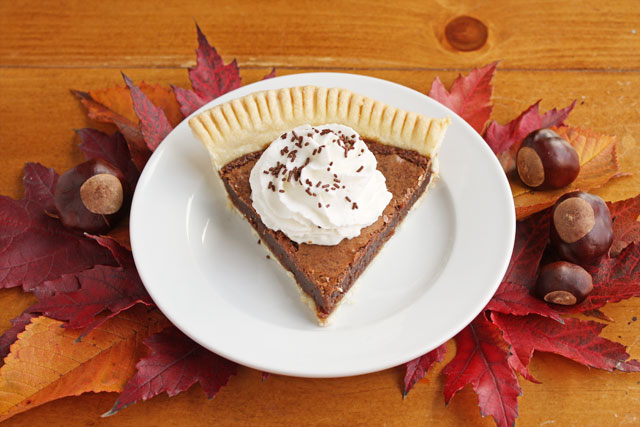 Thanksgiving, Fast & Fresh: Chocolate Chess Pie
This pie is so delicious and so easy to make! Fudgy, rich, and a fast family favorite!
Ingredients
1 unbaked pie shell (you can find my favorite all-butter pie crust recipe HERE, or use a pre-made pie crust from the store)
1 stick (1/2 cup) butter
2 squares Bakers' semisweet chocolate (2 oz)
1 cup sugar
2 eggs
1 teaspoon vanilla
a pinch of salt
whipped cream for serving
Instructions
Preheat the oven to 350°F.
Lay the pie crust in a standard pie pan, pressing it into the bottom and up the sides. Trim any excess crust, and decorate the edges however you like.
In a medium saucepan over low heat, combine butter and chocolate. Heat just until melted. Remove from heat, and whisk in sugar, eggs, vanilla, and salt. Pour batter into prepared crust and bake for exactly 35 minutes.
Allow to cool completely before cutting; let it sit on the counter for several hours or speed up the cooling by putting the pie in the fridge. Serve topped with sweetened whipped cream.