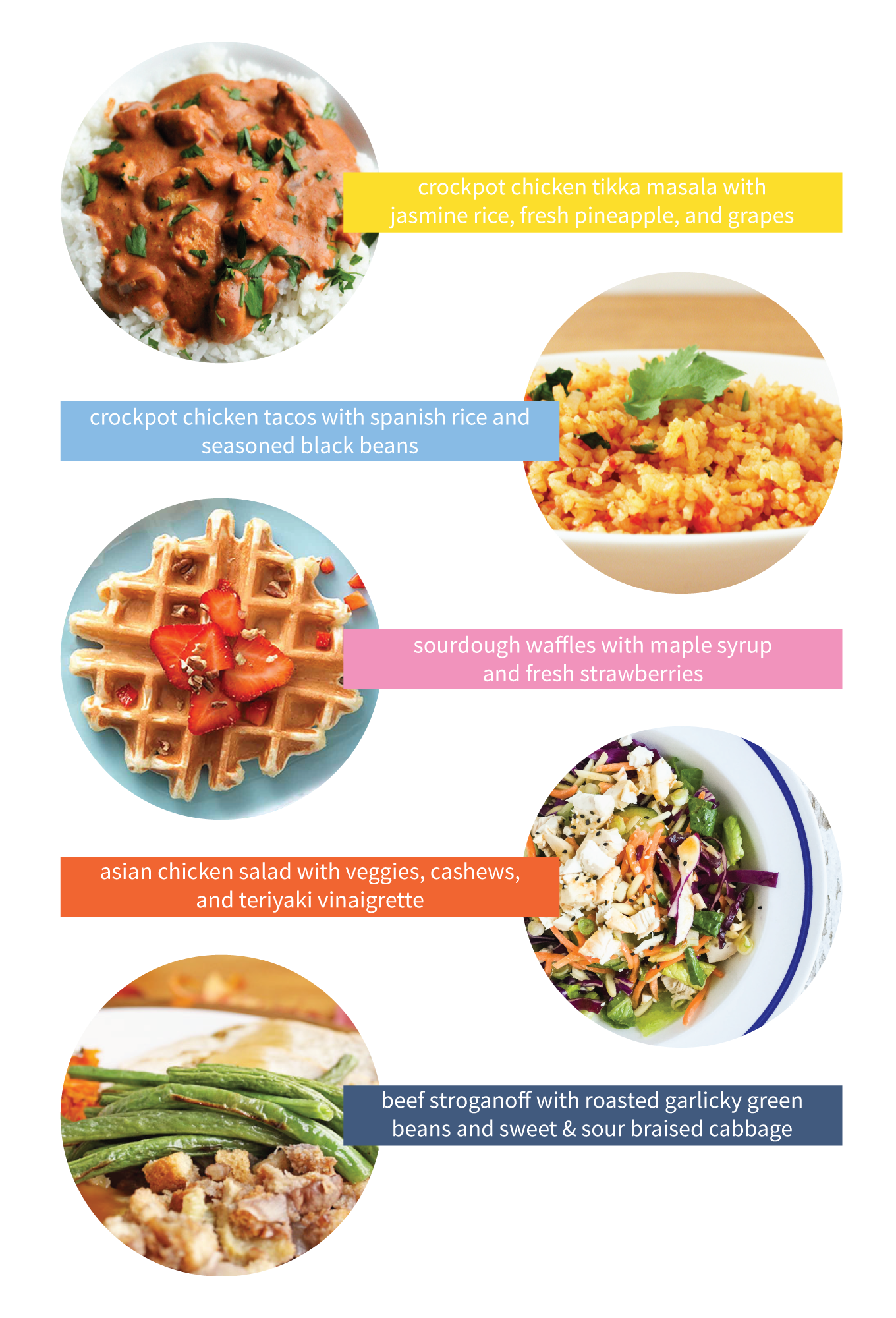 Happy Saturday! I'm excited to show you guys my second installment of This Week's Menu Ideas. I've gotten great feedback so far on the series; I hope you all love it as much as I do! Here are some of the easy and delicious, family-friendly meals we ate and loved this week. Hopefully they'll inspire you as you plan next week's menu.
Crockpot Chicken Tikka Masala with jasmine rice, fresh pineapple, and grapes: I've been really craving chicken tikka masala lately, and this recipe from Table for Two is both delicious and super simple to make. It's a new family favorite that I expect will be requested again soon.
Crockpot Chicken Tacos with Spanish Rice and seasoned black beans: We started making crockpot chicken tacos years ago after my cousin's wife included the recipe in a family cookbook. And they have popped up with regularity on our weekly menu ever since. They are supremely easy (basically three ingredients), and the chicken is good not only for tacos, but also for quesadillas, enchiladas, burritos, and more. If you truly want to make them "from scratch," you can use homemade salsa and homemade taco seasoning in place of store bought versions. The spanish rice is another family favorite. It is hands down the best homemade spanish rice we've ever had. Fluffy, flavorful, and easy to make.
Sourdough Waffles with maple syrup and fresh strawberries: My husband got really into sourdough a few years ago. If you have never done the sourdough thing, I'll clue you into the fact that people who have sourdough are constantly looking for ways to use it. You have to feed it to keep it healthy, and when you feed it, it grows. And grows, and grows, and grows! Anyway, we love these overnight sourdough waffles from King Arthur Flour. They are light and crispy, and have wonderful flavor.
Beef Stroganoff with Roasted Garlicky Green Beans, and Sweet & Sour Braised Cabbage: My oldest loves beef stroganoff. It's one of her favorite things to have for dinner. We have a favorite recipe that I'll think about sharing sometime. In the meantime, I'll give you the recipe for these amazing green beans roasted with olive oil and garlic salt, and our new favorite tangy German cabbage recipe. The recipe from Blue Apron calls for savoy cabbage, but we used purple cabbage in it's place this week. The flavor was equally fantastic, and the color was gorgeous!
Asian Chicken Salad with veggies, cashews, and Teriyaki Vinaigrette: I've been trying to eat lots of salads for lunch lately, and this particular one was a big hit. I shredded romaine lettuce and purple cabbage, and added shredded carrots, thinly sliced scallions and cucumbers, chopped cashews, diced rotisserie chicken, sesame seeds, and my new favorite Teriyaki Vinaigrette from Le Creme de la Crumb. It is a verrrrrry tasty dressing. It calls for teriyaki sauce, and I recommend getting a really good, sweet, thick teriyaki sauce.
So there you have it: a few tasty menu ideas for quick and easy, family-friendly weeknight meals. Have a great weekend, and happy menu planning!