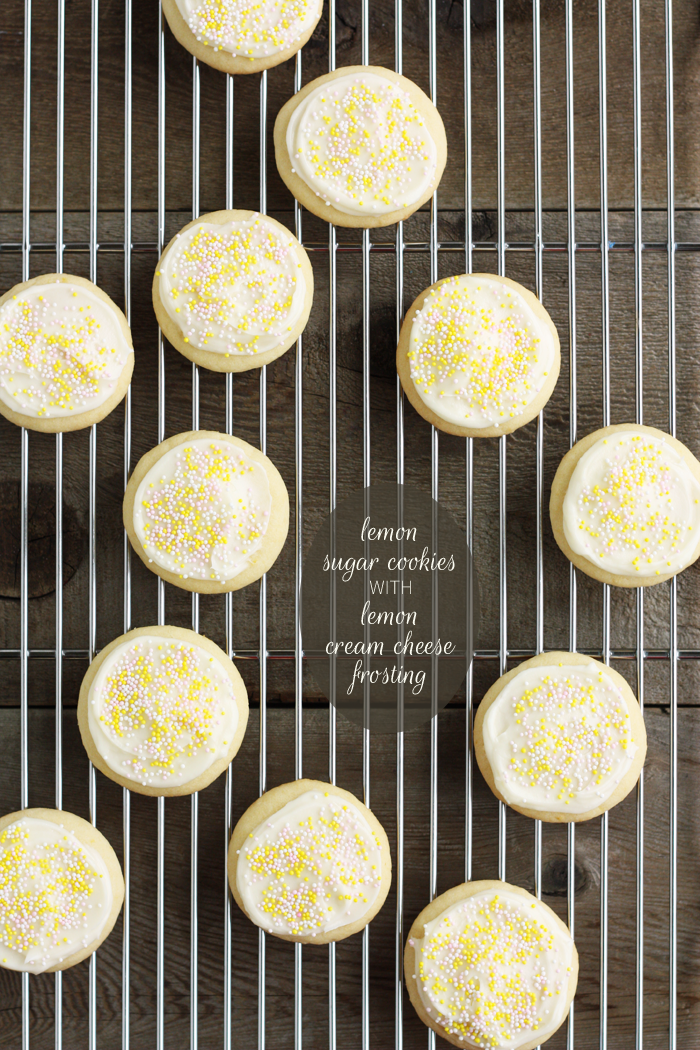 One of my most popular posts (according to Pinterest) is some lemon sugar cookies I wrote about several years ago. I've been wanting to repost that recipe with updated pictures for almost a year now, and they seem perfectly suited to the warm weather and sunshine we've been having lately. We made a big batch last week to take to our friends for Easter, and were lucky to have a few left over to keep all to ourselves!
Speaking of Pinterest, if you've tried to get to an old recipe from Lulu the Baker through Pinterest since the move last week, you've probably noticed that the links aren't quite working right. I hope we'll fix that really soon! Also, don't be alarmed if you check the same post twice in one day and notice different formatting each time; I'm still trying to figure all of this out! In the meantime, make yourself some lemon sugar cookies and enjoy the sunshine!


Lemon Sugar Cookies with Lemon Cream Cheese Frosting
first posted on Lulu the Baker in February, 2010
for the cookies:
1/2 cup butter, softened
1/2 cup crisco
1 cup sugar
1 teaspoon vanilla
1 egg
1 Tablespoon lemon zest
2 1/2 cups flour
3/4 teaspoon salt
1/2 teaspoon baking soda
1 Tablespoon milk
1 Tablespoon fresh lemon juice
for the frosting:
1/4 cup butter, softened
4 oz cream cheese, softened
1/2 teaspoon lemon extract or vanilla
1/2 lb. powdered sugar
pinch of salt
fresh lemon juice
Preheat oven to 350°F. In the bowl of an electric mixer, cream butter, crisco, and sugar until fluffy. Add vanilla, egg, and lemon zest; mix. In a separate bowl, sift together flour, salt, and baking soda. Add dry ingredients to mixer and combine. Add milk and lemon juice, and stir until completely incorporated. Roll dough into Tablespoon-sized balls and place on a greased baking sheet. Bake for 10-12 minutes, until cookies are just beginning to turn golden on the edges. Remove from oven and cool completely before frosting.
To make the frosting, beat butter and cream cheese until smooth and well mixed. Add lemon extract (or vanilla). Add powdered sugar and salt. Stir. Mix in fresh lemon juice until the frosting reaches a spreadable consistency.