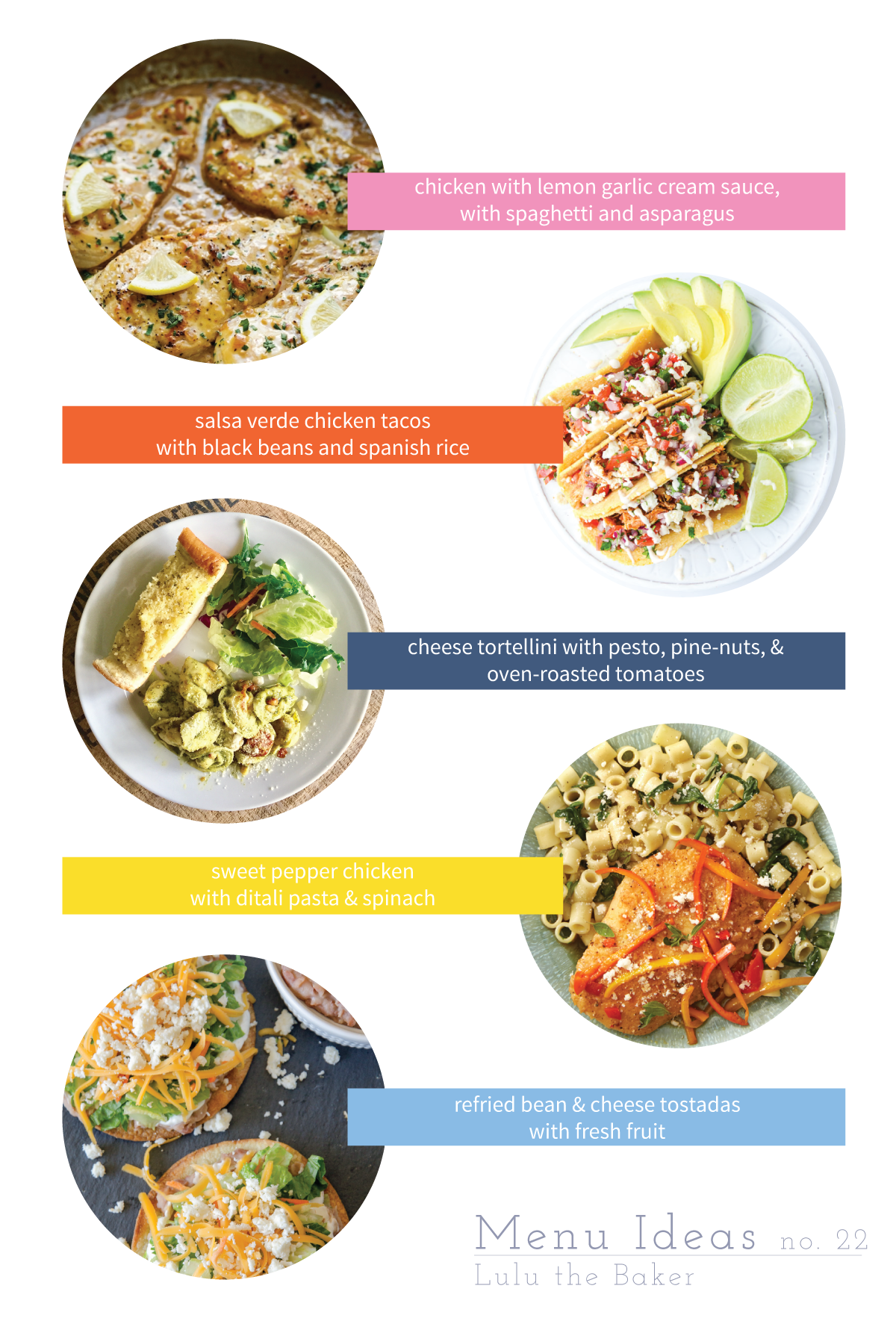 Now that school is back in session, we are back to our busy school year schedule. We're back to homework, chores, piano lessons, after-school clubs, and sports, and that means we need quick, simple, delicious weeknight dinners that the whole family will love. Every few weeks, I share a list of menu ideas based on dinners my family has eaten and enjoyed recently. Here are this week's top 5:
Chicken with Lemon Garlic Cream Sauce, with Spaghetti and Asparagus
I think I included this yummy chicken dish in an earlier edition of Menu Ideas, but it bears repeating since it is so good. Last time I made it, I made a huge batch and served it over rice. It was good, but I knew it could be great if I made it again and followed the directions. This time, I made a normal-sized batch and served it over spaghetti noodles, and it was seriously amazing. The chicken was good, but honestly, the pasta covered in lemon garlic cream sauce was everyone's favorite part. It was really easy to make, and served with a side of oven-roasted asparagus, it made a great, quick weeknight dinner. Find the recipe for this yummy one-skillet chicken HERE.
Salsa Verde Chicken Tacos with Black Beans and Spanish Rice
Chicken tacos are one of our go-to dinners, whether it's a busy weeknight or a weekend dinner with friends. I've been making chicken taco meat in the slow-cooker for years, and it is such a timesaver. The chicken turns out super tender and flavorful, and it takes less than 10 minutes to prep. Instead of the classic red salsa I usually use (it's homemade, and one of my most popular recipes year after year), I used a delicious homemade green sauce. I grow tomatillos in our garden every year just to make this sauce! I make a huge batch, ladle it into freezer-safe containers, and freeze it. The salsa verde chicken tacos were a nice change of pace from our regular tacos, and every bit as easy. If you don't have a stash of homemade salsa in your freezer, you can use your favorite brand of store-bought salsa verde. On the side, we had our favorite easy seasoned black beans and the best homemade spanish rice. [photo source]
Cheese Tortellini with Pesto, Pine Nuts, & Oven-Roasted Tomatoes, with Garlic Bread and a Salad
Refrigerated cheese tortellini are a lifesaver on busy weeknights. We've dressed them up all kinds of different ways over the years, but this simple combo is our favorite and is really easy. While the pasta is cooking, chop a handful of cherry or grape tomatoes, toss them with olive oil and kosher salt, put them on a cookie sheet, and put them in a hot oven (400°F should work) for 15-20 minutes. During the last few minutes of roasting, add a handful of raw pine nuts to the pan. Watch everything closely to make sure nothing burns. Toss the hot, drained tortellini with your favorite pesto, plus the roasted tomatoes and pine nuts. Top with parmesan cheese, and serve with yummy garlic bread and a big, green salad. Simple and delicious.
Sweet Pepper Chicken with Ditali Pasta & Spinach
You guys know how I feel about Blue Apron—I love it. We didn't order Blue Apron meals regularly this summer because of out-of-town vacations, house guests, and family reunions. But the meals we did manage to squeeze in were fantastic. This Sweet Pepper Chicken with Ditali Pasta & Spinach was a favorite. It really blew all of our expectations out of the water. The chicken was tender and flavorful, the sauce, made with sweet, piquant peppers, was mouthwatering, and the pasta and spinach combined to make the perfect light side dish. And best of all, it was ready in a flash. Seriously, give this one a try—you'll love it!
Refried Bean & Cheese Tostadas with Fresh Fruit
This dinner was possibly the easiest I've ever made, and was really tasty. I bought a package of crispy tostadas from the store (like giant, round tortilla chips all stacked up), heated up our favorite refried beans, and prepped toppings like salsa, sour cream, shredded lettuce, diced tomatoes, and shredded cheese. Everybody built their own tostadas, and we had fresh watermelon, cantaloupe, and pineapple on the side. So easy and so good!! [photo source]
If you're new to the Menu Ideas series, you can check the archives for even more delicious weeknight dinner suggestions. They're all tried and true dinners that my family has made and loved. Happy menu planning!
SaveSave