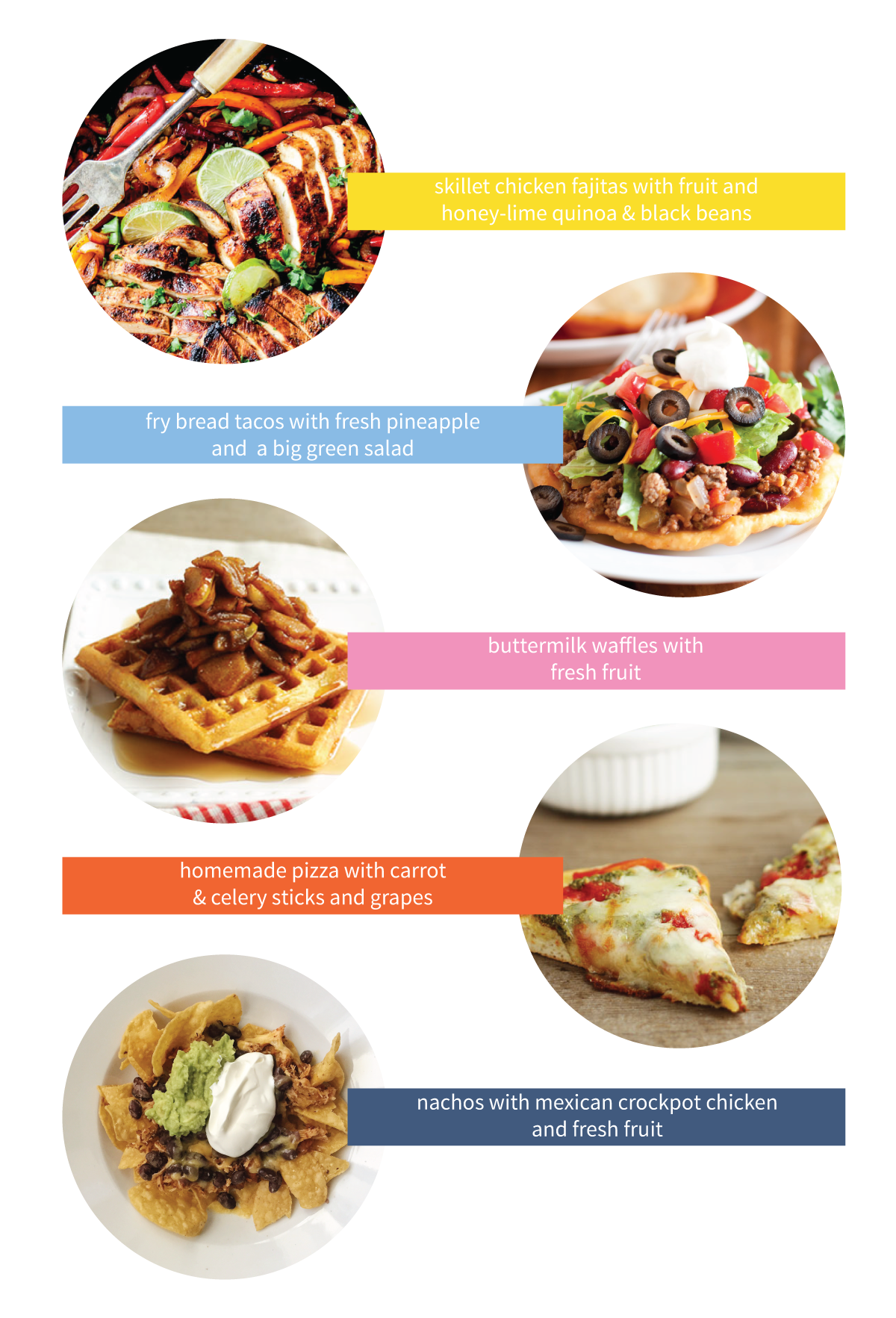 It's been a few weeks since I posted a round-up of our favorite menu ideas. We finished out the summer with several casual dinner parties with friends, spent Labor Day weekend camping, and have been back in school now for two weeks. With school back in session, we've gone back to really simple dinners. On a busy night, it's hard to find time to make a fancy, complicated meal between music lessons, homework, and sports practice. These are some of the simple and satisfying dinners we've enjoyed in the past few weeks:
Skillet Chicken Fajitas with Fruit and Honey-Lime Quinoa & Black Beans
I pinned these Skillet Chicken Fajitas from Carlsbad Cravings in August, and made them when we had friends over for dinner one night last month. And, as with every recipe we've tried from Carlsbad Cravings, they were delicious! The chicken marinates in a mouthwatering sauce all day, then gets cooked up in a skillet along with onions and peppers. We served ours with fresh fruit and my sister's go-to side dish, Honey-Lime Quinoa & Black Beans.
Fry Bread Tacos with Fresh Pineapple and a Big Green Salad
We love eating tacos, but we like to mix it up every once in a while. These fry bread tacos are a great way to shake up Taco Night. You can use your favorite recipe for Navajo Fry Bread, or use pre-made roll dough (thawed, of course), fry it up, and top it with all of your favorite taco toppings. [photo from Cooking Classy]
Buttermilk Waffles with Fresh Fruit
My husband works with our church youth group one night a week. On those nights, it's even harder than usual to get dinner on the table between the time he gets home from work and the time he has to leave again. Homemade waffles are one of our go-to dinners for nights like that. They don't take a lot of time to make and are always a huge hit with everyone in the family. We follow the same recipe as we do for buttermilk pancakes, but we separate the eggs, and whip the eggs whites before folding them into the rest of the batter.
Homemade Pizza with Carrot & Celery Sticks and Grapes
Our kids requested homemade pizza the night before school started. It might sound hard and complicated, but it really couldn't be easier. Our favorite homemade pizza dough recipe is ready to roll with just a half hour rise, and you can customize your pizza with your favorite toppings. This time, we made plain cheese, pepperoni, and potato pesto, which is one of our go-to pizzas.
Nachos with Mexican Crockpot Chicken and Fresh Fruit
Last Friday night, we had a high school football game to go to, so we needed something quick, easy, and delicious for dinner. Our favorite mexican crockpot chicken cooked all day, so all I had to do at dinner time was make some black beans and guacamole, and get out the chips and a few more toppings for homemade nachos. And yes, we have been eating a ton of fresh fruit lately! First, we had a huge box of fresh pears to eat, then we had a huge box of fresh peaches to eat. Everyone has been pretty compliant.
Enjoy your weekend, and have fun planning next week's dinners. Do you have any go-to menu ideas? Leave me a comment below!