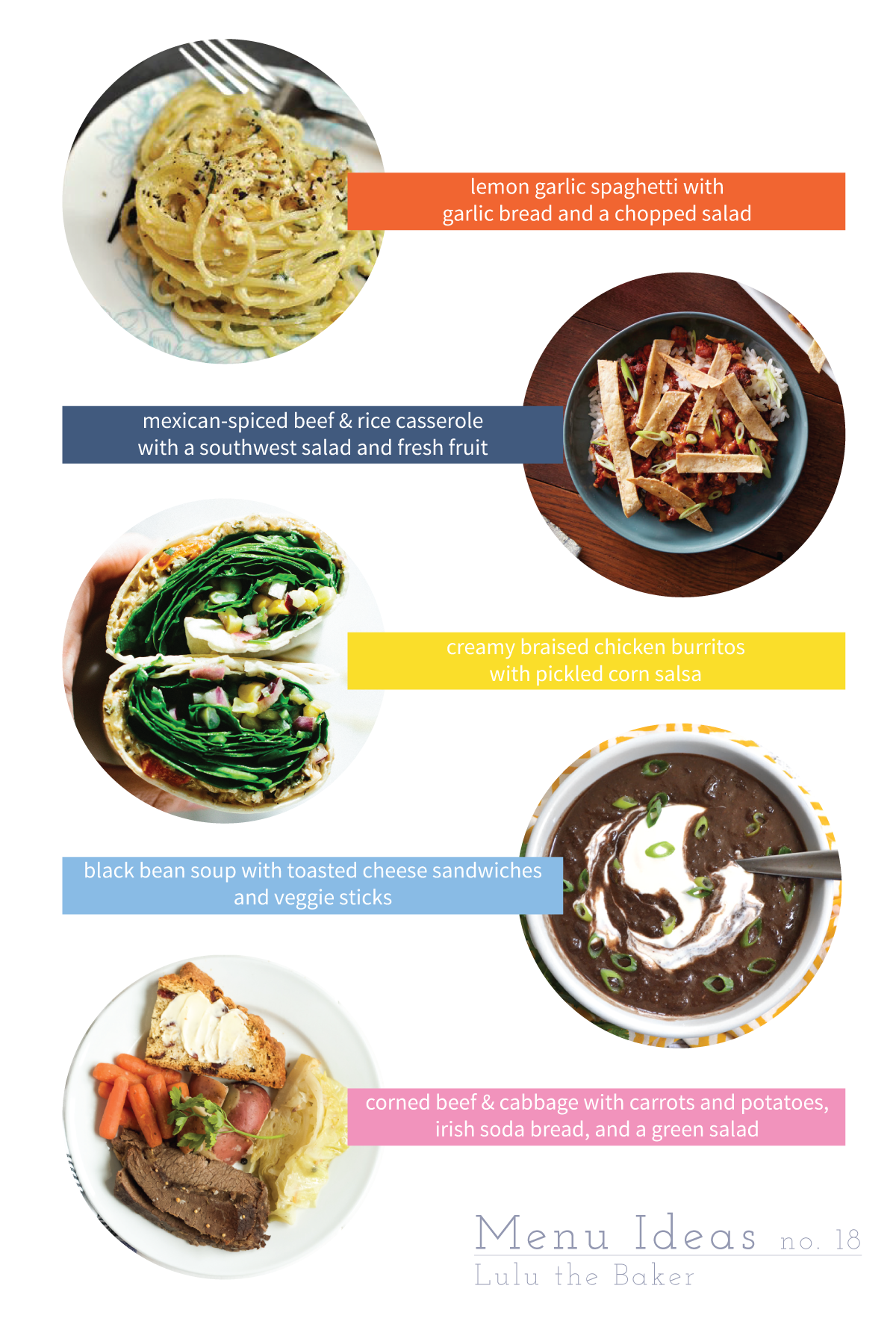 I have a great group of menu ideas for you this weekend! All of the weeknight dinners on this week's round-up are family favorites that we've made and loved. Some are long-time faves, like the lemon garlic spaghetti and corned beef & cabbage, and others are newer recipes that we were smitten with right off the bat and couldn't get enough of.
Lemon Garlic Spaghetti with Garlic Bread and a Chopped Salad
I discovered this easy recipe years ago and it was an instant hit with my family. I can't even count the number of times we've made it over the years. The blog on which I originally found the recipe is long gone, so until I get it photographed and posted, here it is in a nutshell: Bring a large pot of salted water to boil, and cook 1 lb good spaghetti. Not all dry pasta is created equal. While the spaghetti is cooking, toast 1/2 cup pine nuts in a small skillet over medium heat until golden, stirring gently, about 3-4 minutes. Watch them carefully; when they're toasted, put them on a small plate or in a small bowl and set aside. Add 3 T olive oil and 4 cloves pressed garlic (you can finely mince it too) to the skillet, turn the heat to low, and cook until golden, about 2-3 minutes. When the pasta is done cooking, drain it, return it to the pot, and add the toasted pine nuts, garlic and olive oil, 1/4 c finely minced fresh basil, 1 c grated parmesan cheese, and 1/4-1/2 c fresh lemon juice (to taste). Stir and serve.
Mexican-Spiced Beef & Rice Casserole with a Southwest Salad and Fresh Fruit
If you've followed along with this series, you know how I feel about Blue Apron: I love it. We don't get it every single week, but every time we do, we are happy with not only the quality of the ingredients they've sent us, but also with the deliciousness of the recipes. Seriously, even when we don't love them, we like them. This recipe for Mexican-Spiced Beef & Rice Casserole, however, was a total and complete blue ribbon winner in our household. It's possibly our favorite Blue Apron recipe to date. My husband and I were both gaga for it, and the kids gobbled it up and asked for more.
Creamy Braised Chicken Burritos with Pickled Corn Salsa
I saw these burritos from Not Without Salt on Instagram last week and added them to the menu immediately. They were easy and amazing, and the pickled corn salsa was equally delicious. We had them for dinner, then I had another for lunch the next day, then we had them as burrito bowls the next day, and I think I even had one more burrito for lunch the day after! So easy and so good!
Black Bean Soup with Toasted Cheese Sandwiches and Veggie Sticks
Our little city finally got a Panera Bread sometime last year, and we are frequent customers, despite the fact that it's not particularly close to us. One of my favorite things on the menu is their Black Bean Soup, but I'm bummed that it's not served every day or even all year. I don't consider black bean soup a seasonal thing! We have loved this homemade version for dinner or even a quick lunch, and the leftovers reheat really well. Here's the recipe: Sauté 1 large yellow onion (small diced), 4 cloves of garlic (pressed), 4 sticks of celery (finely chopped), and 1/2 red bell pepper (small diced) in 2 T olive oil until tender. Add 2 cans chicken broth and 1 can black beans and bring to a simmer. Turn off the heat and use an immersion blender to puree the soup. Turn the heat back on, add another can of black beans, 2 t salt, 1 t cumin, and the juice of 2 lemons (about 1/4 c). Simmer 30 minutes, covered. You can top it with sour cream and shredded cheese if you like, but I feel like that's totally unnecessary with this soup, and I love sour cream and cheddar on everything, so just trust me.
Corned Beef & Cabbage with Carrots and Potatoes, Irish Soda Bread, and a Green Salad
St. Patrick's Day is next Friday (even though I keep thinking it's on Thursday!), and this is a great Irish dinner you can make to celebrate! It's one of my husband's favorite dinners. It isn't particularly hard to make, but it does require some prep work. The beef has to cure in a salty, spice rub for 5-7 days before you cook it, so you have to get started this weekend if you want to do it all from scratch. If you run out of time, you can always pick up a corned beef brisket at the store and just follow the cooking directions in my post. One of the reasons I like this recipe so much is that the veggies turn out tender and flavorful with minimal work. Click HERE to get the recipe for the corned beef, along with instructions on how to cure the brisket and how to cook it and the veggies on St. Paddy's day. We like to round our meal out with a big salad and homemade Irish Soda Bread.
So there you go: 5 menu ideas for busy weeknight dinners that the whole family will be sure to love. If you make any of them, I'd love to hear! And if you want to share any of your go-to weeknight dinners, leave a comment below.