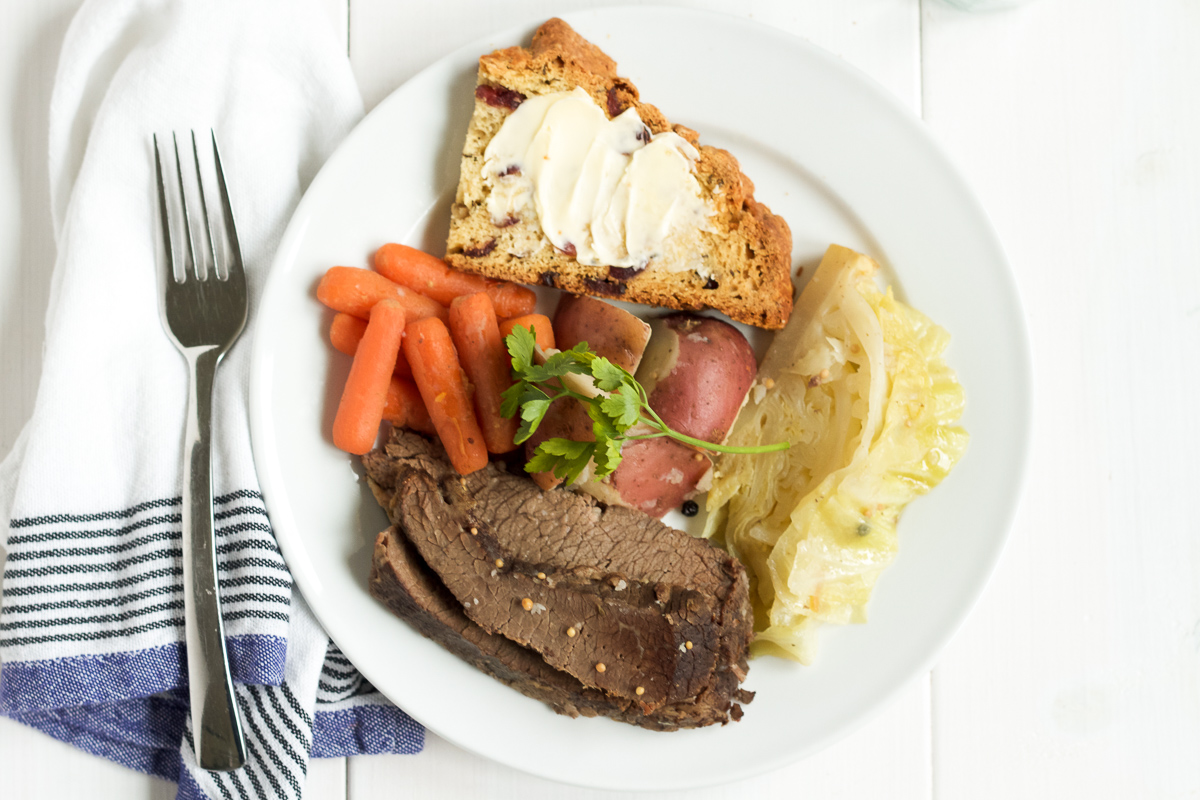 St. Patrick's Day is right around the corner! One of our favorite St. Patrick's Day dinners is Corned Beef and Cabbage, and it's so easy to make at home. The first year I made it, I couldn't find a corned beef at the store, so I decided to do it myself, and it turned out so delicious, we've been using the same recipe ever since. I especially like that this recipe doesn't contain nitrates, which most commercial corned beef contains and even most homemade recipes call for. They're what make the corned beef pink, which is kind of a hallmark of corned beef. But I'm willing to have my corned beef look like plain old beef if it means not having a bunch of preservatives in my family's food. The beef ends up being tender and flavorful, with just the right amount of saltiness (unlike it's store-bought counterparts), and because the vegetables are cooked in the same liquid as the meat, they are full of flavor without any additional seasoning. We like to serve our corned beef and cabbage with thick slices of Irish Soda Bread slathered in salty butter.
So, here's the only catch to making your own corned beef: it has to cure for several days before you cook it. Like, almost a week. So it isn't the kind of meal you can make at the last minute. It requires not a ton of work, but some forethought and preparation. The good news is you still have plenty of time to make your own corned beef for St. Patrick's Day this year. And even if you read this in September, Corned Beef and Cabbage makes a great Sunday dinner any time of year.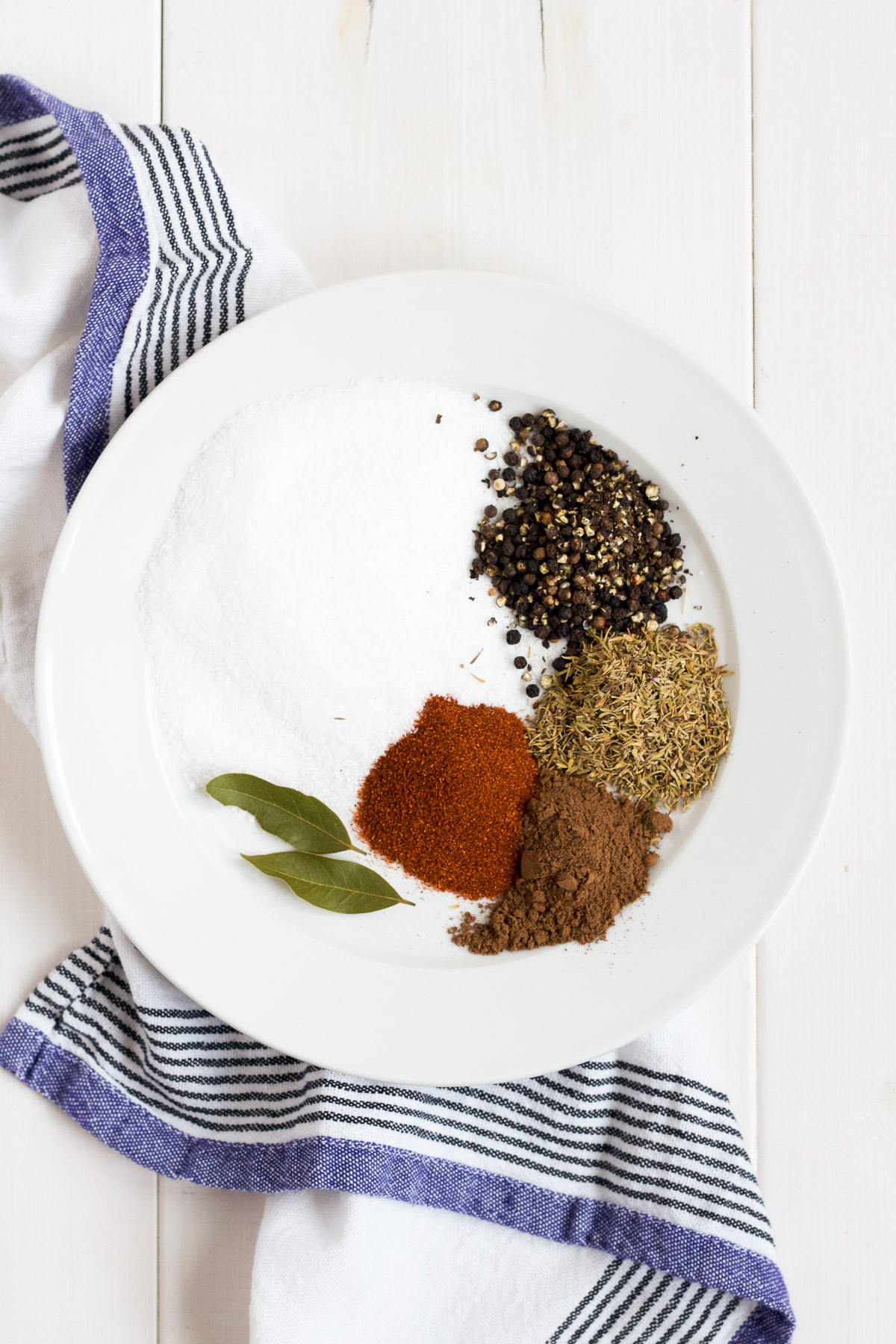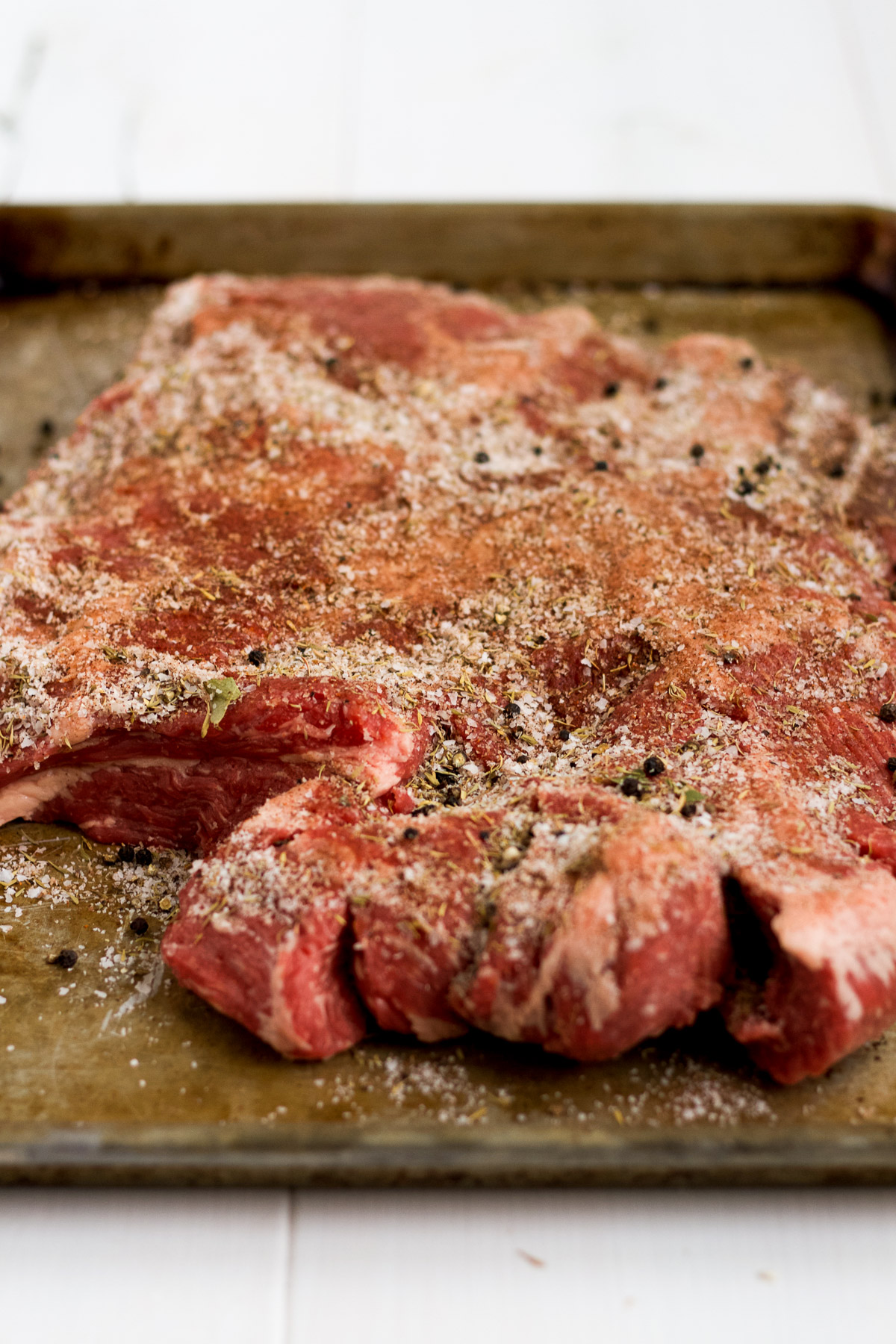 Corned Beef and Cabbage with Carrots and Potatoes
Corned Beef and Cabbage is a delicious St. Patrick's Day favorite that's easy to make at home. This recipe, from America's Test Kitchen, is the one we use every year. The meat cures for 5-7 days before cooking, so be sure to get a head start on it!
Ingredients
for the curing rub:
½ cup kosher salt
1 Tablespoon cracked black peppercorns
1 Tablespoon dried thyme
2 teaspoons allspice
2 teaspoons paprika
1 4-lb beef brisket
for the corned beef and cabbage:
3 bay leaves
1 Tablespoon black peppercorns
1 Tablespoon whole mustard seeds
1½ lbs small red potatoes (Get the tiny, bite-sized ones.)
1½ lbs baby carrots
1 head green cabbage cut into wedges
Instructions
Combine the spices in a small bowl. Poke the brisket all over on both sides with a fork. Rub all surfaces of the meat with the spice mixture. Place the brisket in a gallon-sized ziplock bag and squeeze as much air out as possible. Put the brisket on a cookie sheet, place another cookie sheet on top, and weigh it down with a few cans. Place the whole contraption in the fridge for 5-7 days, turning the brisket over once a day.
When the brisket is done curing, rinse it under cold water, and place in a large pot or dutch oven. Add the bay leaves, peppercorns, and mustard seeds. Add cold water to the pot, covering the brisket by ½". Bring to a simmer, cover, and cook for 2-3 hours until the meat is tender.
Put the meat in a large baking pan, add a cup of cooking liquid, cover with foil, and place in a 200°F oven to keep warm while the vegetables cook.
Add the potatoes and carrots to the pot. Boil for 10 minutes, then add the cabbage. Continue cooking for another 10 minutes until the vegetables are tender.
While the vegetables are cooking, take the meat out of the oven and slice it thinly across the grain.
Place the vegetables and sliced meat on a serving platter and serve immediately.