This flatbread pizza recipe is easy, quick, and delicious! A naan bread crust topped with garlicky pesto, cheese, and chicken, with a fresh salad on top!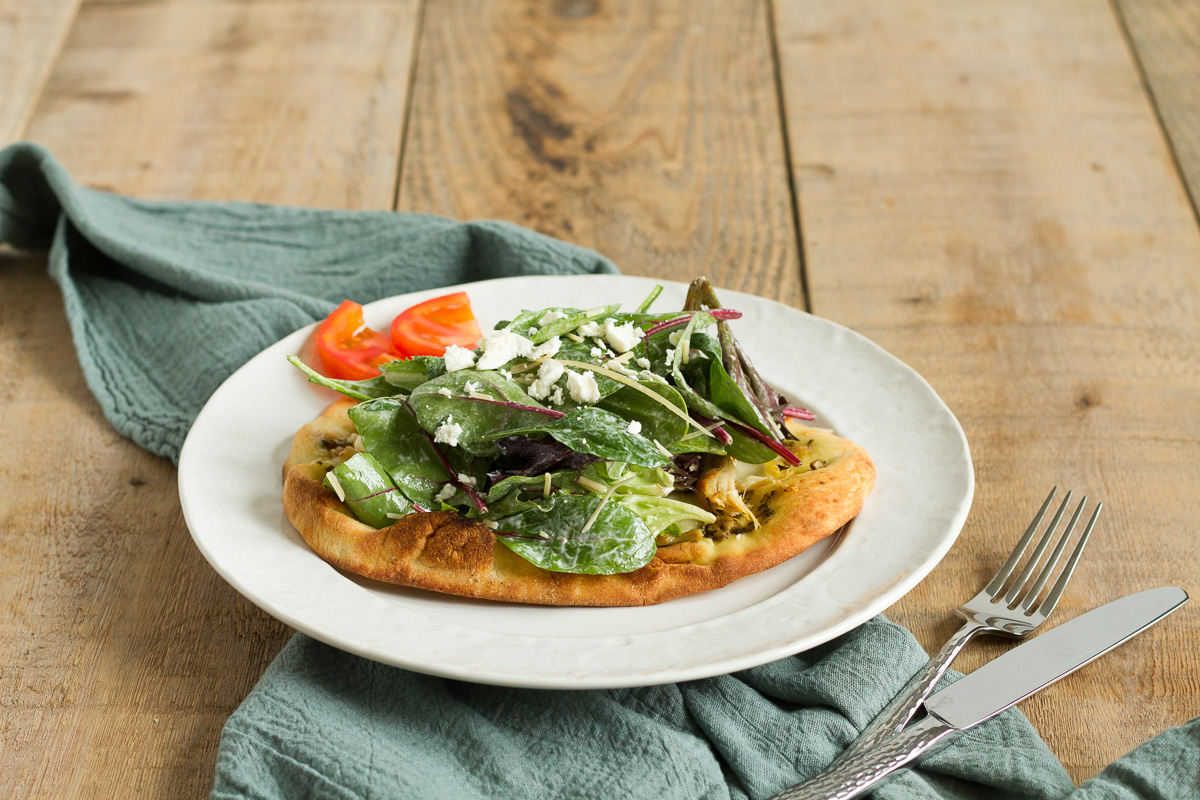 This is a sponsored post written by me on behalf of Albertsons. All opinions are 100% mine.
Ever since the pandemic started, we've been really committed to Friday Night Pizza. With everything else going on in the world, it's nice to fill in the "Friday Dinner" spot on our menu without having to put too much thought into it.
Sometimes we get take-out pizza, sometimes we make it from scratch at home, and sometimes, when I really want a quick, easy dinner, we use store bought flatbread as the crust. It's delicious and cuts the work way down!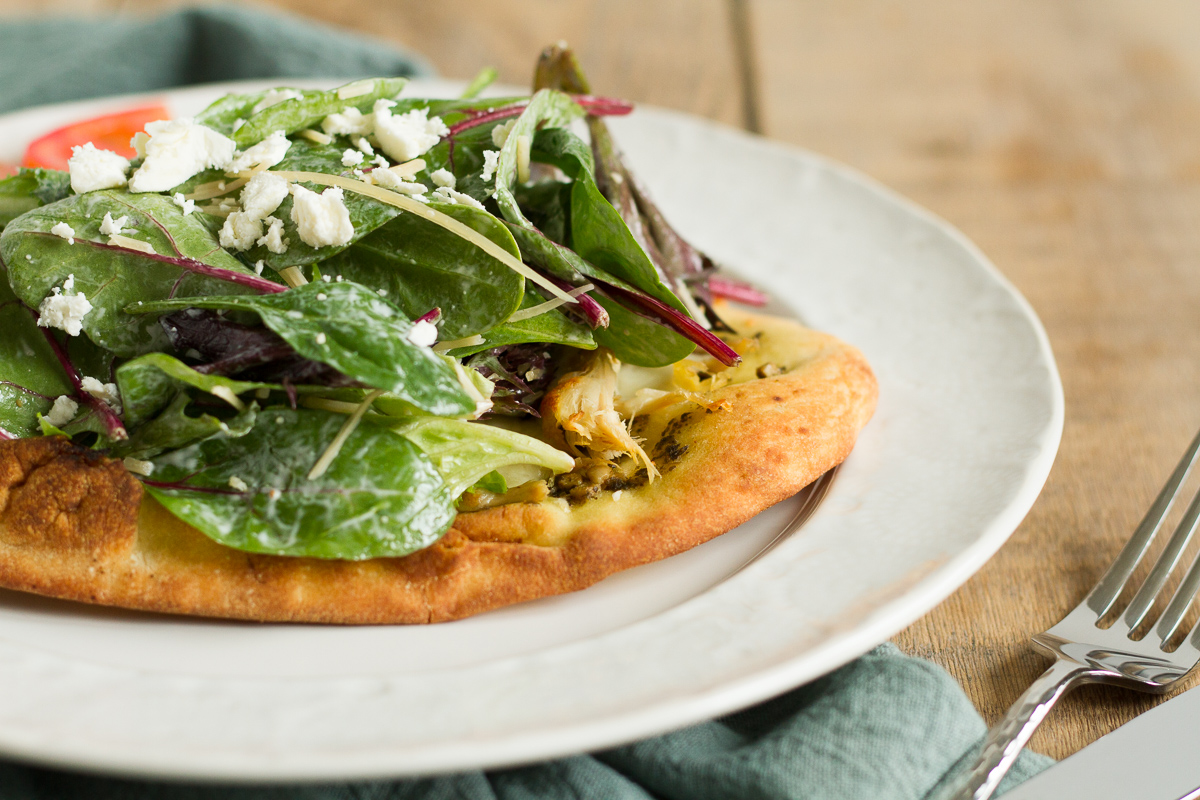 We've used flatbread crusts for lots of different kinds of homemade pizzas, from pepperoni to hawaiian to pesto and fresh tomato. But our latest favorite takes it up a notch by tossing a fresh green salad on top.
This Chicken Caesar Salad Flatbread Pizza is a breeze to make thanks to lots of shortcuts from the grocery store. We picked up everything we needed at our local Albertsons store, including an O Organics® salad mix, a Signature Cafe® rotisserie chicken, naan bread, pesto, and more.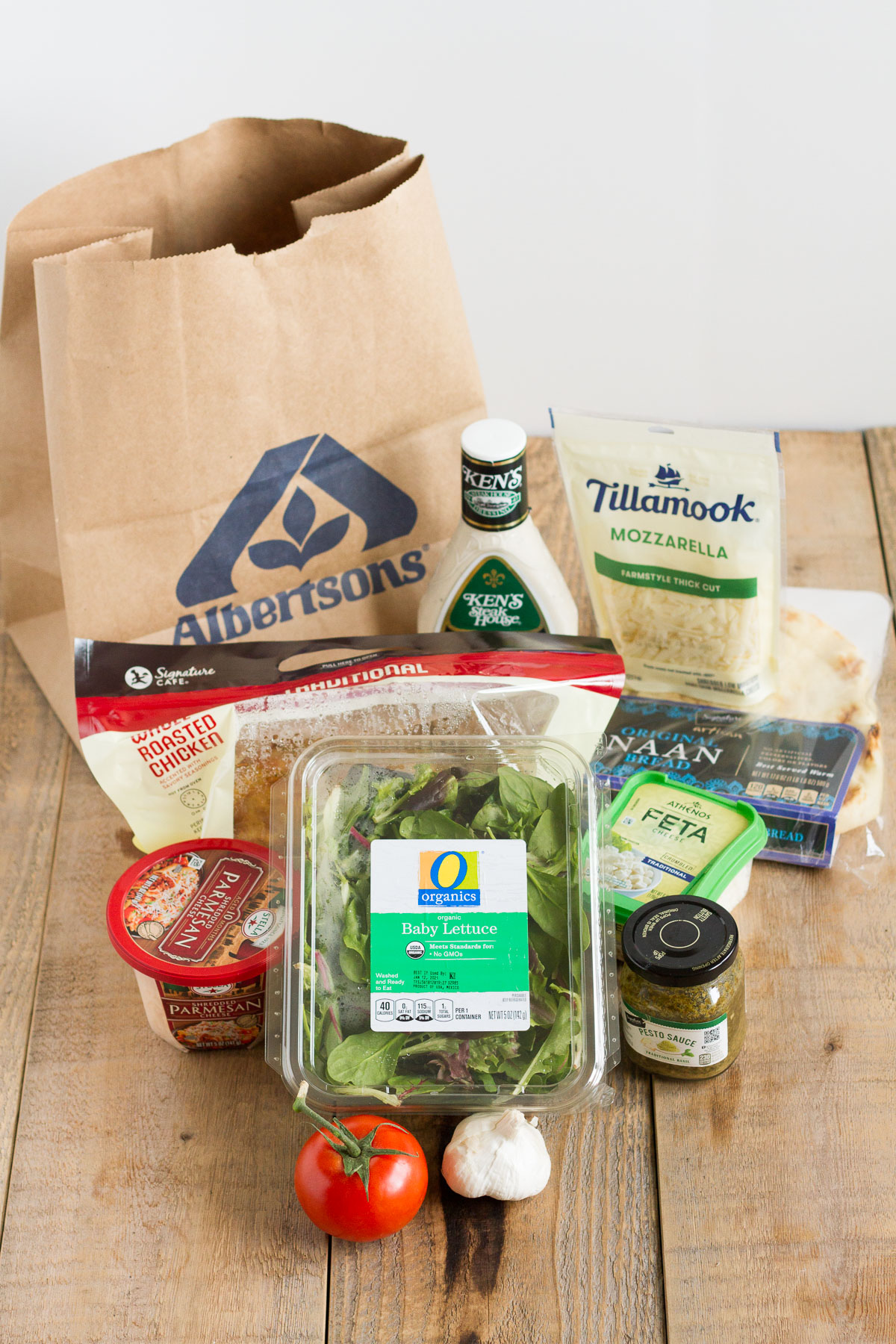 Chicken Caesar Salad Flatbread Pizza makes an easy, healthy lunch or quick pizza-night dinner. Simply top the naan bread with pesto, mozzarella cheese, and cooked, shredded chicken, and bake until the cheese is melted and hot. While the pizza is baking, throw together a quick caesar salad, and pop it onto the hot pizza when it comes out of the oven. The crisp, fresh salad on top of the hot, cheesy pizza is such a tasty contrast!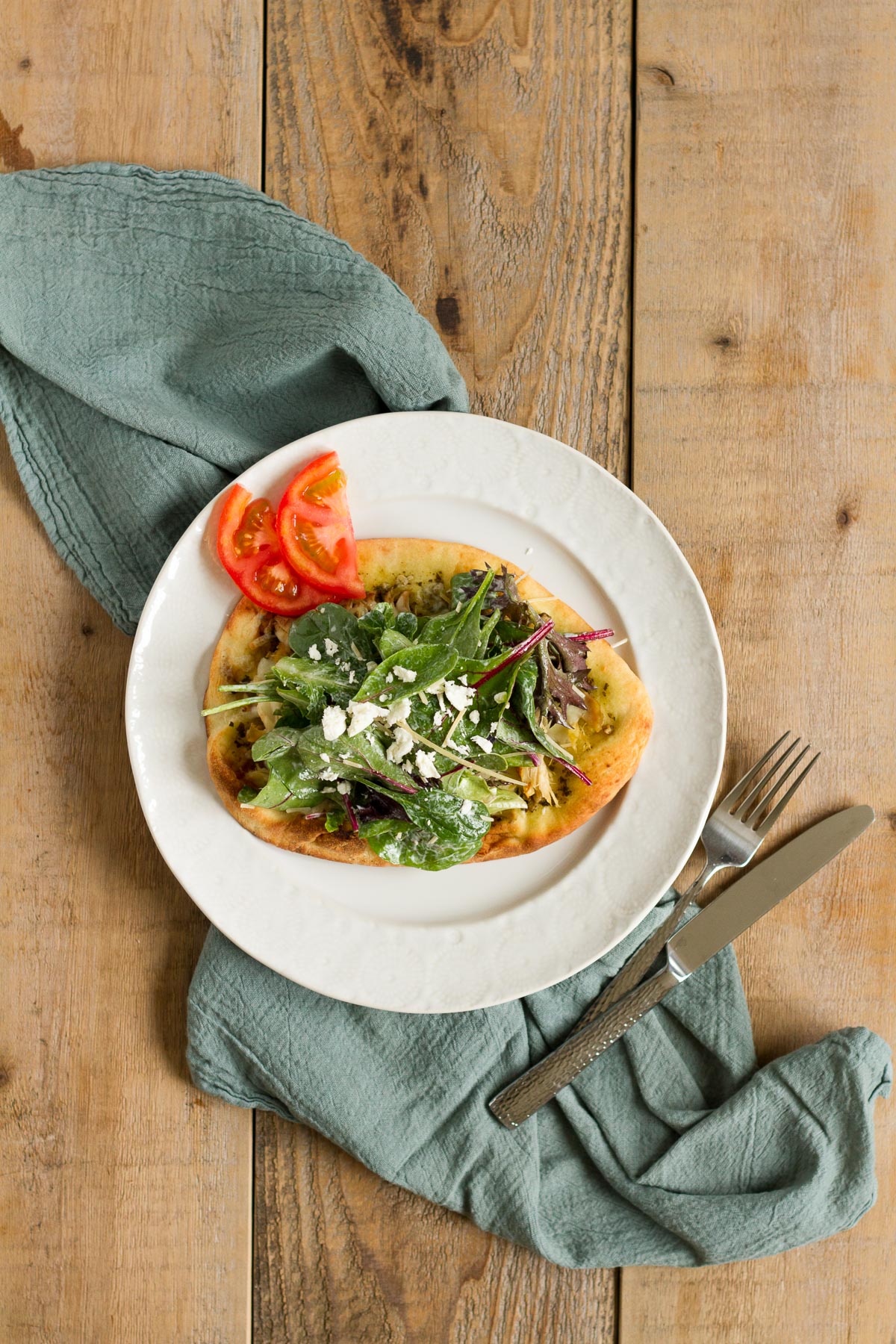 Easy Chicken Caesar Salad Flatbread Pizza
makes 4 individual pizzas Ingredients:
4 pieces of naan bread
4 teaspoons pesto (or to taste)
fresh, minced garlic (optional)
8 oz shredded Signature Cafe rotisserie chicken
1 heaping cup shredded mozzarella cheese
1 5-oz container O Organics salad mix
bottled Caesar dressing
1/4 cup shredded parmesan cheese
crumbled feta cheese
fresh tomato slices
Instructions:
Preheat the oven to 450°F.
Place the naan bread on a baking sheet. Spread pesto evenly over the top of each piece of naan. If adding extra minced garlic, add it now, sprinkling a little evenly over each piece of naan. Divide rotisserie chicken evenly over naan bread, and top with shredded mozzarella.
Bake for 5 minutes until cheese is melted.
While the pizzas bake, prepare the Caesar salad. Toss salad mix, dressing to taste, and shredded parmesan cheese in a large bowl. Set aside.
When pizzas are finished baking, remove from oven, top with salad, and serve immediately topped with a sprinkle of crumbled feta and some fresh tomato slices.
Notes:
You can easily make these one at a time for single servings.
Be sure to use the full size naan bread and not the minis.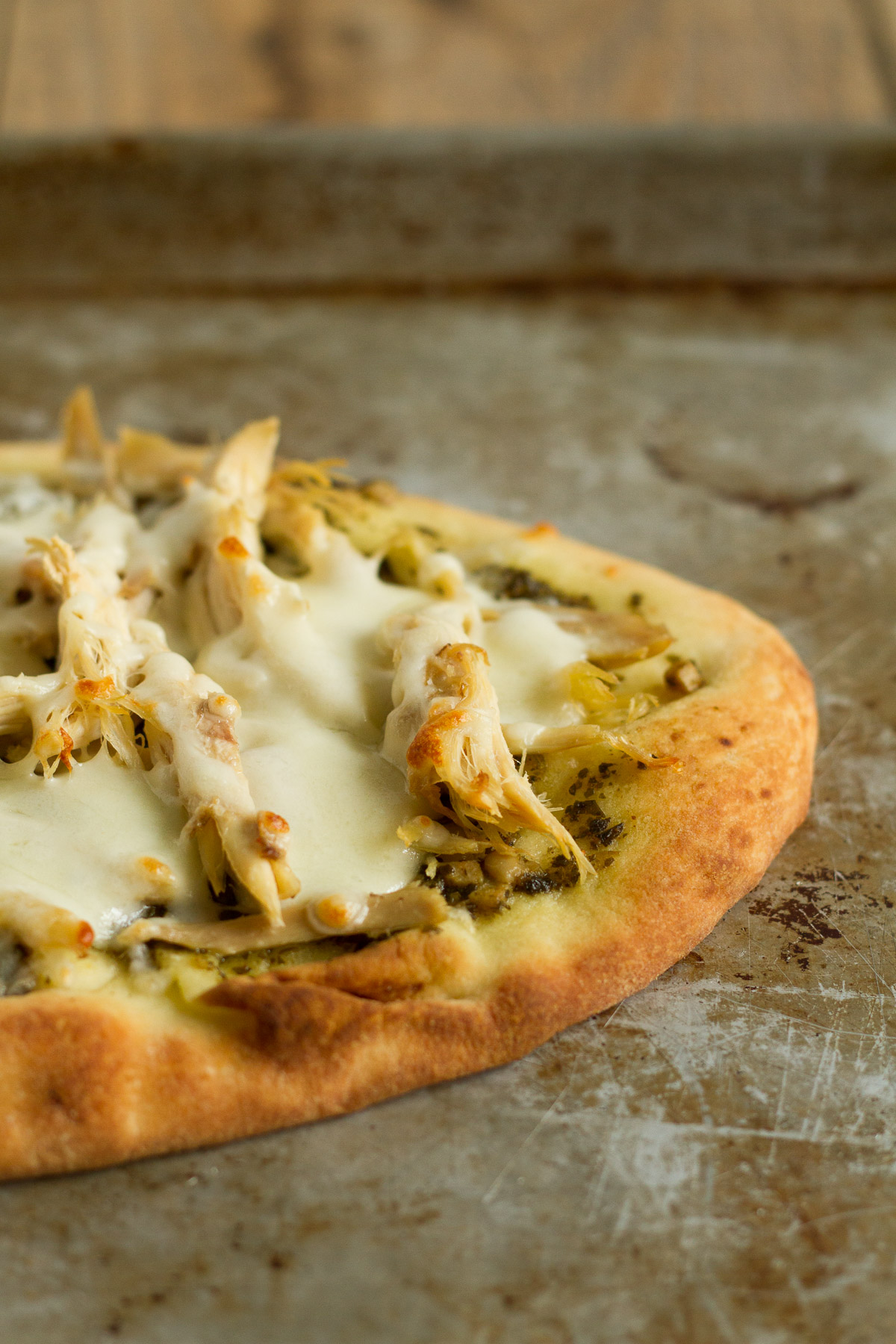 Get your New Year's resolution of healthy eating started now. Albertsons Own Brands—like O Organics and Open Nature®—has everything you need to start eating healthy & easy! Albertsons also offers Grocery Delivery and DriveUp & Go™ for convenient ways to shop!
I shopped at Albertsons in my local area, but you can also find O Organics and Open Nature products at the Albertsons Companies family of stores, including Safeway, ACME Markets, Jewel-Osco, Vons, Randalls, Shaw's Supermarket, Star Market, Tom Thumb and Vons.