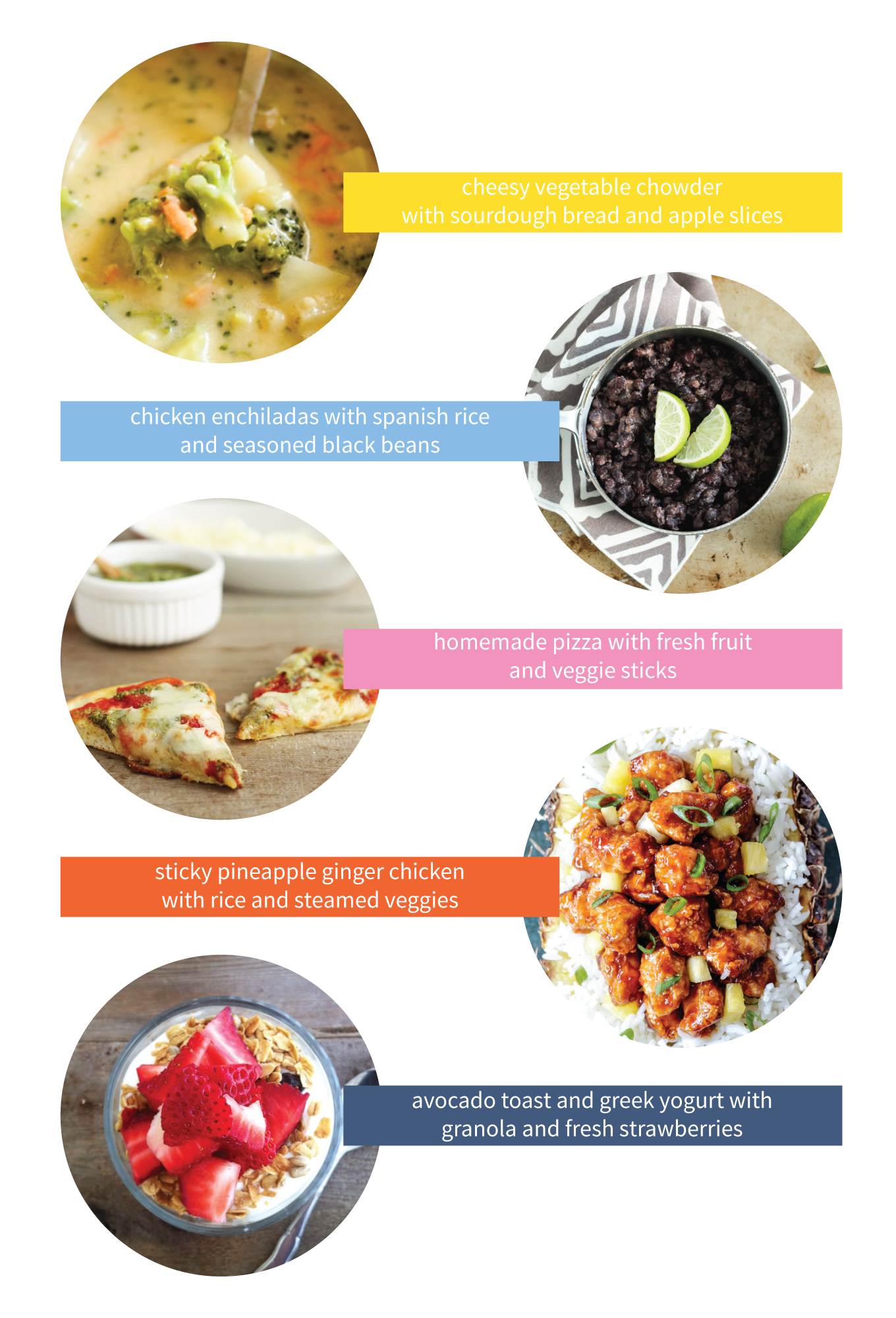 It's another lovely Saturday morning, and time for another bunch of tasty menu ideas for fast, family-friendly meals. I really loved everything we ate this week, and so did everyone else in the family. Dinners happened quickly and easily, and tasted delicious, and that's really our goal every week. Here are this week's menu ideas, a mix of old and new favorites…
Cheesy Vegetable Chowder with sourdough bread and apple slices: I started making this hearty, veggie-filled soup when my husband and I were newlyweds. It's one of our all-time favorite dinners, and is one of the first things I ever posted on Lulu the Baker. And it tastes delicious on Day 2, so if you know you're going to have a busy week, make extras and enjoy it for two nights. My husband had a layover in San Francisco last week on a business trip, and brought us a fresh loaf of San Francisco sourdough to enjoy with our chowder.
Chicken Enchiladas with Spanish Rice and Seasoned Black Beans: Last week, when we had chicken tacos, I froze the extra chicken, rice, and beans, and used them for an easy dinner this week. We had our chicken enchiladas on Tuesday, which is by far our busiest night, but thanks to a smart use of leftovers, we were still able to have a tasty, home-cooked meal.
Homemade Pizza with fresh fruit and veggie sticks: My kids go crazy for homemade pizza. Our go-to crust recipe is really easy to make (find it HERE), and we have two sets of toppings we always use. Pizza #1 is always plain cheese with homemade pizza sauce. When I make homemade pizza sauce, I make a big batch, divide it into 1-pizza portions, and freeze it. Pizza #2 always has pesto, cheese, and thinly sliced, cooked potatoes sprinkled with kosher salt and freshly ground black pepper. Our 10 year-old in particular loves it and requests it often. Winning! We rounded this particular pizza dinner out with apple slices, grapes, and carrot and celery sticks.
Sticky Pineapple Ginger Chicken with rice and steamed veggies: We tried this sweet and sour chicken from my friend Jenn of Carlsbad Cravings a few weeks ago for the first time, and it was an instant favorite with the entire family. The chicken manages to stay crispy even when covered in sauce, and the sauce is really out of this world. The only change we made at all was to use apricot-pineapple preserves in place of the pineapple preserves called for in the recipe. It's what we could find at our grocery store. Try this recipe; you will love it!
Avocado toast and greek yogurt with granola and fresh strawberries: So this is a clearly a breakfast idea, not a dinner idea, but it's still a good one. I've been trying to each fewer refined carbs and more protein at breakfast and lunch (doctor's orders), and these are two of my favorite breakfasts. For the avocado toast, I just combine one mashed avocado with a dash of garlic salt and freshly ground black pepper, and spread it on whole wheat toast. It's delicious! And the greek yogurt with granola and strawberries has been a longtime fave. Either of these would also make great snacks, and if you wanted to eat them for dinner, no one would stop you!
I hope these menu ideas will help you plan quick and easy, family-friendly weeknight dinners (and maybe a breakfast) for your family next week! Enjoy your weekend!