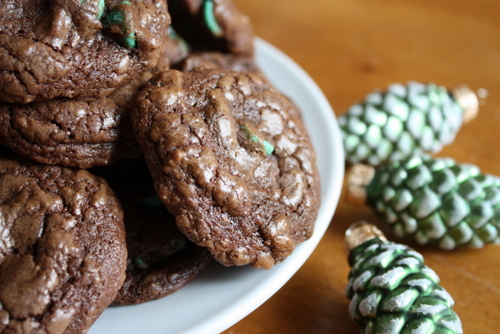 Need one more quick treat to put on those cute holiday plates you're taking to your friends and neighbors? Try these easy, delicious chocolate mint chip cookies. The chocolate cookie base tastes like brownies, and the creamy, green mint chips taste just like Andes Mints. Mmmm! So good.
Chocolate Mint Chip Cookies
from Guittard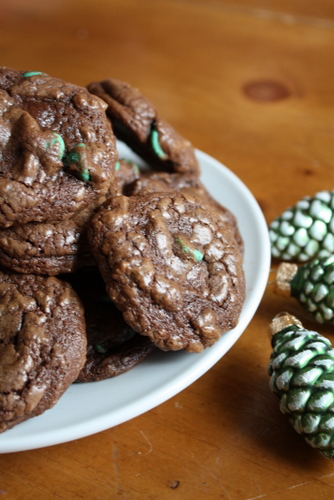 12 oz semisweet chocolate chips
1/2 cup butter
1 1/2 cups unsifted flour
1/2 teaspoon baking soda
1/8 teaspoon salt
3 eggs
1/2 cup sugar
2 teaspoons vanilla
12 oz green mint chips from Guittard
In a microwave-safe bowl, combine semisweet chocolate chips and butter. Microwave for 30 seconds, stir, and repeat until smooth; set aside. In a medium bowl, combine flour, baking soda, and salt; set aside. In the bowl of a stand mixer, beat eggs, sugar, and vanilla until combined. Add chocolate mixture and beat until combined. Add flour mixture and beat until just combined. Fold in mint chips, cover, and refrigerate for 15 minutes. Meanwhile, preheat oven to 350 degrees F. When cookie dough is stiff, scoop by Tablespoons onto ungreased cookie sheets and bake for 8-9 minutes. Allow to cool slightly before removing to a cooling rack. Allow to cool completely before eating.