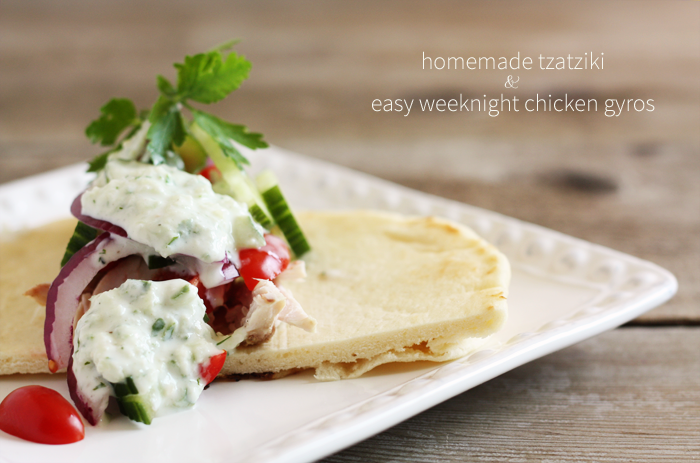 My motto in life is "More sauce please!" I can't think of a single instance in which I would NOT want to add more sauce to something. Spaghetti? More sauce please! Ice cream sundae? More sauce please? Salad? More sauce (er, dressing) please! Dips, sauces, dressings, spreads–I pretty much always want more of them. For example, I could eat tzatziki all day long. The deliciously tangy, herby Greek sauce is one of my favorites. Filled with summery cucumbers, a splash of tart lemon, and loads of fresh dill, I really can't get enough of it. I want to dip endless bags of pita chips in it. I want to eat celery and carrots and broccoli and all kinds of fresh veggies with a heaping side of it. I want to slather it all over chicken gyros. Chicken gyros also happen to be one of my favorite things to eat, possibly because of the absolutely enormous amounts of tzatziki I put on them. They're great for busy weeknight dinners: filling, refreshing, and so easy to make!
This recipe is the latest in the Melanie Makes/Lulu Bakes series I'm doing with the lovely Melanie Bauer from Melanie Makes. Every month, we make different recipes with the same three ingredients. This month, our ingredients were yogurt, lemon, and parsley, and yes, I totally cheated and used the parsley as a garnish!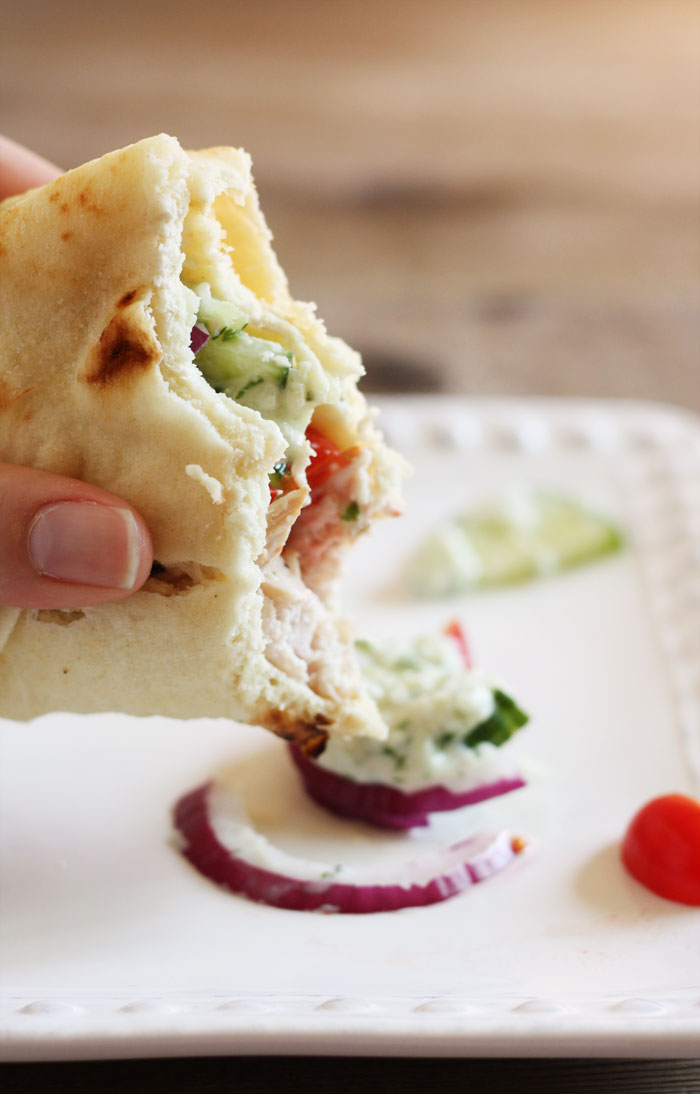 Homemade Tzatziki & Easy Weeknight Chicken Gyros
for the tzatziki:
2 cups peeled, seeded, chopped cucumber
1 1/3 cups non-fat plain greek yogurt
1 Tablespoon fresh dill
1 teaspoon minced garlic
a pinch of kosher salt
freshly ground black pepper
2 Tablespoons olive oil
1 Tablespoon lemon juice
for the chicken gyros:
warm flatbread (I like naan the best.)
shredded rotisserie chicken
chopped tomatoes
thinly sliced thin-skinned cucumbers (like the kind wrapped in plastic) with the peel on
thinly sliced onion (I used red for the photos, but I actually think sweet onions are terrific in these.)
lots and lots of tzatziki!
To make the tzatziki, combine all of the ingredients in the bowl of a food processor, and pulse until combined. Transfer it to a small bowl, cover with plastic wrap, and chill until needed.
To assemble the chicken gyros, simply top a warm piece of flatbread with shredded chicken and lots of tzatziki (seriously, the more the better!), then add tomatoes, cucumbers, and onions.