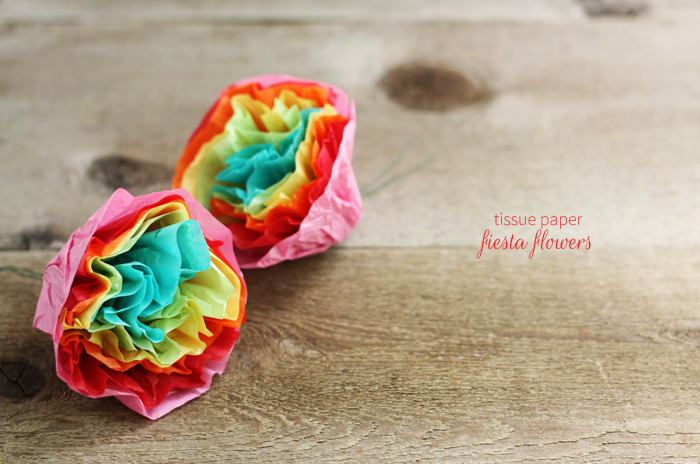 I meant to post these cute tissue paper flowers before Cinco de Mayo, which would have been absolutely perfect, but I just didn't get them done in time. Fortunately, sweet, festive flowers are appropriate even after Cinco de Mayo! I've done a tutorial for similar flowers before, but I've gotten much better at making them, and these are small versions, only about 3 inches tall and a little over 3 inches across. I made them to decorate my Seasons Tree, but they'd be equally lovely atop a pretty, wrapped package, tucked into napkins at a dinner table, or made into a garland and strung across a summer patio.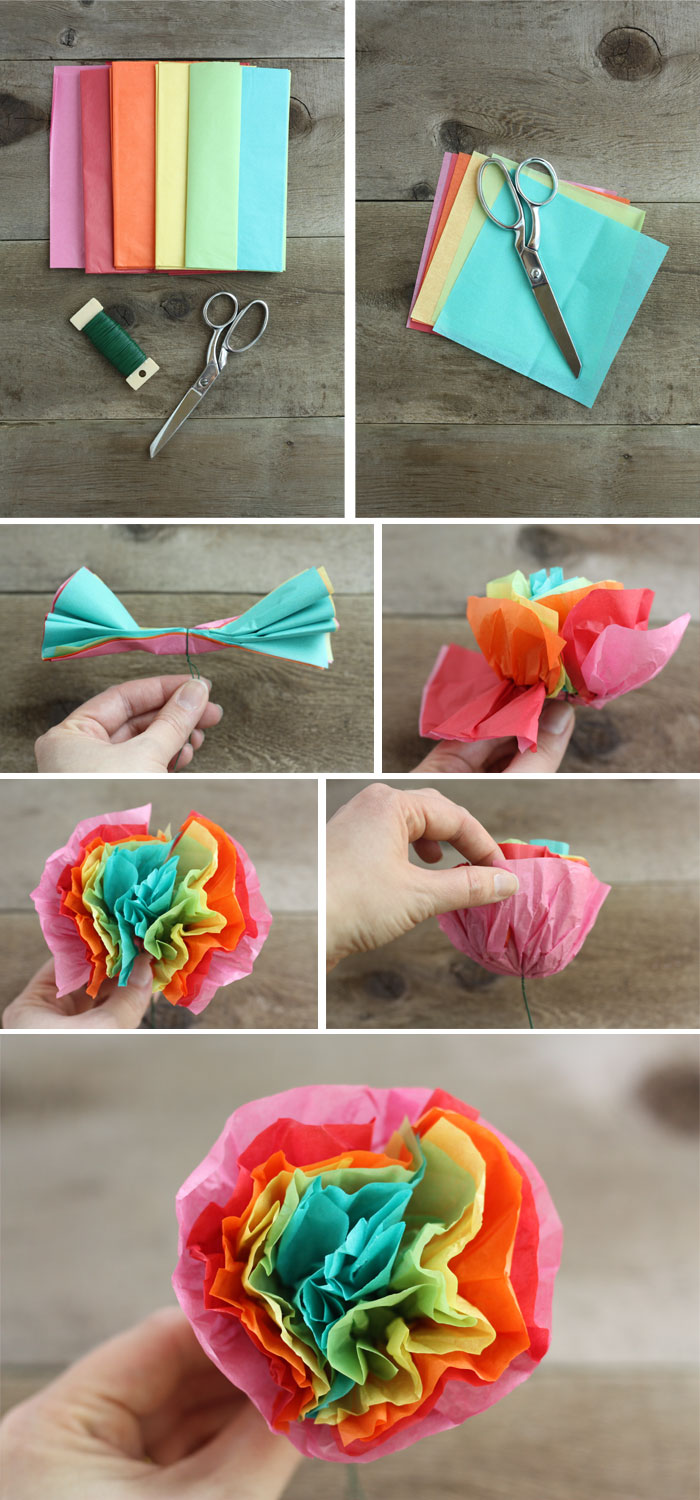 Materials & Tools
tissue paper in a variety of colors (I used 6 sheets per flower and it worked perfectly.)
a good pair of scissors (A self-healing cutting mat and a rotary cutter will get the job done faster, but they aren't necessary.)
green floral wire, cut into 6″ sections
wire cutters (not pictured)
scotch tape (not pictured)
Steps
1. Stack up your paper with all of the edges carefully aligned.
2. Using the scissors or cutting mat and rotary cutter, cut the stack of paper into 6×6″ squares.
3. Working with one 6×6″ stack at a time, accordion-fold the tissue paper. You don't actually want to make pleats, so don't worry about creasing as you fold; you just need the middle to be gathered, as in the picture above.
4. Once you have your stack accordion-folded, bend a 6″ piece of wire around the middle of the paper with the bend in the wire on the side that will be in the inner-most layer of tissue paper, and with the long wire tails pointing toward the side that will be the outer-most layer of tissue paper.
5. Starting with the layer that will be the inside of the flower, gently pull the tissue straight up at a 90° angle to the other layers.
6. Repeat with each layer of tissue paper until you reach the outside of the flower.
7. Each layer of color will be separated into two halves; they won't quite meet to form a complete circle. Gently pull the edges of the outer-most layer together, and tape them with a small piece of scotch tape. Repeat with the other side. This will help the entire flower maintain a pretty circular shape.