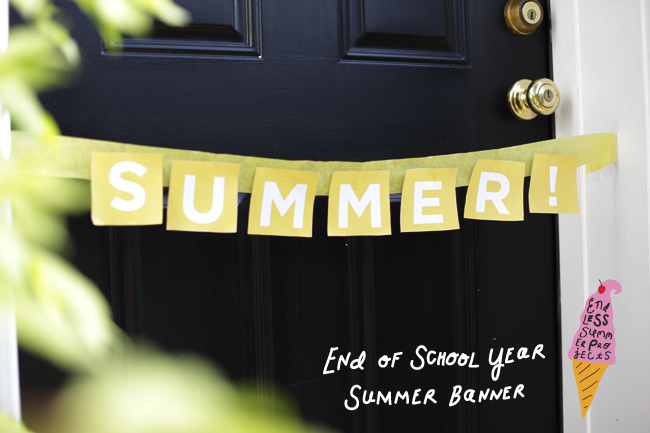 The day is finally here: we are kicking off another great year of Endless Summer Projects! For the next 15 weeks, I'll have a fun, kid-friendly summer project for you every Wednesday thanks to Ali of Alexandra Hedin, Amy of This Heart of Mine, Jennifer of Classic Play, and MJ of Pars Caeli. We'll have everything from wood-working to cooking, from parties to camp-outs. I can't wait to share all of these amazing projects with you!
First up, we have a cute and easy Summer banner to celebrate the last day of school/first day of summer vacation. I know I've always wanted to run through a poster or banner or finish line or something; they make even ordinary events seem like a really big, exciting deal! Download, print, and cut out the letter tiles, string them on a piece of crepe paper, and let your kids run through on their last day of school! I can just picture the joy on their happy little faces! You can find the downloadable files at Classic Play.
Tune in next Wednesday for an awesomely enormous art project from MJ of Pars Caeli!