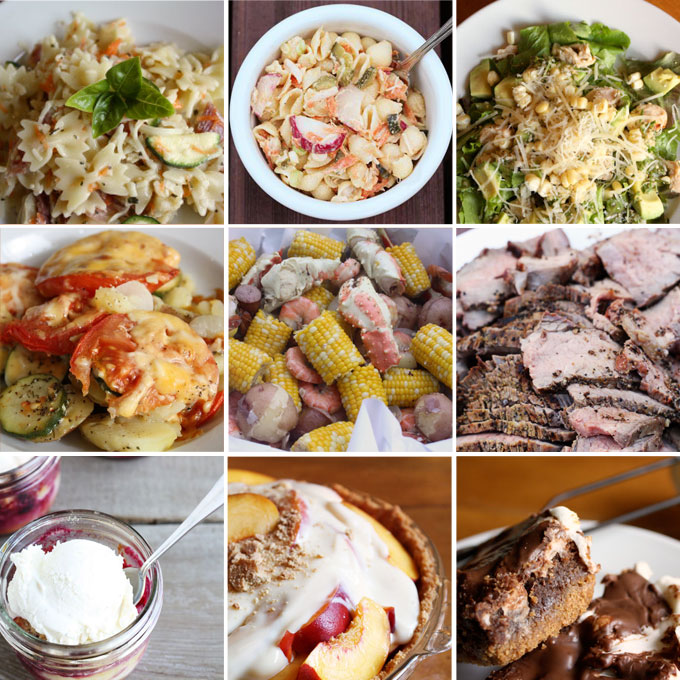 Happy Monday, Everyone! I've been trying my best to post an original recipe (or a link to a recipe I created for someone else) every Monday to give you all something new and tasty to kick off your week. But the past week, between regular life, the Scandinavian Festival, out-of-town visitors, and a birthday party, was just crazy busy. And while I made a bunch of new recipes, not all of them were blog-worthy, some still need to be tinkered with, and some are scheduled for other blogs, so I can't link to them yet. So instead of posting an exciting new recipe today, I thought I'd share with you some of our tried-and-true summer favorites. These are the dishes we crave when the warm weather hits, that we make again and again when family gets together. Do you have any summer favorites? Share them in the comments!
Summer Salads
Summer Dinners
Ratatouille: We love our friends Marcelle and Dave for many reasons, not the least of which is this delicious summer dinner recipe. We're eternally grateful to them for passing it on to us!
Cajun Seafood Boil: My husband requests this every year on his birthday!
Speedy's Grilled Tri-Tip: When we get together for family reunions, this always makes it onto the menu!
Summer Desserts
Summer Fruit Cobblers: I think these little cobblers are the ultimate summer dessert! So delicious and so easy to make.
Annie's Grandma's Fresh Peach Pie: Whenever peach season rolls around, I get a hankerin' for this fuss-free dessert.
S'mores Brownies: This is one of the first recipes I ever created for Lulu the Baker, and it is still one of the best!