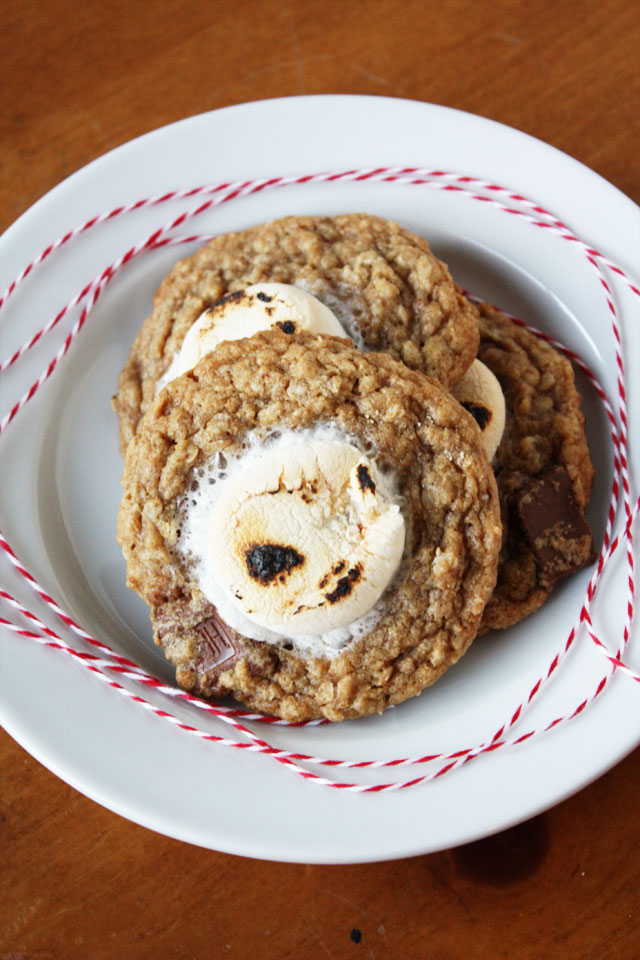 Last week, I posted a photo on instagram of some chocolate chunk-filled oatmeal cookies with toasted marshmallows on top and told everyone that they were too ugly to make it onto the blog, but very, very delicious. And within seconds I had at least 4 people asking for the recipe. So, here you go folks, Campfire S'mores Cookies! And although I still don't think they'll win any cookie beauty contests (can you imagine how amazing a cookie beauty contest would be?!), I have to admit that they are so tasty I don't care what they look like!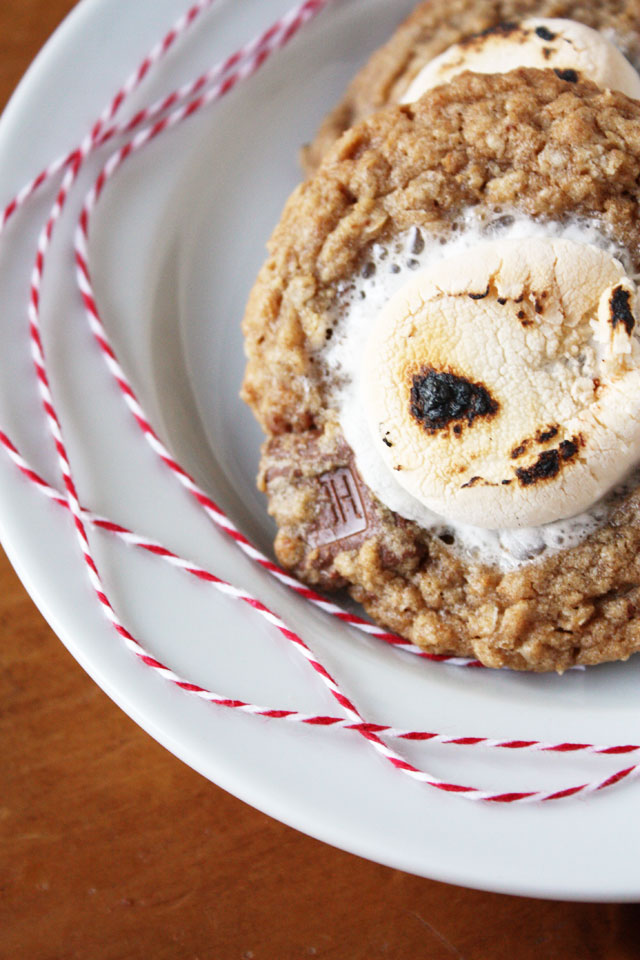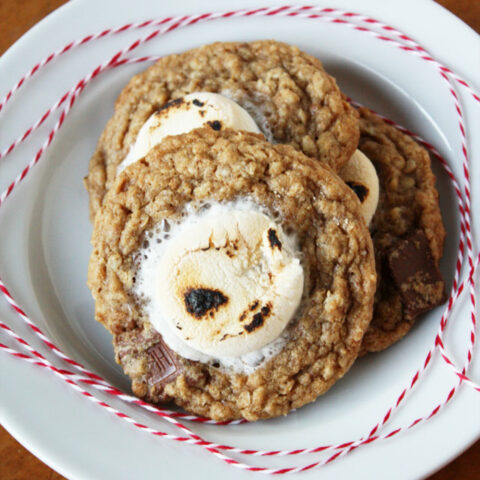 Campfire S'mores Cookies
Buttery oatmeal cookies with graham cracker crumbs, chunks of real milk chocolate bar, and gooey marshmallows on top to make the perfect smores cookies!
Ingredients
1 cup butter (2 sticks), softened
1 cup packed brown sugar
1/2 cup granulated sugar
2 eggs
1 teaspoon vanilla
1 1/2 cups graham cracker crumbs
1 1/2 cups flour
1 1/2 cups quick-cooking oats
1 teaspoon baking soda
1/2 teaspoon salt
12 oz Hershey Bar, chopped (or 12 oz milk chocolate chips)
24 marshmallows (not mini marshmallows)
Instructions
Preheat the oven to 350°F.
In the bowl of a stand mixer, cream butter and sugars until fluffy. Add eggs and vanilla and beat just until combined.
In a medium bowl, combine graham cracker crumbs, flour, oats, baking soda, and salt.
Add dry ingredients to the mixer bowl and beat just until combined. Add chocolate pieces and gently stir in by hand.
Scoop dough into ping-pong ball-sized blobs (I use my ice cream scoop and level off each scoop of dough), and place on parchment-lined baking sheets. Gently flatten the top of each dough blob.
Using kitchen shears sprayed with nonstick spray, cut enough marshmallows in half to give you a marshmallow half per cookie. Firmly squish a marshmallow half onto the top of each cookie and bake 10-12 minutes, until cookies look dry and set, and marshmallows are puffy and golden. Cool before eating.
Notes
If you grind 12 sheets of Honey Maid graham crackers in a food processor, you should have plenty of crumbs without having too much left over.
To get the marshmallows roasted-looking like in my photos, turn the broiler on for the last minute or so of baking time and watch very carefully!
Last tip, I swear! These freeze unbelievably well. Allow them to cool completely, then put them in a gallon-sized freezer-safe zip-lock bag and stick them in the freezer. When you want to eat them, let them come to room temperature in the bag.