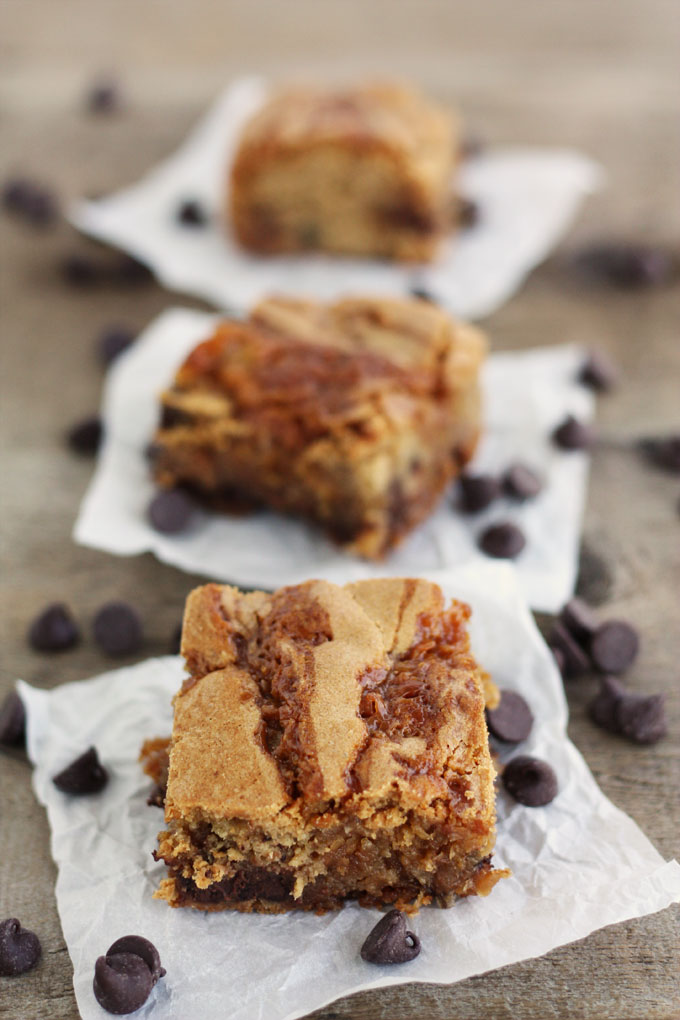 Happy National Blondie Day! Technically, I believe they call it "National Blonde Brownie Day," but in my opinion, that's unnecessarily long. My dad gave my mom a cool food holiday calendar for Christmas, so be prepared for a year of awesome recipes to celebrate completely obscure national and international food days. I'd already had these ridiculously delicious blondies in mind when I discovered that January 22nd is National Blondie Day. I took it as a sign that I needed to stop thinking and start baking!
Rich, buttery blondies are already pretty good, right? So what could make them better? How about a swirl of luscious, golden, homemade coconut caramel sauce to make every chewy bite stick to your teeth. And let's add a sprinkling of semisweet chocolate just for good measure. These heavenly bars have all of the yummy flavors of Girl Scout Samoa cookies swirled into every sinfully delicious bite.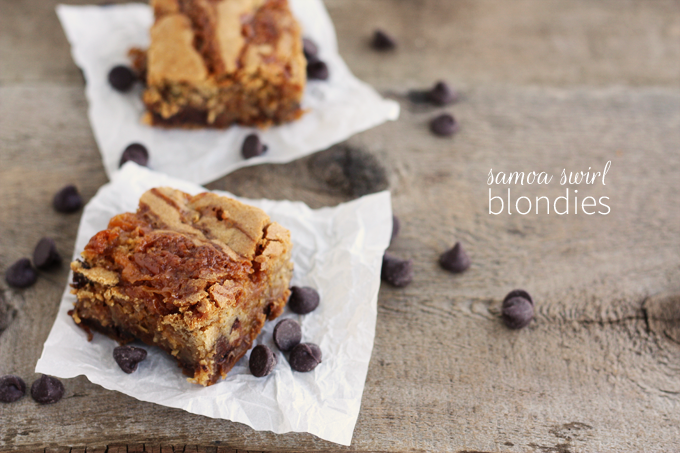 Samoa Swirl Blondies
Ingredients
for the caramel sauce:
¾ cup sugar
⅓ cup light corn syrup
3 Tablespoons water
a pinch of kosher salt
⅓ cup cream
1 teaspoon vanilla
1 cup sweetened flaked coconut
another pinch of kosher salt or coarse sea salt
for the blondies:
1⅓ cups butter
2 cups brown sugar
1 cup sugar
4 eggs
4 teaspoons vanilla
2 Tablespoons lemon juice
3 cups flour
2 teaspoons baking powder
1 teaspoon kosher salt
1 cup semisweet chocolate chips
Instructions
Begin by making the coconut caramel sauce. In a small saucepan with high sides, combine the sugar, corn syrup, water, and kosher salt. Bring to a boil over high heat, and continue boiling until the mixture reaches a light amber color, like the color of honey. Remove from heat, add the cream, and whisk briskly. It will steam and sputter a lot, so wear an oven mitt. If the caramel seizes up, put it back over medium heat and stir constantly until it becomes smooth. Add vanilla, coconut flakes, and another pinch of salt, and set aside.
Preheat the oven to 325°F. Spray a 9x13" pan with nonstick cooking spray. Melt the butter over low heat and allow it to cook until it turns golden brown. Remove from heat and set aside. Combine brown sugar, granulated sugar, eggs, vanilla, and lemon juice in a large bowl or in the bowl of a stand mixer, and beat until combined. Mix in melted butter. In a medium bowl, combine flour, baking powder, and kosher salt. Add dry ingredients to the wet ingredients, and stir until just combined. Stir in the chocolate chips.
Pour the blondie batter into the prepared baking pan. Use a spoon to scatter caramel sauce over the top. Use a knife to swirl the caramel sauce into the blondie batter. Bake for 50-60 minutes, until a toothpick inserted in the center of the pan comes out with just a few sticky crumbs on it. Allow blondies to cool before cutting and serving.