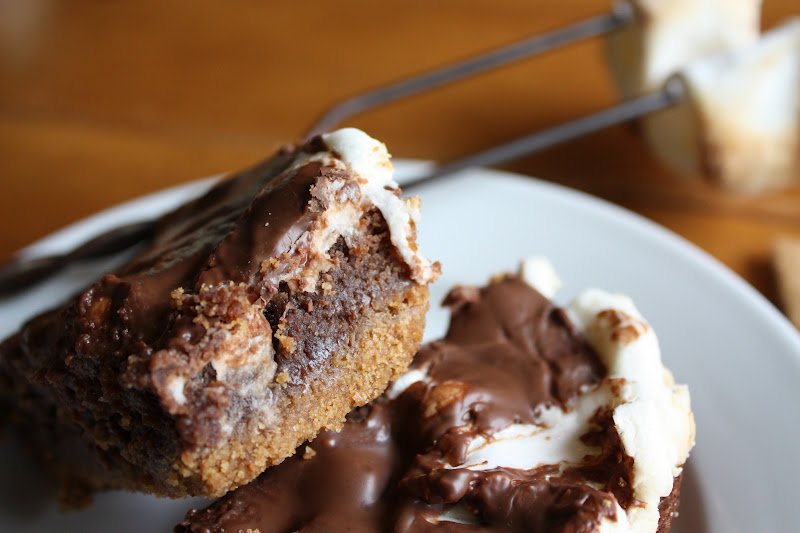 I first started making these, hmmm, indulgent treats a few months after I started blogging back in 2008. And what can I say about them other than they are quite amazing! They capture all of the wonderful parts of s'mores–the gooey marshmallows, the crispy, buttery graham crackers, the messy, melted milk chocolate–and combine them with a fudgy brownie layer. I made s'mores brownies again last weekend for a family dinner and had to smuggle the leftovers out before anyone could have seconds…anyone besides me that is!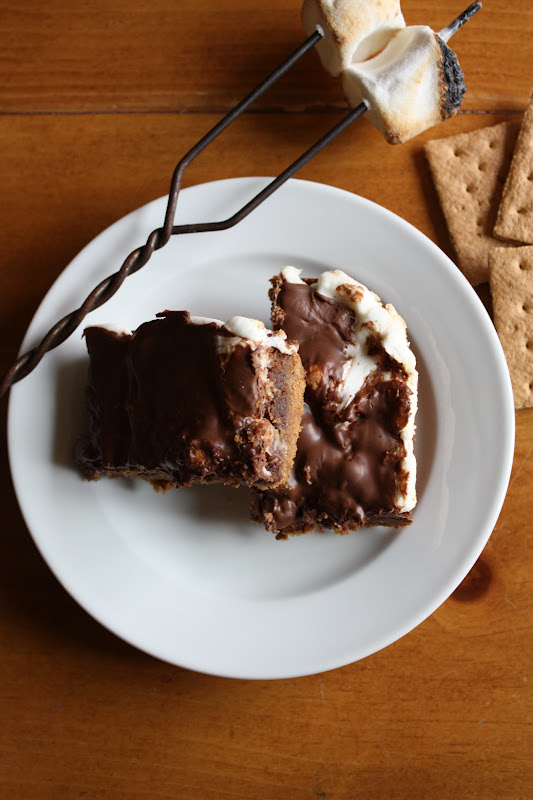 Recipe Redux: S'mores Brownies
My original recipe used an 8x8" pan, but let's face it: more is better! Go ahead and use a 9x13" pan; you'll thank me for it, even if your waistline doesn't. And, as with most marshmallowy desserts, they actually get better after sitting for a few hours.  I would even go so far as to say let them sit overnight. I know, I know.  Good luck with that one!
Ingredients
16 sheets graham crackers
½ cup butter, melted (1 stick)
¼ cup sugar
1 cup butter, softened (2 sticks)
2 cups sugar
5 Tablespoons cocoa powder
4 eggs
1½ cups flour
2 teaspoons vanilla
¼ teaspoon salt
2 heaping cups mini marshmallows (bordering on 3 cups)
4 1.5-oz Hershey bars, broken into pieces or 6 oz milk chocolate chips
Instructions
Preheat the oven to 350°F. Lightly spray the sides of a 9x13" baking pan with nonstick cooking spray and set aside.
In the bowl of a food processor, pulse graham crackers until you get fine crumbs. Add ½ cup melted butter and ¼ cup sugar and pulse to combine. Spread the graham cracker crumb mixture evenly over the bottom of the pan and press firmly.
In a large bowl, combine softened butter, 2 cups sugar, and cocoa powder; beat until smooth. Add eggs and stir to incorporate. Add flour, vanilla, and salt and beat until just combined. Spread the brownie batter over the graham cracker crust. Bake for 25-30 minutes until the center is set and no longer wet-looking.
Sprinkle marshmallows evenly over the top and bake 3-5 more minutes, until marshmallows are puffy and just beginning to turn golden.
Remove from oven and sprinkle with chocolate pieces or chocolate chips. They should melt on their own in a minute or 2, or you can pop the pan back in the oven for 1 minute. Use a frosting spreader or spatula to spread the melted chocolate evenly over the top. Alternately, you can melt the chocolate in a double boiler or in the microwave and drizzle it over the top. Allow to cool completely before eating!