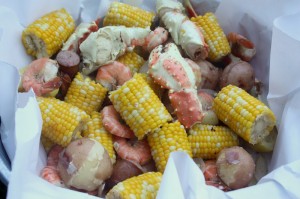 A couple of years ago, we threw a birthday party for a good friend at a piece of property we own a few miles outside of town. She had always wanted to have a dinner party in a big field, so that's what we did! We set up long tables underneath strands of globe lights and had a seafood boil in the fresh, country twilight. I don't really like seafood, but the whole experience was so magical that I've become a fan of the seafood boil, and have been excited to try it again ever since that night. My husband had lots of family in town over memorial day weekend, so we built a big fire in his parents' backyard, roasted marshmallows, ate cobbler, and cooked up a big pot of seafood, potatoes, sausage, and corn. Everyone went crazy for it and had a ball, seafood-lovers and non-seafood-lovers alike.
A seafood boil is the kind of thing you can feed to a small group or a huge crowd, so instead of a hard, fast recipe, these are some guidelines.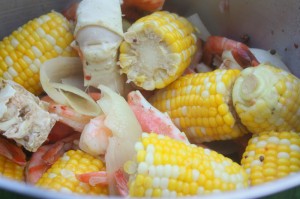 3-4 baby red potatoes, whole, per person
1 box seafood or shrimp boil seasoning per pot
1 onion, quartered, per pot
2 lemons, quartered, per pot
water
a 3-4″ section of smoked sausage or kielbasa per person
2 crab legs per person
10 shrimp per person (size 21-25)
1 ear fresh corn on the cob, halved, per person
cajun seasoning, Old Bay seasoning, melted butter, and lemon wedges for serving
Divide potatoes evenly among your pots. If you're feeding a small group of people and all of your food will fit in one pot, great! Add seasoning, onion, and lemons to the pot, and fill with water. You don't want to fill your pot to the top with water because you'll be adding lots more stuff to it, but you need to add more than you would if you were just cooking the potatoes. Bring to a boil. Add sausage, wait 5 minutes, then add crab legs and allow to boil 3-4 more minutes. Add shrimp and corn and cook until shrimp is pink. Drain off water, replace lid, and let sit 10 minutes, covered. Sprinkle with cajun seasoning and pour onto a table covered with freezer paper or onto big serving platters. Serve with Old Bay seasoning, melted butter, and lemon wedges (and more cajun seasoning).
Tips:
We always use a propane burner and cook ours outside, but your kitchen stove would work too.
Have everything cut and prepped before you start. Have the tables covered with paper, have all of the seasonings out, etc. But melt your butter at the last minute; nobody likes gelatinous butter!
We use Slap Yo' Mama cajun seasoning and like it a lot.
You can use whatever seafood you want. This is just what we do!
If you are using any seafood with shells, make sure you have the proper utensils. The first time we did this, we originally only planned on shrimp and added crab legs at the last minute. We had nothing to crack them with and it was quite the adventure!
We never actually pour our seafood boil onto the table. For the dinner party we had a few years ago, there were beautiful centerpieces and place settings, so we put the seafood in big, shallow galvanized tubs lined with freezer paper. And it worked really well, so that's what we've done ever since.