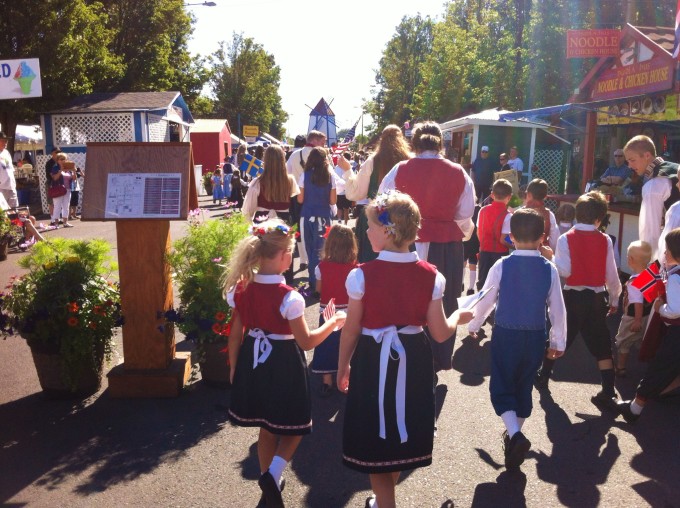 Our first summer in Oregon, some friends took us to the Junction City Scandinavian Festival, a darling, small-town folk festival full of charming dance troupes, wandering vikings, and delicious food. We were instantly smitten and have gone back every summer since to watch our kids preform with the children's dance troupe, and, of course, to enjoy all of the culinary wonders of the Scandifest!
I have a few friends who have never been to the Scandinavian Festival (which I find shocking!), and a few who have asked me what food booths I think are the best. I thought it would be fun to make a list of my favorites, the booths I simply have to stop at every year. I am by no means an expert–I haven't tried everything on the menu at every booth–but here's a list of my Scandinavian Festival favorites and must-haves…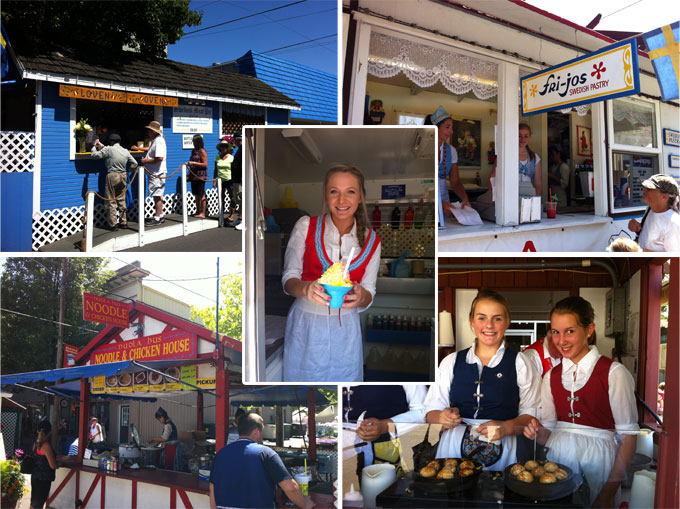 Swedish Meat Pies (top left): There are a couple of booths that get talked about by everyone who has ever been to the Scandinavian Festival, and this is one of them. The Meat Pies are legendary. I've never seen a short line at this booth. My husband buys dozens of them at the end of the festival and sticks them in the freezer to tide him over until the next year!
Fri-jos (top right): Pronounced "fry joes," these treats are particularly delicious. I should probably be grateful they aren't available all year, but I really wish they were! Huge hunks of dense, soft dough, fried until golden brown and crispy on the outside, then rolled in cinnamon and sugar. We always get a few to "share," but everyone really just wants their own!
Aebleskivers (bottom right): Faith Lutheran Church runs probably THE most popular food booth at the Scandifest–the Aebleskiver booth. The line is always snaking across the intersection, past the windmill-shaped information booth, and down the street. And for good reason! For the uninitiated, aebleskivers are puffy balls of golden pancake batter, fried on a special skillet, and served with homemade strawberry jam. Get extra jam if you can; I always run out of jam before I run out of aebleskivers.
The Noodle Place (bottom left): OK, that's not its official name, but it's the only booth serving teriyaki chicken with rice and yakisoba noodles, so it's hard to miss! Not at all related to Scandinavian cuisine, but really, really delicious. Especially if you're looking for something that isn't fried.
Shave Ice (center): I have nothing against snow cones, I just happen to think that shave ice is a bajillion times better! I don't know where this Shave Ice place gets their syrups (they told me one year that they make them!), but they're really superior. And they'll pour evaporated milk on your shave ice for an extra $.50, which happens to be extra delicious. I've tried shave ice with sweetened condensed milk, whipped cream, and vanilla ice cream, but evaporated milk is my fave, so this booth makes me extra happy.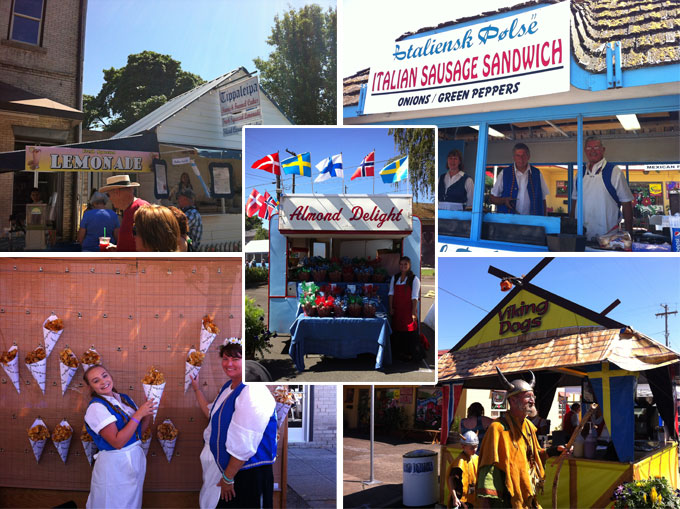 Lemonade from the Funnel Cake Booth (top left): The funnel cakes are good too, but I go to this booth for one reason: the lemonade. It's fresh-squeezed (you can watch them make it), and they have a bunch of yummy fruit flavors they can mix in. I got one today, and my kids drank most of it, so that means I get another one, right?
Italian Sausage Sandwiches (top right): I've never actually ordered one of these, but all of the men I know have (because sausage sandwiches are always man-food), and they rave about them. And the amazing smell fills the whole block!
Viking Dogs (bottom right): So, I know that corn dogs aren't exactly authentic Scandinavian food, but they are a summer festival staple, and these ones happen to be good. They're even hand-dipped! And I managed to snap a picture of the booth just as a viking walked past the sign, which is pretty cool!
Potetgull Swirls (bottom left): This booth is a family favorite for sure. It serves giant paper cones filled with freshly made potato chips in yummy flavors like dill and garlic parmesan. Even my youngest likes to double-fist these chips!
Almond Delight (center): Ah, the sweet, sweet Almond Delight booth. It used to be owned by the nicest elderly gentleman who sold it a few years ago. We're always happy to see it. I cannot walk by without buying a cone full of cinnamon flavored, candy-coated almonds. I always mean to share, but I usually just eat them all myself!
So there you go! Those are my Scandifest food favorites, but it's by no means a complete list of food at the festival. There are swedish pancakes, meatballs served dozens of different ways, cookies, ice cream, corn on the cob, smoothies, pies, authentic German food (because, you know, Europe), cotton candy, hand-cut french fries, and more! If you've been to the festival before, what were your food favorites?
[A huge thank you to everyone who so kindly posed for my photos!]
[This isn't my first time writing about the food at the Scandinavian Festival! What can I say–I'm addicted. For your reading pleasure, here's my post from two summers ago.]