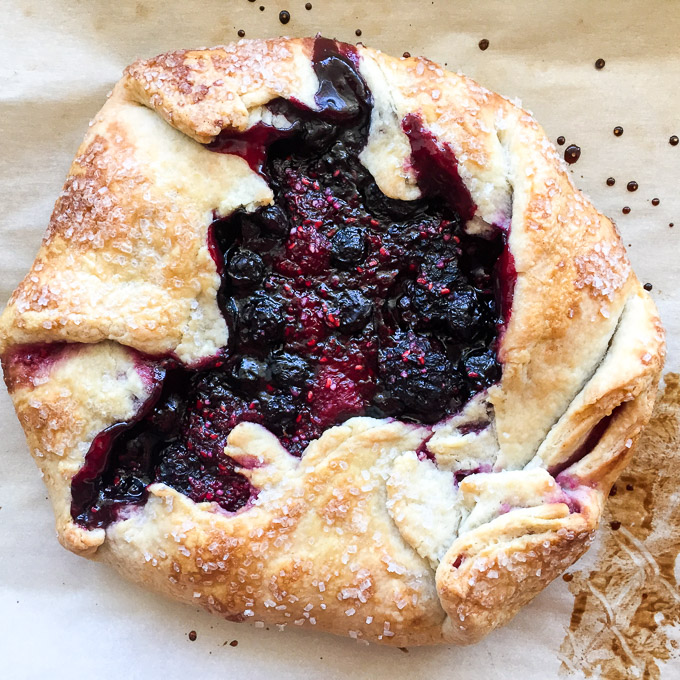 We've had a crazy few weeks since my last post! We had cousins come into town during the last week of June, a big family reunion over the 4th of July week, a vacation with extended family last week, and a few days playing with cousins this week before they fly home. Life has basically been nonstop family time for a little over 3 weeks, and it's been really wonderful!
Just before the festivities started, I made this delicious galette filled with ripe summer berries. It was so easy to make and incredibly tasty. The only photo I managed to snap of it before it was gobbled up by hungry mouths was this iPhone photo, but I wanted to share the recipe with you guys today. Galettes are like pies, only much easier and more forgiving. For me, the crust of a pie is always problematic: they shrink up and pull away from the sides of the pie pan, or the top crust collapses  as the filling cooks down. But with a galette, all of those issues fly right out the window, and you end up with a beautiful, rustic, fruit-filled dessert that is as lovely as it is yummy.

SUMMER BERRY GALETTE
This pastry, featuring ripe summer berries, is as lovely as it is delicious!
Ingredients
for the filling:
½ cup sugar
1 Tablespoon cornstarch
1 Tablespoon minute tapioca
a pinch of salt
1 heaping cup each of fresh blackberries, blueberries, and raspberries
for the crust:
1⅓ cups flour
⅛ teaspoon salt
1 stick cold butter, cut into cubes
4 Tablespoons ice water
coarse sugar for sprinkling
milk or cream for brushing on the crust
Instructions
Preheat the oven to 400°F.
To make the filling, combine sugar, cornstarch, tapioca, and salt in a large bowl. Add berries and toss to coat; set aside.
To make the crust, pulse flour and salt in the bowl of a food processor until combined. Add butter chunks and pulse just until butter is in pea-sized clumps. Slowly add cold water and run food processor just until dough comes together in one mass. Place dough on a well-floured surface and roll into a large circle ⅛″ thick. Transfer the dough to a parchment-lined baking sheet.
Spoon the filling into the middle of the dough. Fold one section of the dough towards the middle of the filling, being sure not to cover the filling completely. Continue folding the dough toward the center until all of the dough has been folded in, and the filling is safely held in. Brush the top of the crust with milk or cream, and sprinkle with coarse sugar. Bake for 20-25 minutes or until the crust is golden. Remove from oven and place on a cooling rack to cool completely. Cut into wedges to serve.