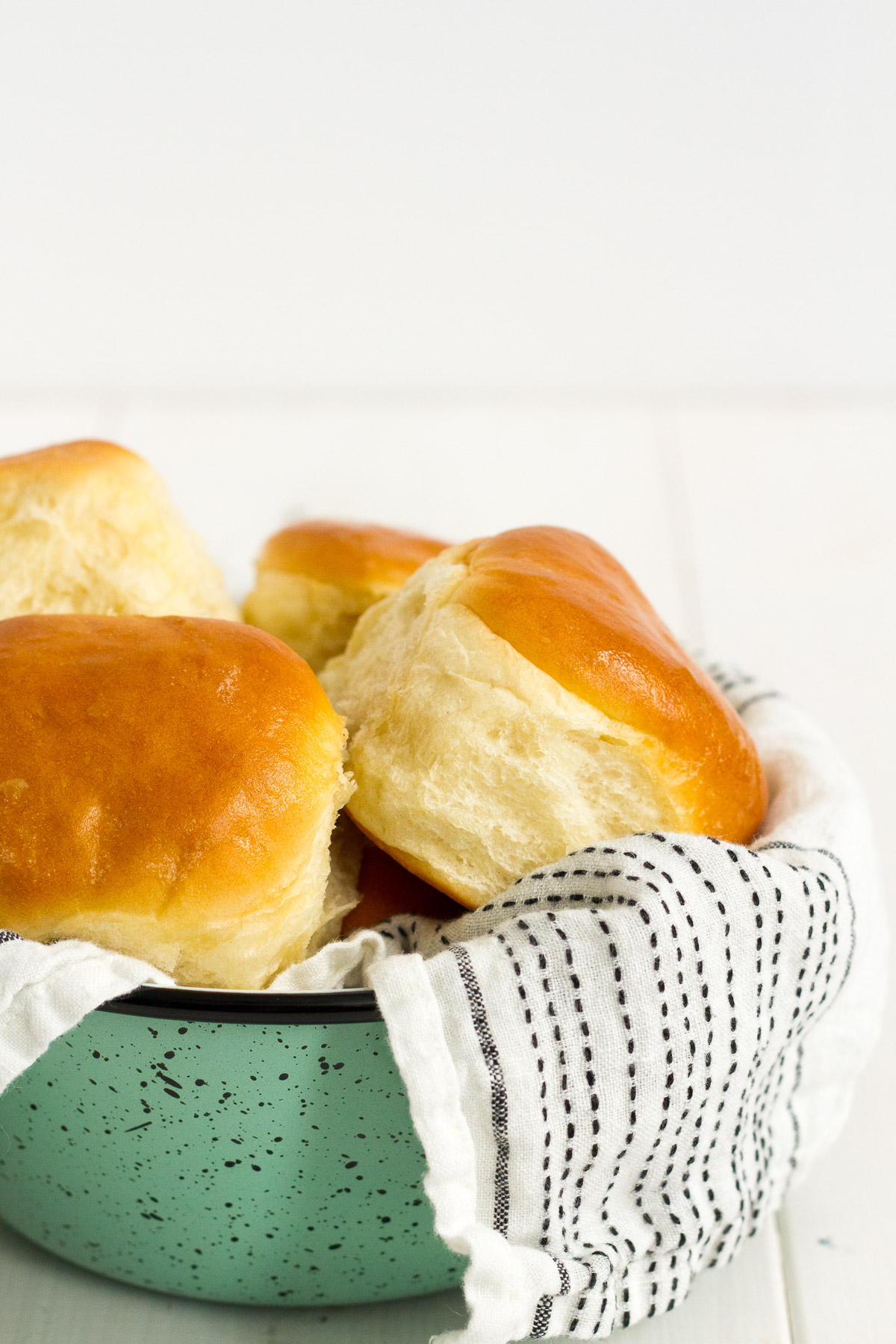 Probably the most popular recipe on my husband's side of the family is my mother-in-laws fluffy dinner rolls. "Momo's rolls" are soft, buttery, slightly sweet, and basically perfect. They get requested often when the family gets together for dinner, whether we're celebrating a holiday, a birthday, a wedding, or just a normal Sunday dinner. And they are a must-have for Thanksgiving and Christmas.
Momo's original recipe calls for powdered milk, which no one ever seems to have on-hand, and makes a whopping 6 dozen rolls. In this version, I've replaced the powdered milk with regular milk, which most people have sitting in the fridge at all times, and cut the recipe down to make a manageable 18 very generously-sized rolls. You can easily double the recipe if you need more, or even quadruple it if you really do need 72 dinner rolls.
And since I know you'll ask, the beautiful bowl my dinner rolls are pictured in is from Barn Light Electric Company. We've been huge fans of their light fixtures since before we started building our house back in 2013 (we have over a dozen of their lights around our property!), but they also have beautiful enamelware. We bought a set of retro jadeite plates, bowls, and cups to keep in our Airstream, and picked out this pretty serving bowl to match. Their porcelain enamel dishes come in a bunch of lovely colors and patterns (like the black-speckled graniteware we have), and are available in various sizes, including bakeware (pie plates) and serve ware (big platters and cake stands). I think I'm going to keep collecting pieces one at a time until I have one of everything!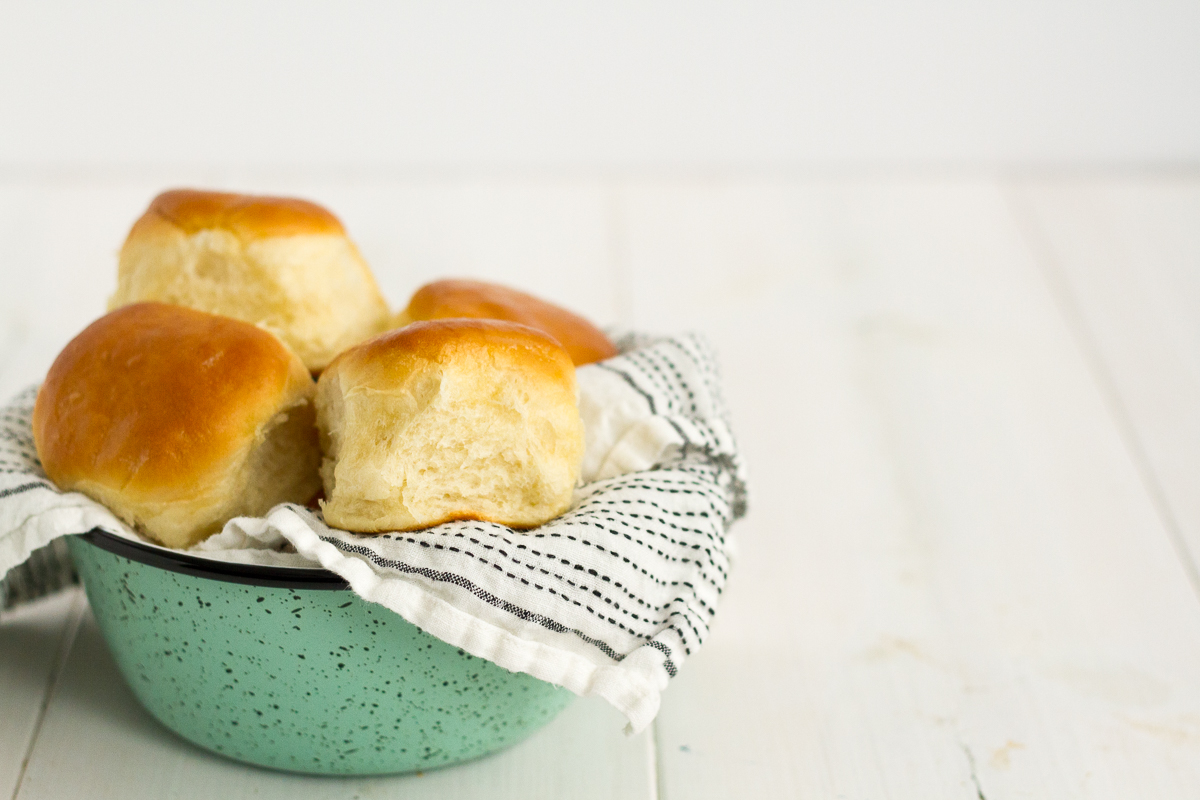 Fluffy Dinner Rolls
These fluffy dinner rolls are much beloved in our family! They are perfect for Thanksgiving dinner, special occasions, or Sunday suppers with family.
Ingredients
¼ cup warm water
1 Tablespoon yeast
1 cup warm milk
⅓ cup sugar
⅓ cup butter, melted
1 teaspoon salt
1 egg
4 cups all-purpose flour
1-2 Tablespoons butter, cold
Instructions
Combine the warm water and yeast in a small bowl or glass measuring cup. Set aside in a warm spot for 10 minutes until the yeast is activated and the mixtures begins to grow in volume.
Meanwhile, combine the warm milk, sugar, melted butter, salt, and egg in a large bowl or in the bowl of a stand mixer. Add the proofed yeast mixture and mix to combine. Add the flour. If you are using a stand mixer, switch to the dough hook attachment at this point. If you are making the bread dough in a large bowl, stir it with a wooden spoon until it gets too difficult, then use your hands. Either way, knead the dough for 5 minutes until smooth and elastic.
Place the dough in a lightly oiled bowl, cover it with a damp towel or plastic wrap, and set in a warm place to rise until doubled in volume, about 1 hour.
Spray a cookie sheet well with nonstick baking spray or rub it with butter and set aside.
When the dough has doubled in volume, put it on a well-floured work surface, and knead it for about 1 minute. Using a lightly floured rolling pin, roll the dough out to a thickness of 1".
Use a 2 ½-3" round biscuit cutter to cut out as many rolls as possible. Place them on the prepared cookie sheet so that they are almost touching. Collect any dough scraps, re-roll them, and cut out more rolls. Repeat until all the dough has been used.
Cover the pan with a damp towel or plastic wrap, and place it in a warm spot to rise for another 30 minutes.
Preheat the oven to 350°F.
When the rolls have finished rising, remove the towel or plastic wrap and bake the rolls for 15-20 minutes until they are fluffy and golden on top.
Remove them from the oven and immediately rub the tops with the cold butter.
Allow the rolls to cool slightly before serving. Makes about 18 large dinner rolls.