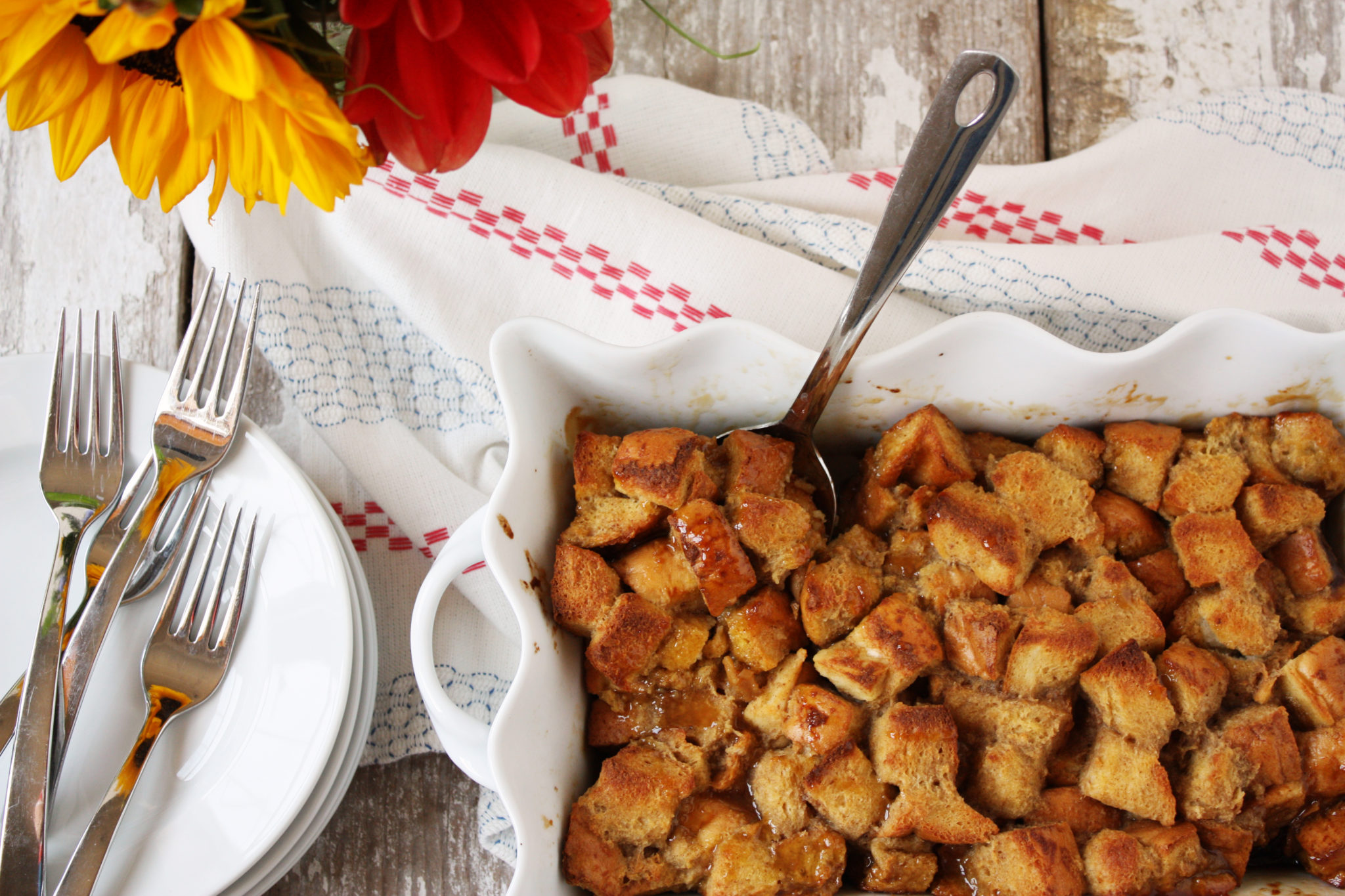 My family is on a bit of a different schedule on Sundays for the next year. We have long, lazy mornings with nowhere to be until the afternoon. So we've decided to capitalize on it by having brunch every Sunday morning. This past weekend, I made one of my favorite special-occasion brunch dishes, Caramel-Apple French Toast Casserole. It has a layer of crusty french bread tossed with cinnamon and vanilla-scented custard, toasted to a golden brown, on top of a layer of tart apples and sweet, buttery caramel syrup. As if all of that wasn't already delicious enough, we like to top it with sweetened whipped cream. It's so good! I love, my family loves it, and every guest I've ever served it to has loved it. And not only is it delicious, but it's easy too. You prepare the entire casserole—caramel sauce, apples, and custard-soaked bread— and refrigerate it overnight, then simply bake it in the morning. Easy and delicious is the best brunch combo every!

Caramel-Apple French Toast Casserole
Ingredients
for the caramel-apple layer
2 teaspoons light corn syrup
1 stick (1/2 cup) butter
1 cup packed brown sugar
3 large Granny Smith apples, peeled, cored, and sliced
for the french toast layer
6 large eggs
1½ cups milk
½ cup flour
2 teaspoons vanilla
2 Tablespoons sugar
½ teaspoon salt
1 teaspoon cinnamon
1 loaf french bread from the grocery store bakery department, cut into 1" cubes
whipped cream for serving (optional, but delicious!)
Instructions
Spray a 9x13" baking dish with nonstick spray. In a small saucepan, combine corn syrup, butter, and brown sugar over medium heat. Cook until butter is melted, then continue cooking for about 3 minutes, whisking often, until the mixture is smooth and slightly syrupy. Pour the mixture into the bottom of the prepared pan, then top with apple slices.
To make the french toast layer, whisk eggs, milk, flour, vanilla, sugar, salt, and cinnamon in a very large bowl until smooth. Add cubed bread to the bowl and fold gently with a rubber spatula until all of the bread is evenly coated. Pour the bread on top of the apples in the pan, cover with plastic wrap, and refrigerate overnight. Don't skip this step! The egg mixture needs time to soak into the bread or you'll end up with dry spots in your casserole.
In the morning, preheat the oven to 375°F. Remove the plastic from the pan, and place pan in the oven. Bake the french toast casserole for 35-40 minutes, until a knife inserted in the center comes out clean. Serve plain or topped with whipped cream.