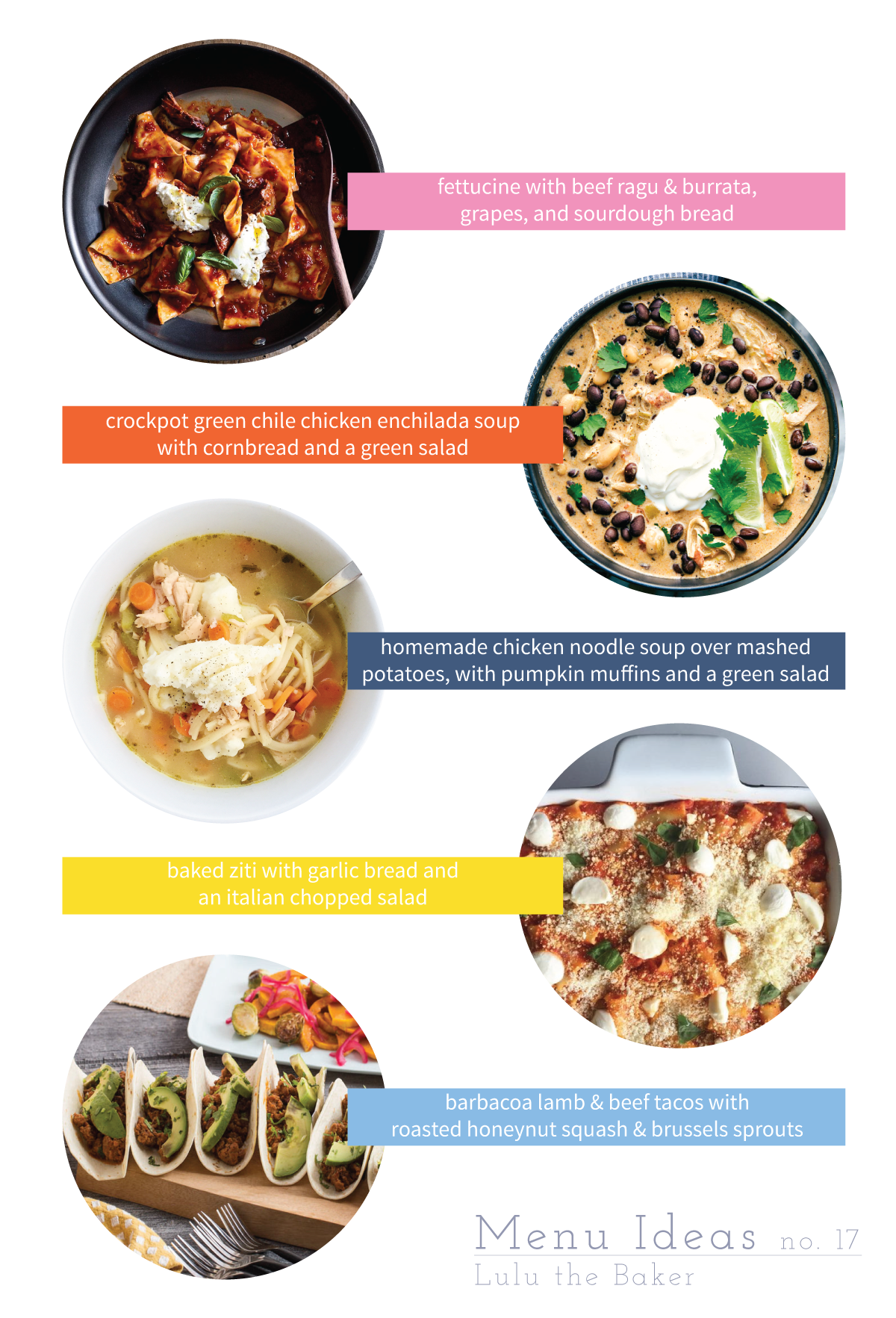 It has been a few months since I posted Menu Ideas, and we've eaten so many delicious, easy dinners since then that I've had a hard time choosing which ones to share on today's post! All of the ones I'm including today were super popular with everyone in my family, all of them were easy to make, and most were pretty quick.
Crockpot Green Chile Chicken Enchilada Soup with Cornbread and a Green Salad
I love soups, chilies, and stews, so I'm always excited to find new, delicious recipes to enjoy during the cold, rainy Oregon winter. This Crockpot Green Chile Chicken Enchilada Soup from Chelsea's Messy Apron was delicious, and the whole family enjoyed it. It was especially good with a big, green salad and some homemade cornbread on the side. It was a tiny bit spicier than my kids usually like (although it should be noted that they still ate it), so next time I make it, I will likely use only half the amount of chile powder called for, but otherwise, it was a very popular, easy-to-make winter dinner.
Fettuccine with Beef Ragu & Burrata, Grapes, and Sourdough Bread
I have a real thing for pasta with meat sauce. When I was pregnant with our oldest, I wanted spaghetti bolognese all the time. I could seriously have eaten it every night, despite the heartburn it gave me. So when I saw this recipe from Williams-Sonoma a few months ago, I knew I had to make it. I changed it a little to suit our tastes, using fettuccine instead of pappardelle, and beef instead of pork. It was a big hit with the entire family, with the kids loving it as much as the grown-ups.
Homemade Chicken Noodle Soup over Mashed Potatoes, with Pumpkin Muffins and a Green Salad
Someday I'll post the recipe for my favorite homemade chicken noodle soup. My kids go crazy for it, and since finding a store-bought egg noodle that tastes just like homemade noodles, I've turned it into a pretty quick, easy weeknight dinner. But for today, I'll just tell you that if you've never served homemade chicken noodle soup over homemade mashed potatoes, you need to try it NOW. It will change your life. And someday I'll share the recipe for the pumpkin muffins, which I had at Clyde Common in Portland, and which were a revelation. The green salad, however, I think you can handle on your own.
Baked Ziti with Garlic Bread and an Italian Chopped Salad
It seems we like pasta in this family. One of my favorite TV food personalities, Kelsey Nixon, is just as sweet in person as she seems on TV, and her baked ziti recipe is killer. So good! It isn't the fastest dinner, so save it for a not-so-busy evening, and I promise you'll love it. Serve it with garlic bread and a yummy chopped salad from the produce aisle (my new go-to salad), and your family will love it too.
Barbacoa Lamb & Beef Tacos with Roasted Honeynut Squash & Brussels Sprouts
We took a pretty lengthy break from Blue Apron in the Fall, but came back to a super-winning recipe just before the holidays: Barbacoa Lamb & Beef Tacos. They were simple and amazing: a mixture of ground lamb and beef seasoned with a smoky spice blend, and topped with quick-pickled onions (dreamy!) and avocado. Everyone cleaned their plate. And I've never been a squash fan, but I actually loved the roasted honeynut squash and brussels sprouts topped with more pickled onions. Totally delicious, and, as expected from Blue Apron, very quick. If you want to make this at home, you could easily use a mixture of lamb and beef, or all ground beef. And for the spice blend, I'd just use each spice listed to taste (or only use the spices you like). Start with a pinch of each and work your way up from there.
Readers, I'd love to get feedback from you on this series. I love working on it; the Menu Ideas posts are some of my favorite to put together. But I'd love to know if you find them useful, helpful, or inspiring. Constructive criticism also welcome. To read previous posts in the Menu Ideas series, and to get even more inspiration for planning easy weeknight dinners, visit my Menu Ideas archives HERE.