Homemade Corned Beef is a fun kitchen project to do, especially around St. Paddy's Day! It requires almost a week, so be sure to factor the extra time into your planning.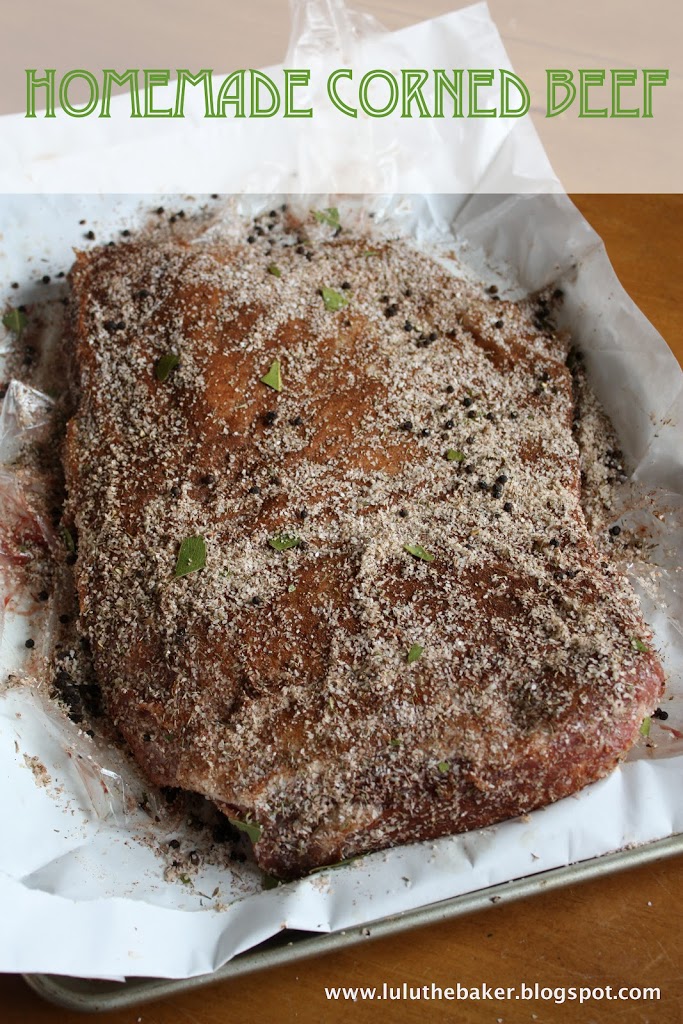 A few years ago, I decided to try corning my own brisket for a pre-St. Patty's Day dinner. I was skeptical that it would work and skeptical that it would taste good, but my fears were completely unfounded!
The homemade corned beef and cabbage turned out fantastic–and we've since started a new tradition of having it for dinner on the Sunday nearest St. Patty's Day every year.  My husband was just saying yesterday that it is one of his favorite meals (he has Irish heritage, after all).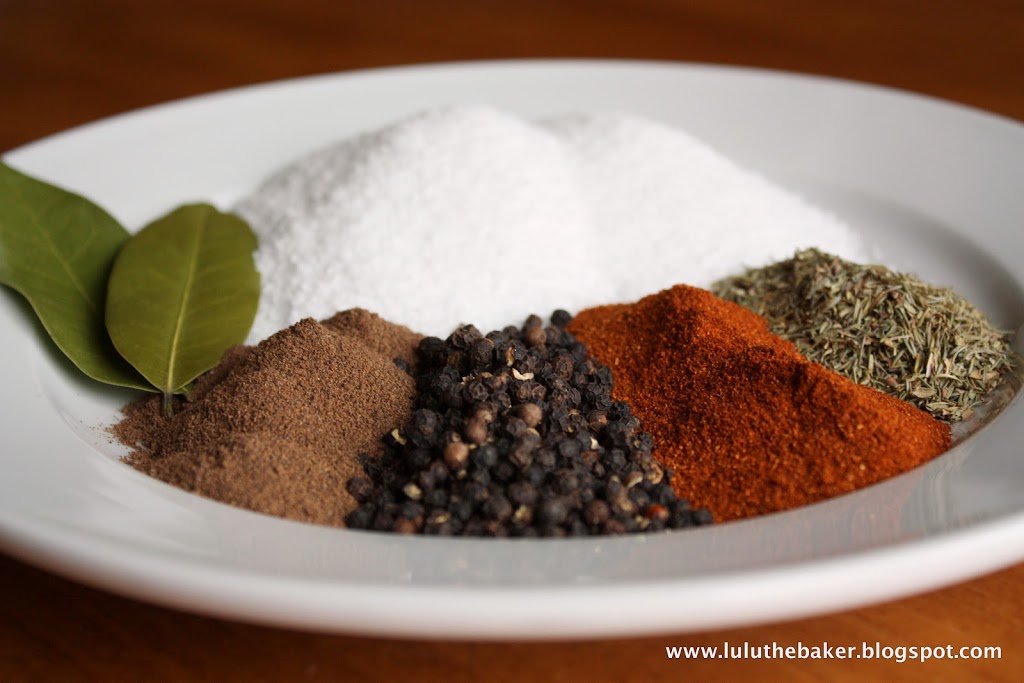 Making your own corned beef is reasonably easy to do, but because the beef has to dry-brine (yes, I made that term up) for almost a week, it requires some planning ahead.  
I just did mine this morning.  If you'd like to try your hand at homemade corned beef, here's how!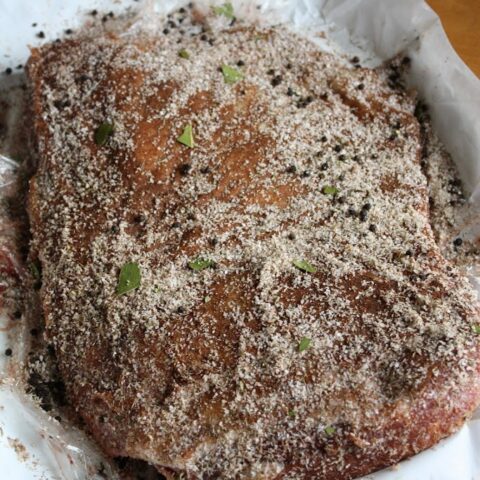 Homemade Corned Beef
Prep Time:
7 days
5 seconds
Total Time:
7 days
3 hours
5 seconds
Homemade Corned Beef is a fun kitchen project to do, especially around St. Paddy's Day! It requires almost a week, so get started now. Recipe adapted from the America's Test Kitchen Family Cookbook, which has simple, easy recipes for EVERYTHING.
Ingredients
3 1/2 to 4 1/2-pound brisket
1/2 cup kosher salt
1 Tablespoon cracked peppercorns (if you only have whole peppercorns, put them in a heavy-duty ziplock bag and smash them with a hammer or meat-pounding mallet!)
2 bay leaves, crumbled
2 teaspoons paprika
2 teaspoons allspice
1 Tablespoon dried thyme
Instructions
In a small bowl, combine everything except the brisket. Set aside.
Take something sharp (I use a corn cob holder, but a skewer or really sharp fork would work too) and poke holes all over both sides of the brisket. Rub your salt mixer all over both sides of the meat. Use all of it, cover every surface, and really work it in.
Place your brisket in a gallon-sized ziplock bag. If your brisket is too big to fit in one bag, cut it in half, make sure both cut surfaces get rubbed with some salt mixture, and put each piece in a separate bag. Get as much air out of the ziplock bag as possible and seal it.
Set the bag on a cookie sheet in your fridge, put another cookie sheet on top, and load it up with heavy cans to weigh it down. Every day, unload the cans, take the top cookie sheet off, and flip your meat over. Replace everything and repeat the next day. The meat should "brine" for 5-7 days.
On St. Patty's Day (or whatever day you're going to cook and eat your corned beef), remove the now-corned beef from the bag, rinse it with water, and pat it dry with paper towels.
Put the corned beef, 3 whole bay leaves, 1 Tablespoon whole black peppercorns, and 1 Tablespoon mustard seeds in a large dutch oven. Fill the pot with enough water that everything is covered plus an extra 1/2" of water, and bring to a simmer. Cook for 2-3 hours, until a fork easily slides into the center of the meat.
Heat the oven to 200°F. Transfer the meat to a large baking dish, cover with 1 cup cooking liquid, cover, and place in the oven to keep warm. Add 1 1/2 pounds small red potatoes and 1 1/2 pounds peeled, cut carrots (or baby carrots) to the dutch oven. Simmer for 10 minutes. Add 1 head of cabbage (washed and cut into 8 wedges). Simmer until all veggies are tender.
Remove meat from oven, slice across the grain into 1/4" slices, and place on a large serving platter. Add cooked veggies to platter, and serve with grainy mustard.