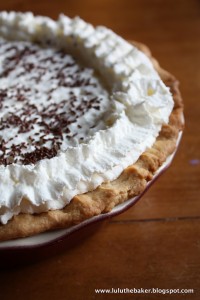 Happy Pi Day everyone! What better way to celebrate 3.14 than with a good old-fashioned chocolate cream pie! I know french silk pies are super popular these days, with their fancy-pants chocolate cookie crusts and chocolate shavings on top, but I prefer a more classic chocolate pie. Give me a buttery pastry crust, mountains of smooth, homemade chocolate pudding, and piles of fluffy whipped cream, and I'm a happy girl!
The crust recipe is from The Sweet Melissa Baking Book, and the chocolate pudding recipe is from King Arthur Flour.
This was the last piece. I had to rescue it from someone's plate to take a picture, so forgive it's disheveled appearance!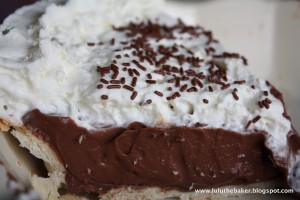 for the crust:
1 cup + 2 Tablespoons flour
1 Tablespoons sugar
1/8 teaspoon baking powder
1/4 teaspoon kosher salt
1/2 cup (1 stick) very cold butter, cut into small chunks
3-4 Tablespoons ice water
for the chocolate pudding:
2 Tablespoons butter
1 1/3 cups chopped, semi-sweet chocolate
1 teaspoon vanilla
2/3 cup sugar
3 Tablespoons cornstarch
2 Tablespoons cocoa powder
1/8 teaspoon salt
3 egg yolks
1 cup heavy cream, divided
2 cups milk
To make the crust, combine flour, sugar, baking powder, and salt in the bowl of a food processor. Pulse to combine. Add butter chunks and pulse until they are the size of peas. Add 3 Tablespoons water and pulse until dough comes together in a ball. If necessary, add remaining water. Shape dough into a disk, wrap in plastic, and refrigerate for at least 30 minutes. Remove from fridge, place on a floured surface, and roll out into a 12-13″ circle. Carefully place in a deep, 9″ pie plate. Cut excess crust so that is only hangs over the edge of the plate by 1″. Tuck the extra dough under itself so that it is flush with the edge of the plate and crimp. Let chill in the fridge for 30 minutes. Line chilled crust with parchment paper, fill with dried beans or pie weights, and bake in the lower third of your oven at 350°F for 25-30 minutes. Remove pie weights and parchment paper and bake for another 10-15 minutes, until crust is golden. Allow to cool completely before filling.
To make the pudding, combine butter, semi-sweet chocolate, and vanilla in a small bowl; set aside. In a medium saucepan, combine sugar, cornstarch, cocoa powder, and salt. Whisk until there are no lumps. Add eggs and whisk again until smooth. Add heavy cream, 1/4 cup at a time, whisk between each addition. Add milk and whisk until smooth. Bring mixture to a boil over medium heat, whisking constantly, and boil for one minute. Remove from heat, add butter, chopped chocolate, and vanilla, and whisk until smooth. Pour mixture through a strainer to remove any lumps. Place plastic wrap over the pudding, making sure it touches the entire surface, and refrigerate until thoroughly chilled.
To assemble the pie, evenly spread the chilled chocolate pudding over the cooled pie crust. Top with lightly sweetened whipped cream and serve immediately or chill until ready to serve.