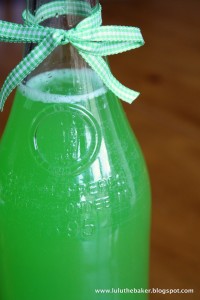 I love having bright green things to eat and drink on St. Patty's Day. But you can tell from the title of this post that I'm not talking about things that are naturally green or even remotely good for you. I generally try not to buy a lot of junk food, mostly because I know that if it's in the house, we'll eat it. I rarely buy Kool-Aid (even though I happen to think Tropical Punch Kool-Aid is one of the most delicious things ever), but if you can't drink junky green concoctions full of sugar and fake flavoring on St. Patty's Day, when can you?! St. Patty's Day Punch combines all kinds of different junky beverages: Kool-Aid, Pineapple Juice (let's not kid ourselves into thinking that it is good for you because it comes from nature!), and not one, but TWO kinds of soda! And I have to tell you, it is absolutely delicious! You just have to keep chanting, "It's just once a year," as you pour yourself a big, teeming glass!
This recipe comes all the way from Canada via my next-door neighbors when I was growing up in Las Vegas. They had palm trees in their front yard, surrounded by those blindingly bright white landscaping rocks.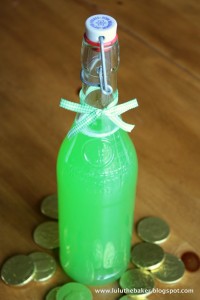 6 cups cold water
1 packet lemon-lime Kool-Aid powder
1 cup sugar
1 12-oz can lemon-lime soda (I like Sierra Mist because it doesn't have high fructose corn syrup, cuz, you know, I try to buy only healthy soda for my junk punch.)
1 12-oz can citrus soda (ie, Squirt or Fresca)
2 cups pineapple juice
Combine all ingredients in a large pitcher. Chill, and serve over ice.