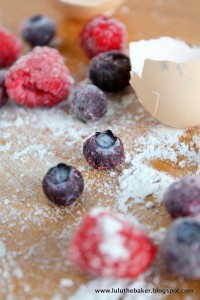 I'm going to make a bold statement here: I think baked fruit desserts are my favorite! I might have a small dalliance now and then with chocolate cupcakes or brownies or lemon bars or ice cream, but it always comes back to cobblers and pies and buckles and tarts. In high school, when they made us stay on campus for lunch my senior year, I used to order the peach cobbler at least once a week (don't judge!).
This recipe is the latest in a long line of cobbler favorites. It starts with frozen berries piled in a baking dish and topped with a crumbly mixture of flour, sugar, and an egg. Over the top of all this is drizzled lots and lots of melted butter, which produces a crackly, blistered crust. It would be an ideal ending to any summer meal, but is equally at home on these cold, drizzly early spring evenings.
from my mom, who got it from Nana, who got it from a friend, who got it from the July 2008 issue of Southern Living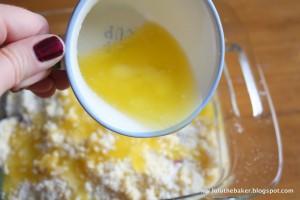 4 cups berries, fresh or frozen (you can use one kind or a mixture)*
1 Tablespoon lemon juice
1 cup sugar
1 cup flour
1 egg
6 Tablespoons butter, melted
sweetened whipped cream or ice cream for serving
Preheat oven to 375°F. Lightly spray an 8×8″ baking pan with nonstick cooking spray. Spread berries in pan and sprinkle with lemon juice. In a medium bowl, combine sugar, flour, and egg until crumbly. Spread mixture evenly oven the top of the berries. Drizzle melted butter evenly over the top of the crumble mixture. Bake for 35 to 45 minutes, until the topping is golden and bubbly. Let stand 10 minutes before serving. Serve with whipped cream or ice cream.
*We've actually tried bottled peaches and frozen peaches in place of and in addition to the berries, and it was sensational every time!