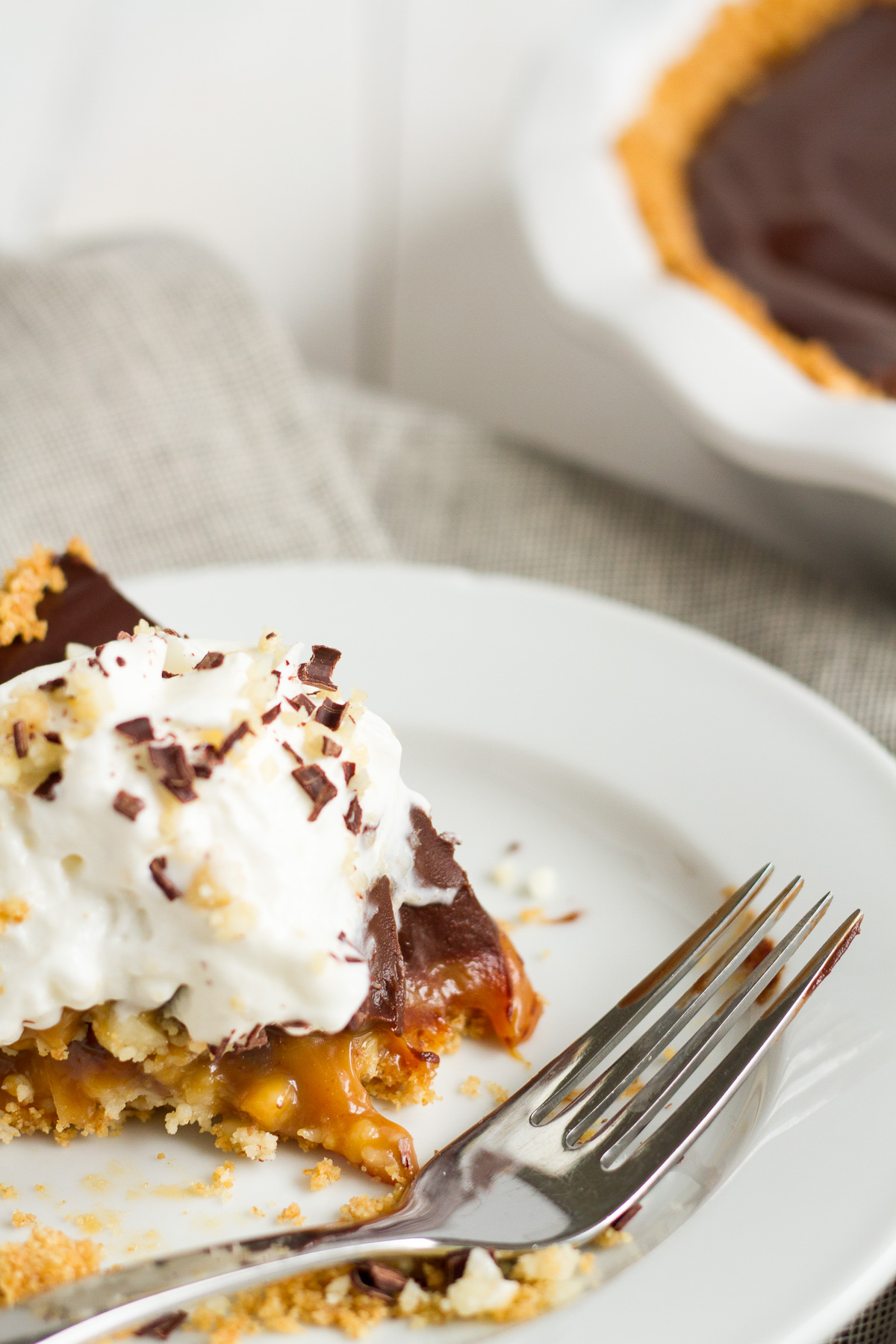 Happy Pi Day! I've been saving up an amazing recipe just for today. When we were in Maui in January, my husband and I discovered Leota's Pie Shop and stopped there not once, not twice, but three times. All the pies were delicious, but one of our favorites was the Chocolate Mac Nut Pie. We didn't really know what to expect when were first ordered it. There weren't any descriptions online or on the menu at the shop. It looked like it had a graham cracker crust filled with chocolate, topped with whipped cream, chopped macadamia nuts, and chocolate shavings. If that's all there had been to the pie, it still would have been tasty, but upon digging in, we discovered a layer of macadamia nut-filled caramel hidden beneath the chocolate. It was so good that we ordered another one later in the week, and I promised myself I'd try making a copy cat Chocolate Macadamia Nut Pie as soon as we got home.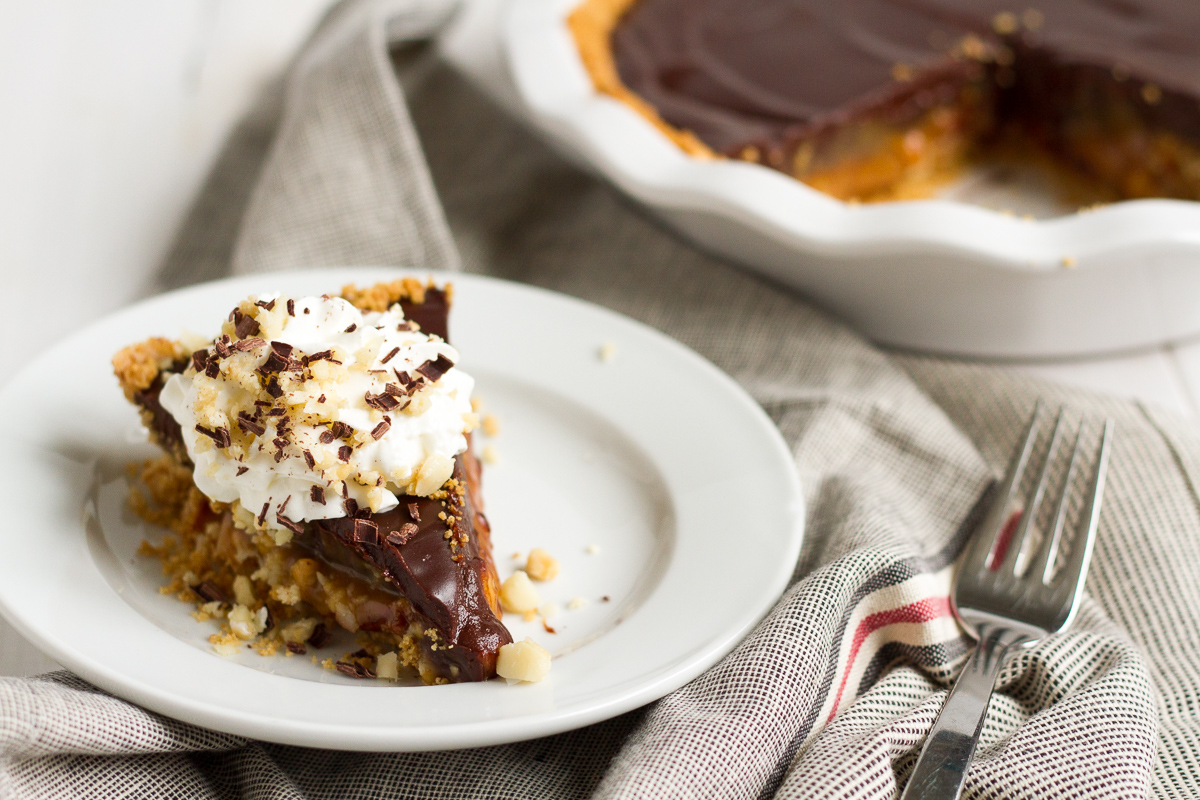 Sometimes projects seem impossibly big to me, so much so that I just can't bear to start them. And for some reason, making this pie seemed monumental. I think it's because I know that after I make the recipe, I still have to photograph it, edit the pictures, and write everything up, and some days, that's just a lot to try and cram in. But guess what? This pie was so easy to make! The sweet, crunchy graham cracker crust is made in the food processor in a single step, pressed into a pie plate, and baked for just 10 minutes, and that's all the baking that happens in this pie. The caramel sauce has just two ingredients and can be made on the stove top in a few minutes while the crust bakes. And the chocolate ganache takes less than 3 minutes to make from start to finish. It really couldn't be easier, or more delicious. The sweet graham cracker crust, silky, buttery caramel, and rich chocolate go beautifully together, and the macadamia nuts add a perfect touch of crunch. And best of all, you still have time to make your own Chocolate Macadamia Nut Pie to celebrate Pi Day, so go get started!

Chocolate Macadamia Nut Pie
A truly scrumptious pie that is as easy as it is delicious!
Ingredients
for the crust
10 graham crackers (about 4 oz)
3 Tablespoons granulated sugar
5 Tablespoons butter, melted
for the caramel layer
32 Kraft caramel squares, unwrapped
½ cup cream
1 cup chopped roasted macadamia nuts
for the chocolate ganache
6 oz semisweet chocolate
½ cup cream
toppings
whipped cream
chocolate shavings
Instructions
Preheat the oven to 350°F.
In the bowl of a food processor, combine graham crackers, granulated sugar, and melted butter. Pulse the mixture until you get fine crumbs. Press the crumbs into the bottom and up the sides of a 9" pie plate. Bake the crust for 7-10 minutes, until golden and fragrant. Set aside to cool.
In a small saucepan, combine caramel squares and ½ cup cream over low heat. Stir until smooth.
Spread ¾ cup of the chopped macadamia nuts in the bottom of the pie crust, then pour the caramel sauce evenly over the nuts.
In a microwave safe bowl, combine chocolate and remaining ½ cup cream. Microwave for 30 seconds, then stir. Repeat until smooth and shiny.
Pour the chocolate ganache over the caramel layer, then allow the pie to set up completely before serving. It will set up more quickly if you put it in the fridge.
Serve slices topped with whipped cream, chocolate shavings, and the remaining ¼ cup chopped macadamia nuts.