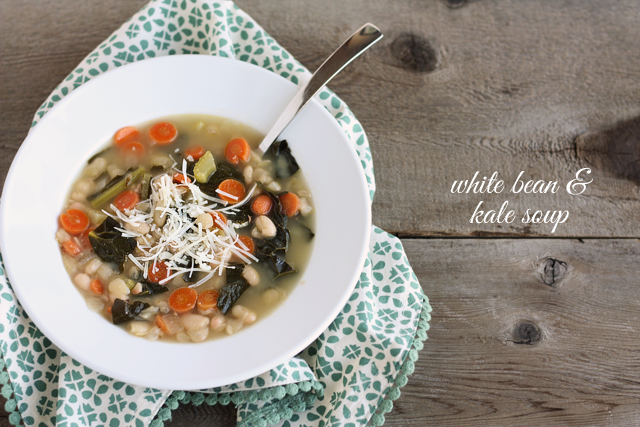 Whenever we get to the beginning of a new year, we always start off trying to eat better. We try to cut back on processed foods, snacks, and sweets, and try to load our diet with fruits and vegetables. Fewer chemicals and more whole foods. And while our current year is admittedly only six days old, we have managed to do a fair job of eating well in 2014. Fingers crossed that we can keep it up for the whole year! After all of the heavy holiday food from Christmas and New Years, we were ready for something fresh and filling. This warm, hearty soup is a big hit that fits the bill in every way. Delicious and flavorful, easy to make, and full of nutritious things that taste good and make you feel even better, this White Bean & Kale Soup is a slam-dunk New Years resolution-keeper. Here's to fresh and clean in 2014!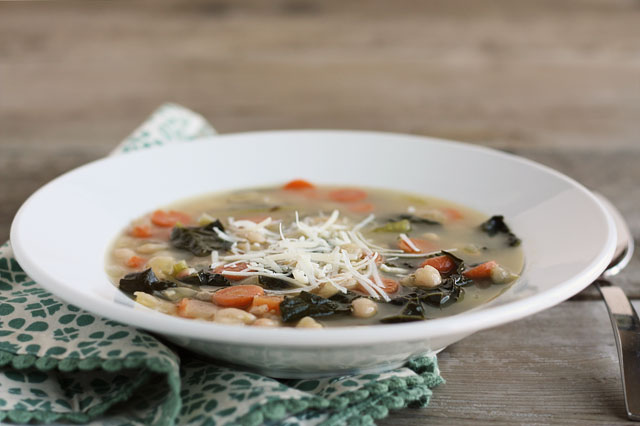 White Bean & Kale Soup
A light and delicious Winter soup!
Ingredients
2 Tablespoons olive oil
1 medium onion
2 large carrots, peeled and diced
3 celery sticks, diced
1 teaspoon minced garlic
6 cups chicken or vegetable broth
2 15-oz cans white or navy beans, drained
1 bunch kale, washed and chopped into bite-sized pieces
salt and pepper
shredded parmesan cheese
Instructions
In a large dutch oven or heavy-bottomed pot, heat olive oil over medium heat. Add onion, carrots, and celery, and saute until onions are translucent, about 10 minutes. Add garlic and saute 1-2 minutes more, until garlic is fragrant. Add broth and 1½ cans of beans.
Put the other ½ can of beans in a small bowl, and use the back of a fork to mash the beans. Stir mashed beans into the soup along with the kale. Bring to a simmer, cover, and lower the heat.
Simmer, covered, for 20-25 minutes, until vegetables are tender. Salt and pepper to taste.
Serve topped with a light sprinkle of shredded parmesan cheese.