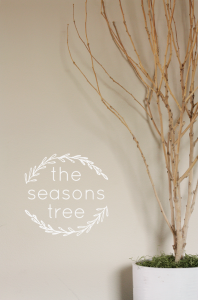 Way back when I was in high school, I helped my mom throw an Easter party for a group of little kids from church. I don't remember too many details (other than making construction paper headbands with giant bunny ears stapled to them–a classic!), but that party was the birthplace of the Seasons Tree. My mom, creative genius that she is, wanted to plaster a tree branch into a pot and hang cute seasonal decorations from it. That tree is almost 20 years old now, has survived several moves, and has helped three generations celebrate nearly two decades of Easters, Halloweens, and Christmases!
At the end of 2012, I had the idea to do a year-long series of DIY posts on decorating the Seasons Tree, but then I didn't do anything with it, and if you don't start a year-long series in January, you're kind of stuck for 12 months. So now that we're at the beginning of another lovely year, I decided to dust off the idea. My plan is to show you an easy decorating DIY every month to spruce up your Seasons Tree for whatever holidays or festivities are coming up. And I'm going to try not to repeat any ideas. So at the end of the year, we'll have 12 different simple, seasonal decorating ideas under our belts! And if you really fall in love with one of the ideas, feel free to rework it to fit the rest of the year. For example, if you decide that punched paper garland (January!) is your thing and you just want to do a new color scheme every month, by all means, follow your punched paper passion. Remake it in red and blue for July, and orange and black for October.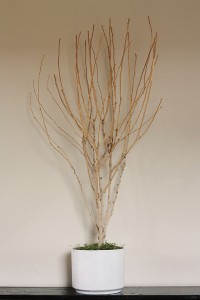 Before you can join in the fun, you'll need a Seasons Tree of your own! Since this thing hearkens back to the 90's, I don't have step-by-step photos for you, but the instructions are really simple.
Materials & Tools
a tree branch
a large, heavy pot
plaster (and the water to mix it with)
newspaper
dried spanish moss
Steps
1. Find a tree branch. FYI, ours is actually a Rose of Sharon shrub that was failing to thrive; we upcycled it, if you ask me. Now is a great time of year for foraging fallen limbs, so go explore your backyard or neighborhood park and find a really good branch that is sturdy and has lots of nooks to hang things from.
2. Find a heavy, sturdy pot that is large enough to fit your tree comfortably. Don't use plastic.
3. Position the tree in the pot where you want it, and pour about 3 inches of mixed plaster into the bottom of the pot. If the pot has any drainage holes in it, be sure to plug those up first. This step is probably a lot easier with two people. Hold the tree in place until the plaster sets up.
4. Once the plaster is dry, fill the pot up with scrunched up newspaper. Stop about 2 inches from the top.
5. Fill the rest of the room in the pot with dried spanish moss from the craft store. Or you can use mermaid tears or gumballs or whatever you want! Just cover up the newspaper.

As soon as you have your Seasons Tree made, you're ready to get started on January's decor, a simple, no-sew punched paper garland. You can find the directions
HERE
!