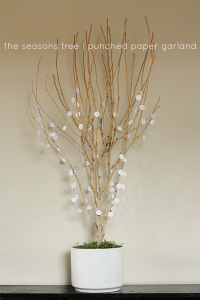 I'm kicking off a year-long, monthly series featuring this sweet little tree I helped my mom make back when I was in high school. I'm calling it the Seasons Tree, and I'm helping it look festive all year long.
I wanted the Seasons Tree's January ensemble to be clean and fresh. After all of the color and hubbub of December, I think a little peace and quiet, a little restful return to normal life, is very much needed. So I made a simple, no-sew, punched paper garland in white. I stood in the kitchen and made it while my kids ate lunch–it's that easy! Made with different colors of card stock, it would be a festive addition to any holiday celebration. I can see this simple garland dressing up wrapped gifts, strung across the top of a birthday cake, or hanging from a sunny nursery window. And I think the Seasons Tree looks lovely and elegant draped in this spare but graceful adornment.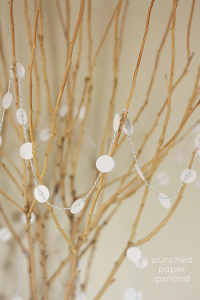 Materials & Tools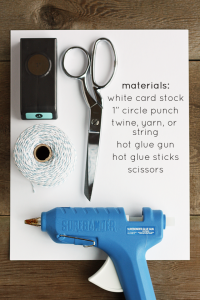 white card stock
a 1″ circle punch
twine, yarn, or string
a hot glue gun
hot glue sticks
scissors
Steps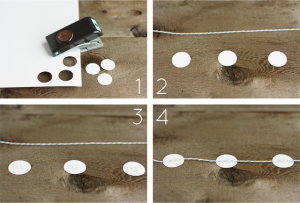 1. Punch lots of 1″ circles out of the card stock with your 1″ punch. (And remind me to tell you sometime about the totally unrelated legend of the 1″ punch that my siblings and I laugh about all the time from our childhood.) I probably punched 100 circles for my garland.
2. Lay the circles out 5 or 6 at a time on a flat work surface. Place them 2-3″ apart. Also lay out your twine.
3. Place a small dot of hot glue in the center of each circle. Remember, you are only doing 5 or 6 of these at a time! Don't worry too much about those wispy strings of glue that end up everywhere; you can clean them up when your garland is finished.
4. Quickly and carefully lay the twine right on top of the glue on each circle, maintaining the 2-3″ spacing you laid out earlier.
5. Allow to cool, then repeat with 5 to 6 more circles. When your garland is as long as you'd like it to be, cut the twine.