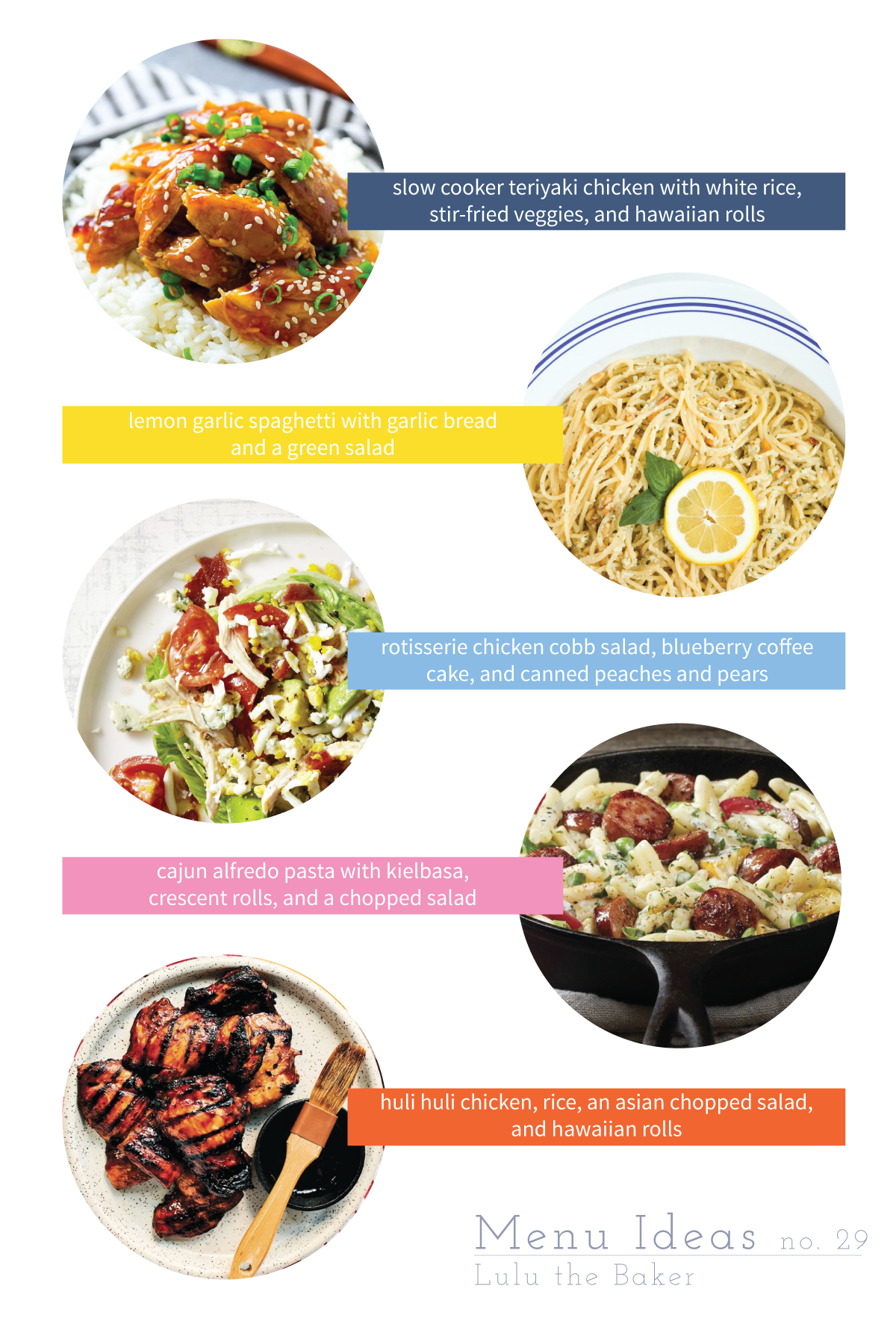 I'm excited to finally have a new Menu Ideas post to share with you guys. Every time we have a quick, delicious, weeknight dinner that I think is worth sharing, I add it to my list, and my list of menu ideas could fill several posts at this point! For those of you who are reading a Menu Ideas post for the first time, here's a quick intro: I'm sharing five ideas for fast, family-friendly dinners that my family has actually eaten and loved. These meals are great for busy weeknights when you've been at work all day or have been running kids to after-school activities all over town.
**This post contains affiliate links. You can read more about them on our policies page.**
Slow Cooker Teriyaki Chicken with White Rice, Stir-Fried Veggies, and Hawaiian Rolls
I'm starting this post out with a real winner. This whole dinner was delicious and probably only took 20 minutes of active cooking time, which was spread out throughout the day. I haven't posted the recipe for the teriyaki chicken yet, so here it is in a nutshell: Put 3 lbs boneless, skinless chicken thighs in your slow cooker. Add 3/4 cup low-sodium soy sauce, 3/4 cup granulated sugar, 1 bunch of green onions thinly sliced (white parts only), 4 1/2 Tablespoons apple cider vinegar, 1 Tablespoon grated fresh ginger, 2 teaspoons toasted sesame oil, 1 1/2 teaspoons minced garlic, and some freshly ground black pepper. Cook on low for 6 hours. Pour the liquid into a saucepan. In a small bowl, whisk 1 1/2 Tablespoons cornstarch and 3 Tablespoons cold water. Add to the liquid, heat over medium-high, and bring to a boil, cooking the sauce until it has thickened slightly. Shred the chicken in the slow cooker with two forks, pour the teriyaki sauce back over it, and toss. Top with the green parts of green onions (thinly sliced) and sesame seeds. I made the white rice in a rice cooker, so it only took me a minute. The veggies were from the prepackaged salad section of the grocery store, and they were fresh veggies for stir-frying. They were ready in about 6 minutes. All together, a completely delicious dinner, and one that was ready with minimal work. [photo from Dinner at the Zoo]
Lemon Garlic Spaghetti with Garlic Bread and a Green Salad
If you've read my past Menu Ideas posts, you've likely noticed this recipe pop up more than a few times. We love it! This time, it was specifically requested by my teenager. It is very easy to make, and tastes fresh and delicious. The flavors of lemon, garlic, basil, pine nuts, and parmesan cheese are go beautifully together. And most of the ingredients are things we typically have on-hand, so I don't have to make a special trip to the grocery store. You can find the recipe HERE on a previous Menu Ideas post. We always pair it was garlic bread and a salad or fresh veggies and ranch.
Rotisserie Chicken Cobb Salad, Blueberry Coffee Cake, and Canned Peaches and Pears
I love dinners that allow each member of my family to customize their serving. Big dinner salads are the perfect example. This cobb salad dinner was a big hit with every single person. I put out all the salad ingredients—chopped lettuce, rotisserie chicken, crumbled bacon, hardboiled eggs, diced avocado, tomatoes, cucumbers, and green onions, croutons, sliced, toasted almonds, shredded cheese, and ranch dressing—and let everyone build their own salad. Some people opted to just eat the things they wanted separately, and that's ok too. Everybody just got to eat their dinner how they wanted to. I made a batch of Nancie McDermott's Shenandoah Valley Blueberry Cake to go alongside our salads, and we rounded the meal out with chilled, canned peaches and pears, which I often forget are really amazing. [photo from Good Housekeeping]
Cajun Alfredo Pasta with Kielbasa, Crescent Rolls, and a Chopped Salad
Either my mom or my little sister first discovered this tasty Hillshire Farm Sausage Alredo pasta recipe several years ago, and the whole family now loves it. We always use penne pasta, we always add peas, and we always top ours with diced tomatoes and thinly sliced green onions. It's yummy and easy to make, and always a hit with the family. This time, I served our pasta with a prepackaged chopped salad from the store, and while I had some leftover homemade crescent rolls, the store-bought pillsbury ones are good too.
Huli Huli Chicken, Rice, an Asian Chopped Salad, and Hawaiian Rolls
Alana Kysar, the blogger behind Fix Feast Flair, published her first cookbook, Aloha Kitchen: Recipes from Hawai'i, earlier this year. It's full of recipes from her native Hawaii. I pre-ordered a copy and excitedly pored over every page went it arrived. It was hard to decide which recipe to make first, but this tangy grilled chicken covered in homemade hawaiian bbq sauce won. I love marinated, grilled chicken because it takes minimal effort and tastes amazing, and Alana's Huli Huli Chicken was no exception! It was a breeze to make, it was delicious, and my family loved it. We made white rice to go on the side, along with a chopped, asian-style salad and our fave Hawaiian rolls. You can get your own copy of Aloha Kitchen HERE; I think you'll love it!
Those are some of the easy weeknight dinners we've eaten and loved lately. I'd love to hear some of your go-to meals for busy weeknights. Leave me a comment below! And if you need even more menu ideas, you can visit my archives by clicking HERE.