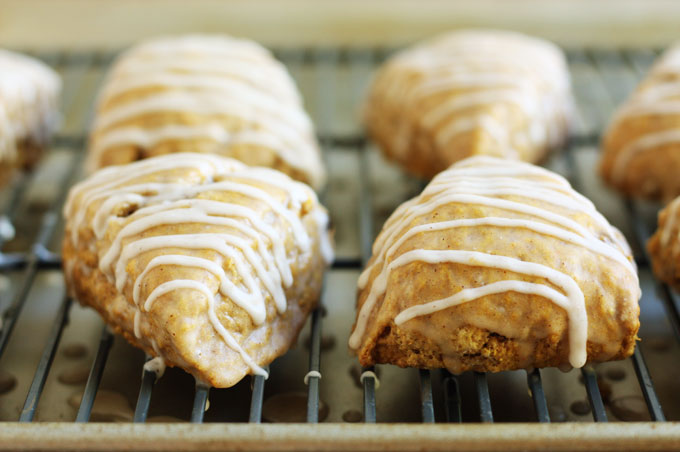 Autumn is my favorite time of year for baking! The flavors of Fall just lend themselves so well to cookies and cakes, breads and pastries. For this month's Melanie Makes/Lulu Bakes challenge with Melanie Bauer, I wanted our recipes to be inspired by this time of year, so I chose quintessential Fall ingredients: smooth pumpkin, crisp, sweet apple, and warm, aromatic spices. These delicious little pumpkin spice scones are amazing, and definitely capture Autumn in each bite. They are light and tender, and just barely sweet, with a yummy cinnamon-scented glaze that covers the top and gets into every delicious, sconey crag and crevice. They would make a most delicious breakfast on a foggy Fall morning with a hot cup of tea or a decadent caramel apple cider.
Be sure to check out Melanie's blog, Melanie Makes, to see what amazing recipe she came up with using our fun Fall ingredients!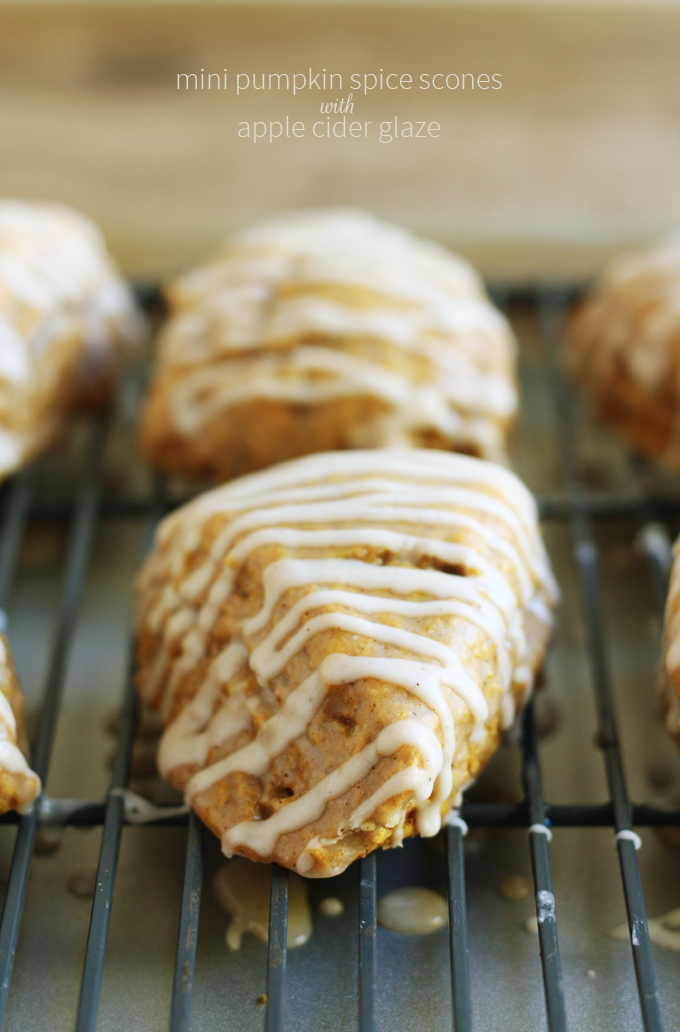 Mini Pumpkin Spice Scones with Apple Cider Glaze
Note: When I got done glazing my scones, I had a small amount of glaze left over. I mixed it with a little more powdered sugar to make it thicker, spooned it into a small bag, snipped one corner off, and piped some drizzles on each scone. It looks cute, but it's not at all necessary!
Ingredients
for the scones
3 Tablespoons whole milk
1 teaspoon apple cider vinegar
2 cups flour
½ cup brown sugar
1½ teaspoons baking powder
½ teaspoon baking soda
2 teaspoons pumpkin pie spice
½ teaspoon salt
6 Tablespoons cold butter, cut into chunks
1 egg
½ cup canned pumpkin puree
1 teaspoon vanilla
for the glaze
2 Tablespoons butter, melted
1 cup powdered sugar
a pinch of salt
1 teaspoon vanilla
2 Tablespoons apple cider
a pinch of cinnamon
Instructions
To make the scones, preheat the oven to 400°F and line a cookie sheet with parchment paper or a silicone baking mat. Combine the whole milk and apple cider vinegar in a small bowl, and set aside.
In a large bowl, combine flour, brown sugar, baking powder, baking soda, pumpkin pie spice, and salt. Add butter chunks and cut in with a pastry blender, or use your fingers to work the butter gently into the mixture.
To the milk mixture, add egg, pumpkin puree, and vanilla, whisking to combine. Add the wet ingredients to the dry ingredients, and mix gently with a spatula or wooden spoon until mostly combined.
Dump the dough out onto a lightly floured work surface, and knead gently until all of the dry ingredients are worked into the dough. Divide the dough in half, and form each half into a circle about 1" thick. Cut each circle into 6 wedges, and place wedges on the prepared baking sheet.
Bake at 400°F for 15 minutes. Allow to cool before glazing.
To make the glaze, combine melted butter and powdered sugar in a small bowl, whisking until a paste forms. Add salt, vanilla, and apple cider, and whisk until smooth. When scones are cool, dip the top of each one in glaze, then set on a cooling rack over a baking sheet until the glaze sets, about 15 minutes.