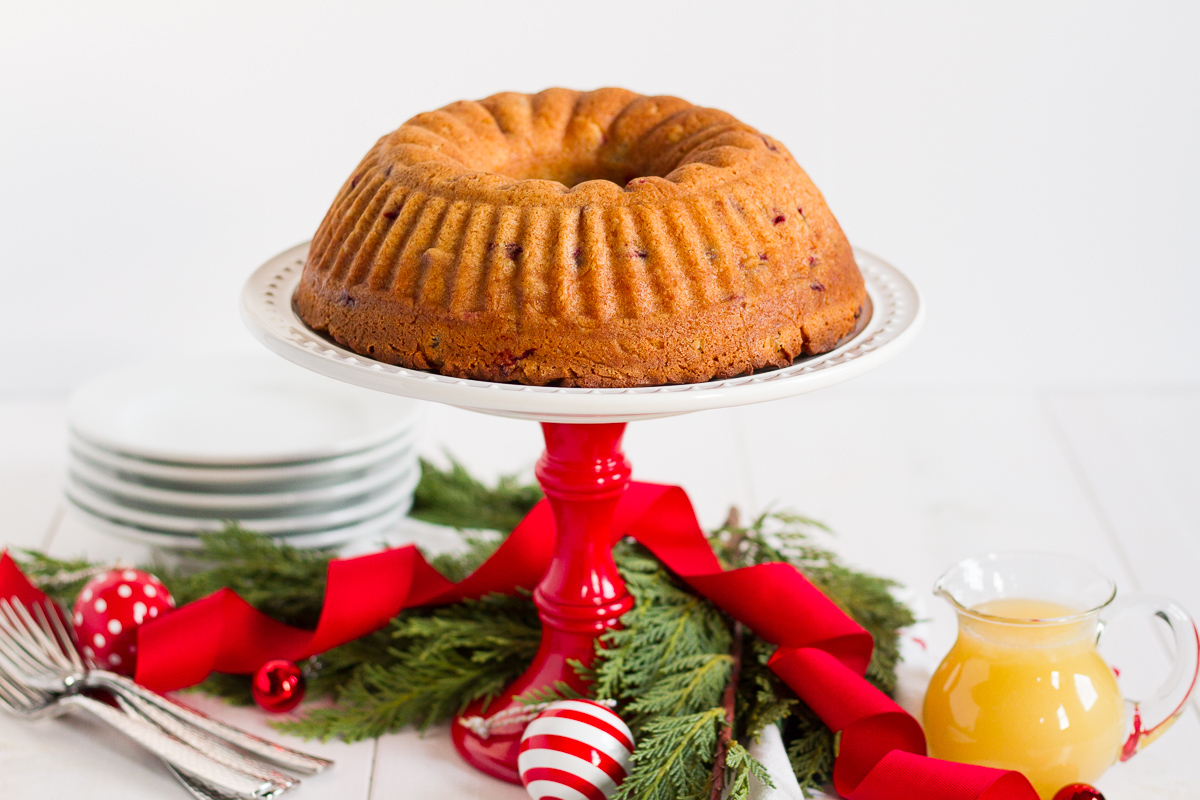 This fresh cranberry cake is one of those wonderful, old-fashioned recipes that families fall in love with and pass down from generation to generation. I first remember my Aunt Shelly making it when I was a kid. I loved it after the first bite, and my kids gobble it down just as quickly as I did.
This unique cake somehow manages to be both rustic and luxurious all at once. Fresh cranberries are folded into a simple, eggless batter and baked until the cranberries become soft, ruby-like spots of tartness in a dense, sweet cake.
The cake itself is yummy and certainly beautiful—especially when baked in a fancy bundt pan—but what really makes this recipe one you'll come back to again and again (and again!) is the sauce. Butter, sugar, cream, and vanilla combine to form a silky, sinfully rich sauce that you pour hot over each slice of cake. It's the kind of sauce you can't get enough of, the kind that makes you want to lick your plate clean.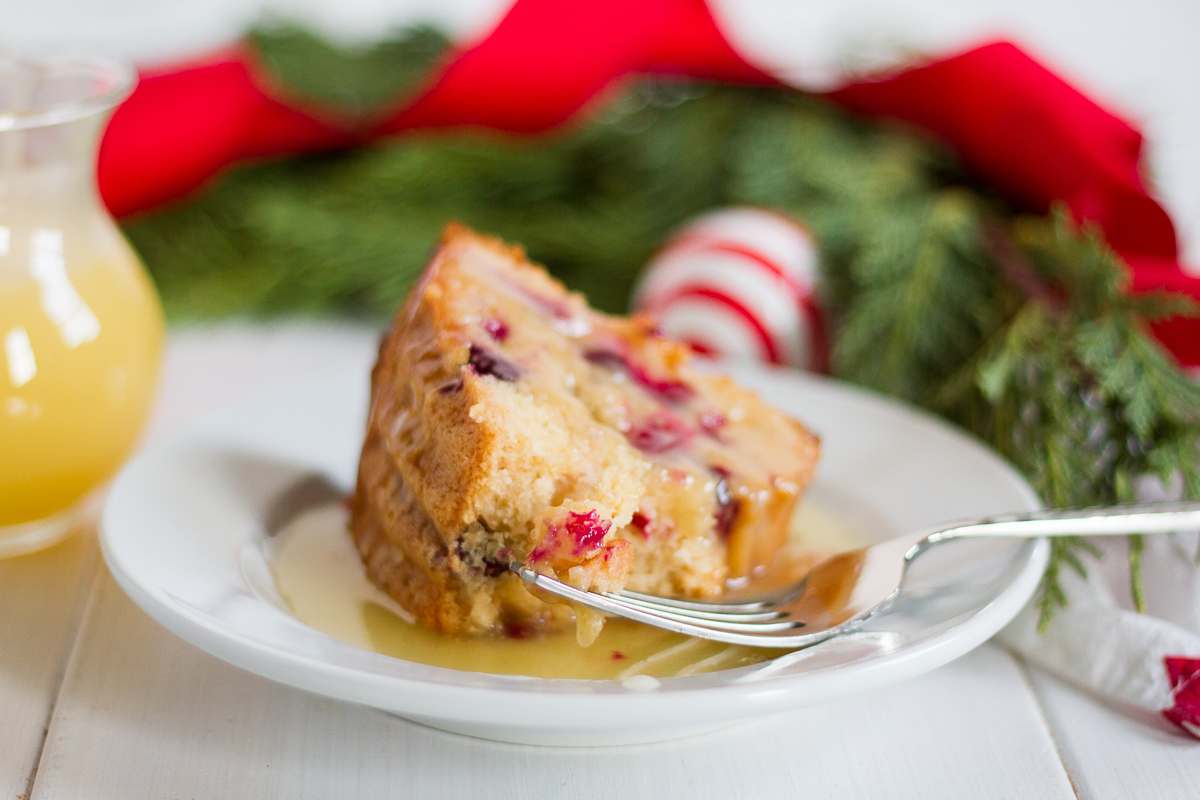 Thanks to its easy, fuss-free preparation, beautiful presentation, and wickedly delicious topping, Fresh Cranberry Cake with Hot Butter Sauce is the perfect dessert to serve guests during the holidays.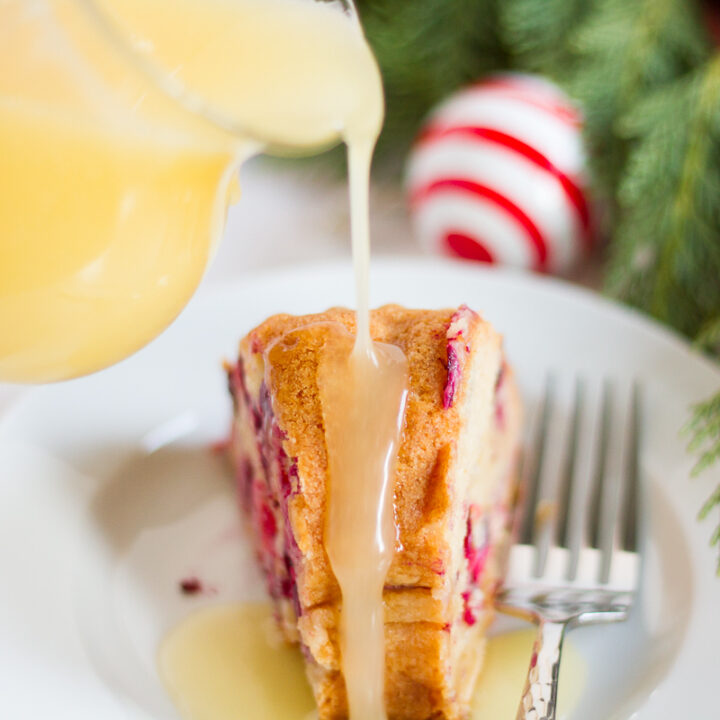 Fresh Cranberry Cake with Hot Butter Sauce
Total Time:
1 hour
10 minutes
This fresh cranberry cake is beautiful and delicious, a unique dessert to serve during the holidays. Don't skimp on the hot butter sauce: it's the best part!
Ingredients
for the cake
4-5 cups fresh cranberries (about 1 [12-oz] bag)
1 stick (1/2 cup) unsalted butter, softened
2 cups sugar
1 can (12-oz) evaporated milk
4 cups flour
2 teaspoons salt
2 Tablespoons baking powder
for the hot butter sauce
2 sticks (1 cup) butter
2 cups sugar
1 cup cream
2 teaspoons vanilla
Instructions
Preheat the oven to 350°F. Spray a standard bundt pan with nonstick cooking spray, preferably the kind with flour in it, especially for baking. You can alternately butter and flour the pan, but be sure to get all the nooks and crannies.

Wash and pick through the cranberries, removing and discarding any mushy ones; set the rest aside to dry.
In the bowl of a stand mixer, combine butter and sugar until fluffy. Add milk and beat until combined.
In a medium bowl, combine flour, salt, and baking powder. Add dry ingredients to mixer and stir until just combined.
Gently fold in the cranberries.
Spread the batter in the prepared pan. The batter will be very thick, almost like cookie dough or brownie batter.
Bake for 50-60 minutes, until a wooden skewer inserted in the middle of the cake comes out clean. If the top of the cake starts to get too brown before the inside is done baking, loosely lay a piece of aluminum foil on top of the cake while it finishes baking.
Remove cake from oven and allow to cool for 15 minutes before inverting it onto a cooling rack and removing the pan.
To make the hot butter sauce, melt the butter In a small saucepan. Stir in sugar and cream, and heat until sugar is melted and sauce is hot. Do not boil! Remove from heat and stir in vanilla. Serve hot sauce over cake. The cake can be served warm or at room temperature.
Notes
I promise the recipe is correct as written. It does not call for any eggs, but does call for 2 full Tablespoons of baking powder. If you are feeling doubtful, just give it a try. I think you'll love it. xo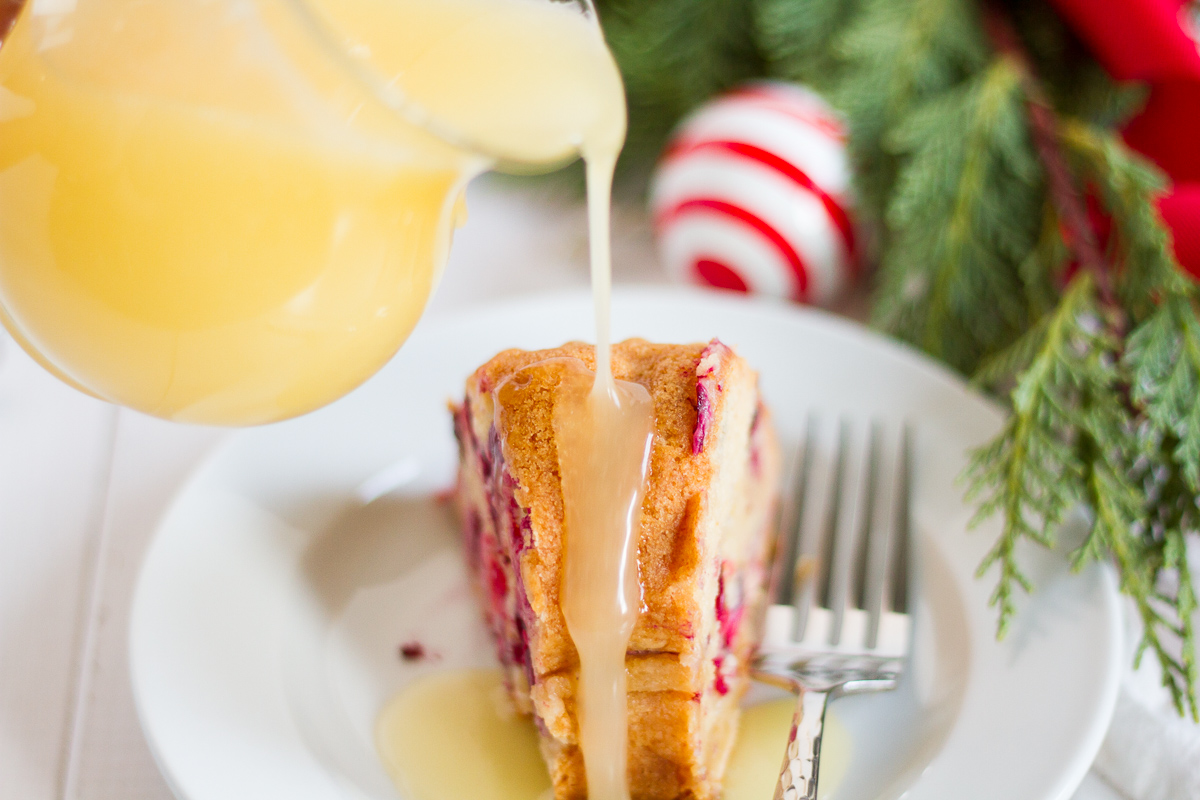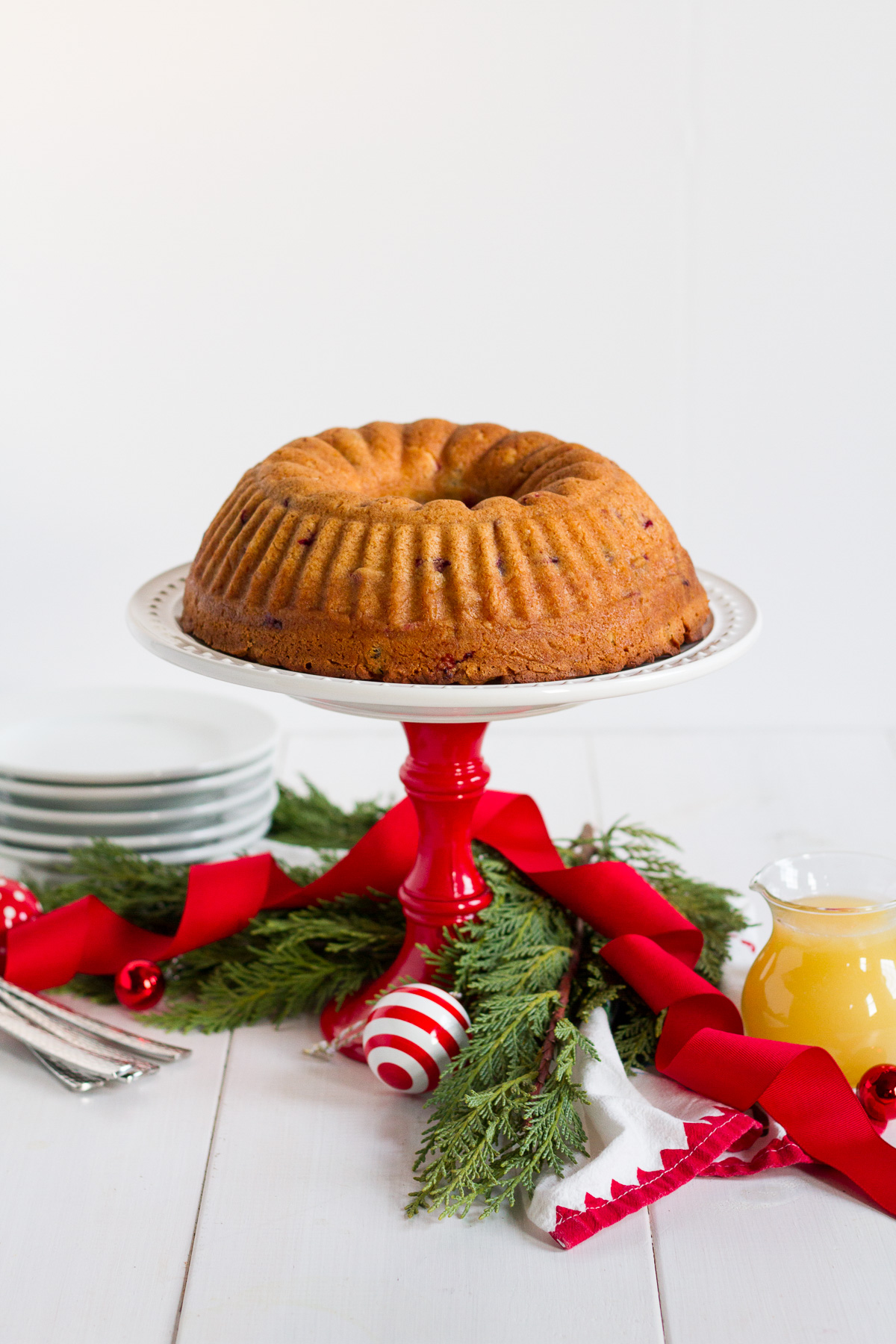 For more holiday recipes, CLICK HERE and have fun exploring my archives!