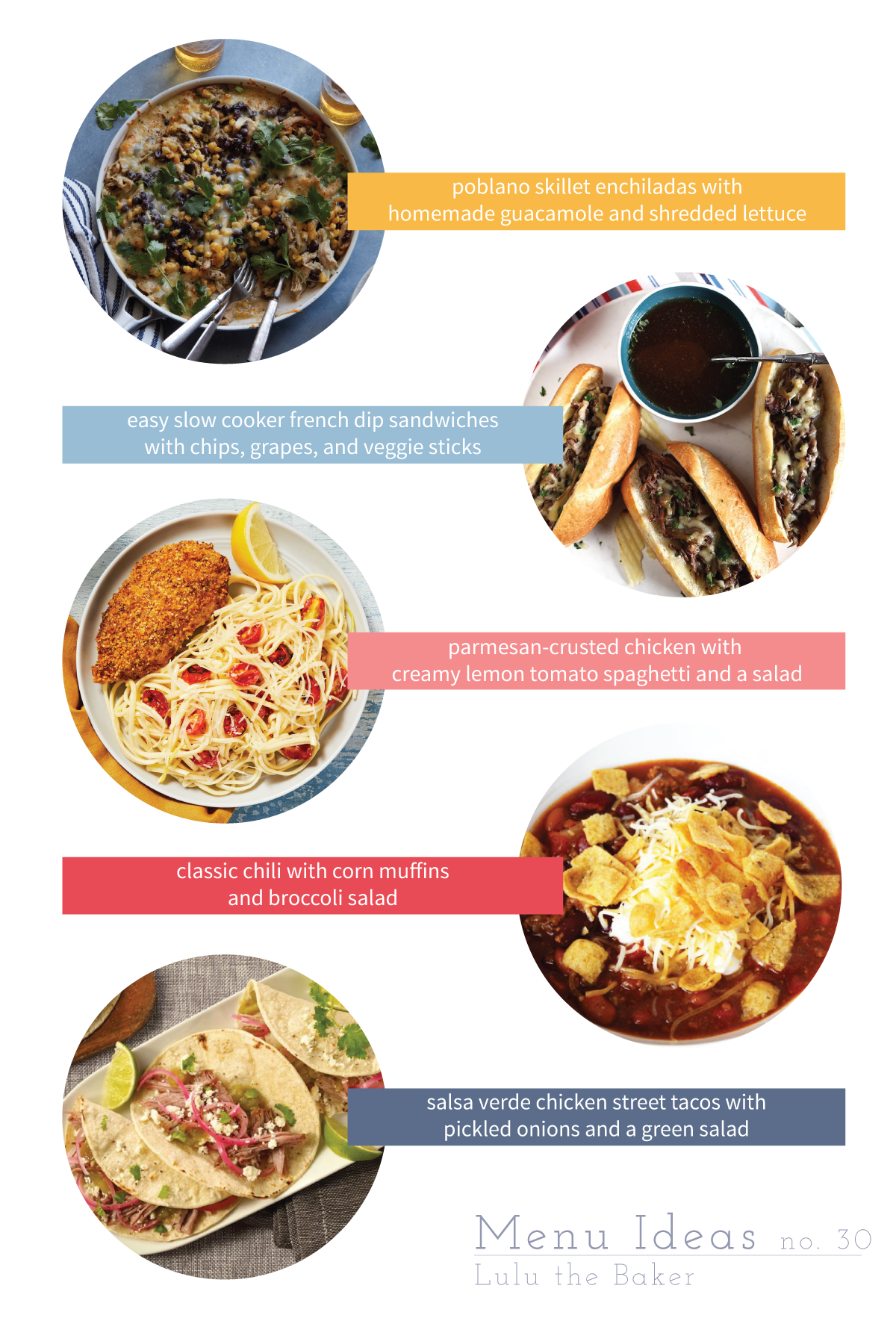 Hello, friends! Now that Fall is here, we're swapping out lots of our summertime dinner favorites for cozier, heartier meals. We're in a particularly busy stretch right now—we are in that magical season of life where we're really lucky if we get everyone home and eating dinner together even a couple of times a week. So in this installment of Menu Ideas, I'm sharing busy weeknight dinners that A) are great for chilly, blustery fall weather; B) are easy to make; and C) I can make once and people can dish up as they have time between activities, meaning the food either reheats super well or can sit in a crockpot or on the stove stop and stay hot for several hours. Tough, but not impossible! Here we go!
Poblano Skillet Enchiladas with homemade guacamole and shredded lettuce
This yummy recipe from What's Gaby Cooking had all the flavors of enchiladas in an easy-to-assemble, skillet-baked casserole. I used my own tomatillo salsa that I make every summer and freeze, and otherwise followed the directions exactly. I loved the inclusion of black beans and sweet corn. It gave the dish extra color as well as layers of flavor. We topped our enchiladas with sour cream, homemade guacamole, and finely shredded iceberg lettuce. Excellent reheated.
Easy Slow Cooker French Dip Sandwiches with chips, grapes, and veggie sticks
These french dip sandwiches from The Suburban Soapbox were so easy to make and so delicious. They are now on "the list." They took about 15 minutes of prep in the morning/early afternoon and then a couple of minutes right before serving, but they were well worth the minimal effort. My family loved loved loved them.
Parmesan-Crusted Chicken with Creamy Lemon Tomato Spaghetti and a salad
Over the summer, we tried Hello Fresh for a few months. If you've read through any of my previous Menu Ideas posts, you know I'm a big fan of Blue Apron. My sister's family does Hello Fresh instead and really loves it, and they're always offering free meals and incentives for signing up, so we decided to give it a try. And overall, we had a great experience! The meals are very easy to prepare and very family-friendly. Ultimately, we decided to quit getting meals from both delivery services simply because I couldn't stand the amount of packaging I was throwing away every week. But the food was delish. This parmesan-crusted chicken was so good that I bought all the ingredients and made it again this week. It is really, really easy to make, super flavorful, and a big hit with the whole family, and the creamy lemon pasta is fantastic. PS, the "fry seasoning" called for in the recipe is a mix of garlic powder, onion powder, and paprika. I had the good sense to write that down when we had this chicken the first time, and I just mixed equal parts of all three spices together when I made it this week.
Classic Chili with corn muffins and broccoli salad
Chili is one of my go-to dinners during fall and winter. It requires very little work, but tastes amazing and is so cozy and comforting. My favorite chili recipe ever is a knock-off of Wendy's chili, which I've never actually tried. Regardless of what this recipe is or is not based on, it's delicious. I like mine topped with sour cream, shredded cheddar, and fritos, and my husband likes his with flour tortillas. We always make some version of corn muffins to go on the side, and this time we made a yummy broccoli salad to go along with it. Fall comfort food at its finest!
Salsa Verde Chicken Street Tacos with pickled onions and a green salad
The salsa verde chicken I made for the skillet enchiladas at the top of the list was so good and so easy that I used the recipe again (with a tiny bit of modification) for some street tacos. In addition to the green sauce the chicken braised in, I also added about 2 Tablespoons of homemade taco seasoning. It was great. We used those teeny tiny street taco tortillas and topped our tacos with sour cream, crumbled cotija, slices of fresh avocado, and quick pickled onions. I absolutely love pickled onions. They are a stunning shade of magenta, and they're delicious and easy to make. Just combine 1 medium red onion, very thinly sliced, with 1/2 cup water, 1/4 cup white vinegar, 1/4 cup apple cider vinegar, a big pinch of kosher salt, and 1 teaspoon sugar. Simmer on the stove top until the mixture is bright pink and the onions are as tender as you want them. I'm fine with mine tender or a little crunchy. It doesn't take much time. Let them cool and eat them up! The tacos didn't need much in the way of sides, but I tossed together a green salad with homemade ranch and added some grilled corn to it, the last of the sweet corn from our garden. Yum! [photo from foodnetwork.com]
So there you go, folks! Five easy, family-friendly dinner ideas for your busy weeknights. If you need even more ideas, feel free to browse the entire Menu Ideas series in the archives. And if you have any easy meals that are must-tries, leave me a comment below!