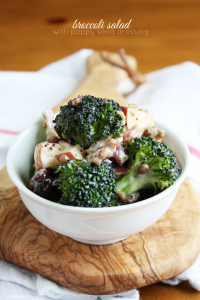 This month's theme is going to be Backyard BBQ! I know that we just had the 4th of July, and we probably all ate lots of delicious Backyard BBQ favorites. But there's still so much summer left, so many picnics, potlucks, and parties to go to, and this tasty broccoli salad is pretty perfect for every kind of summer get-together. Its mix of vibrant colors, textures, and flavors makes it a true crowd-pleaser.
Broccoli Salad with Poppy Seed Dressing
The dressing recipe is from my friend Jill, who I've known since we were 14. The salad is one of my favorites!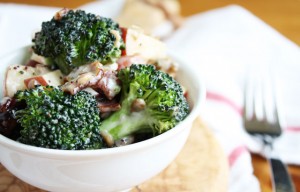 for the poppy seed dressing
3/4 cup white vinegar
dash of red wine or tarragon vinegar
3/4 cup sugar
1/2 cup oil
1 Tablespoon poppy seeds
1/2 teaspoon salt
4 Tablespoons dijon mustard
for the salad
24 oz fresh broccoli florets (I usually use a bag or two of pre-cut broccoli from the produce section.)
1/2 cup cashews, chopped
1/2 cup shelled roasted, salted sunflower seeds
1 cup craisins
1 apple, diced
1/2 red onion, diced
1 lb bacon, cooked and crumbled
poppy seed dressing
To make the dressing, combine all ingredients in a container with a tight-fitting lid. Shake until completely combined. Refrigerate until needed.
To make the salad, combine all ingredients in a large bowl. Toss and serve.