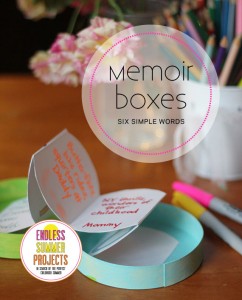 Hi everybody! I hope you all had as fun a Fourth of July weekend and we had. We've got cousins out the wazoo right now, days filled with water parks and rope swings and hot dogs and hikes. So while we're out having fun with our extended family, I'm leaving you with the link to this week's Endless Summer Project from the lovely MJ of Pars Caeli–Memoir Boxes! Such a sweet project: summer memories summed up in six simple words per person. You can find the complete directions on Pars Caeli, and I'll see you back here on Friday for a from-scratch take on a classic Southern favorite!
– – – – –
In case you've missed a project or two in our Endless Summer Projects series so far, here's a complete list:
And don't forget to check out
Classic Play
next Wednesday for the next Endless Summer Project!